Best-in-class
If you have ever visited a dentist, chances are you will have been treated at some point by products created by DÜRR DENTAL, which has been a trusted partner to the dental health industry for over three-quarters of a century
The best, by design. That is the motto that DÜRR DENTAL lives by and it has served it very well, helping the company to become a reliable partner of dental/medical practitioners for 77
years. Founded in 1941 by brothers Karl and Wilhelm Dürr, who initially set up their precision workshops in Stuttgart-Feuerbach, the company is now headquartered in Bietigheim-Bissingen. Today, DÜRR DENTAL remains a family company, has approximately 1100 employees situated throughout the world in over 40 countries, and enjoyed a turnover of over 250 million euros in 2017.
Throughout its lifetime, the name DÜRR DENTAL has epitomised progress and innovation in dental medicine, with many standards of modern surgeries being attributed to the company's achievements and developments. The company's history of contributing to significant milestones in dentistry goes back to 1947, when its experts designed hand-pieces and angled instruments with added water cooling in order to provide better pulp protection during tooth preparation. In 1956, compressors were produced with oil-lubricated rotors, adding a further layer of automation to the process. The next big step was made in 1965, when DÜRR DENTAL launched the first oil-free dental compressor, before X-Ray technology was introduced in 1968. It was then in 1995 that Vistacam camera was incorporated to further enhance procedures.
"Today, some 15 per cent of our colleagues work within our research and development department, which is a very high ratio indeed," explains DÜRR DENTAL's Chief Executive Officer Martin Dürrstein. "With this level of investment, we have been able to consistently develop high quality products and become solidified as being 'best-in-class' in what we do. This is further supported by the extraordinary working culture that we possess within the company, with our self-starting team always willing to go that extra mile for our customers."
The customer has always been at the epicentre of every activity the company embarks upon, and it is this approach that has helped it to achieve the financial results of recent years. "As a family business, we are committed to sustainable longterm growth, not quick short-term wins," Martin affirms. "High product quality is, of course, a very important component in becoming successful, while at the same time it is equally vital to constantly expand ones' portfolio and push the geographical boundaries of the markets in which we serve, so as to gain higher awareness within the dental industry around the world."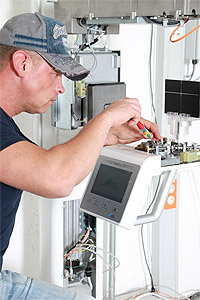 DÜRR DENTAL's passion for innovation has continued to shine in recent years, with the company introducing a new range of steam steriliser technology in 2016. This arrived in the form of its Hygoclave 90 steam steriliser, with DuraSteam technology. "This marked a new era both for the company, as we enter a new product category, and for the market of small steam sterilisers as we introduced innovative high end features that are completely new to this segment," Martin continues. "Once again, this development highlighted our ability to create high quality medical devices, made with state-of-theart German technology, that deliver the features and benefits that the dental industry of today truly needs."
In 2016, the company also introduced a new specialist 3D X-Ray machine, a move that has already proven to be highly lucrative and was one of the reasons for the construction of a brand-new facility in 2017, specifically for the development of imaging technology. "For 50 years now, we have offered the best image quality in dental X-Ray technology to our customers, starting with the launch of the first automatic X-Ray developer in 1968, through to the development of a complete range of devices," Martin enthuses. "In our new, extended production facilities in Gechingen, in the Black Forest, we are able to set the pace for achieving the highest quality standards, from parts production and assembly, through to final testing."
While the strides that DÜRR DENTAL has made over the course of its history cannot be understated, the philosophy of its founders was to build a company on the basis of their own Christian faith. It is the intention of the third generation of the family to accept this heritage and carry it forward into the future. One of the ways it does this is through social responsibility. As well as being actively involved in the field of health with both material and financial donations, the commitment of the company is also focused on its support for Mercy Ships, the aid organisation which operates the 'Africa Mercy' hospital ship in Africa, and the promotion and sponsoring of local sports clubs, including the Bietigheim-Bissingen Steelers hockey club.
Returning to the company's present activities, Martin has a clear vision for what DÜRR DENTAL should be achieving in the coming months. "One of the most important things for us to do is to continue with the expansion of our product offering," he says. "We have a strong and healthy R&D pipeline, with many more products launching in key markets around the globe all the time, and this is something we believe will only continue to grow in scale and importance in the years to come."
DÜRR DENTAL SE
Products: Dental products