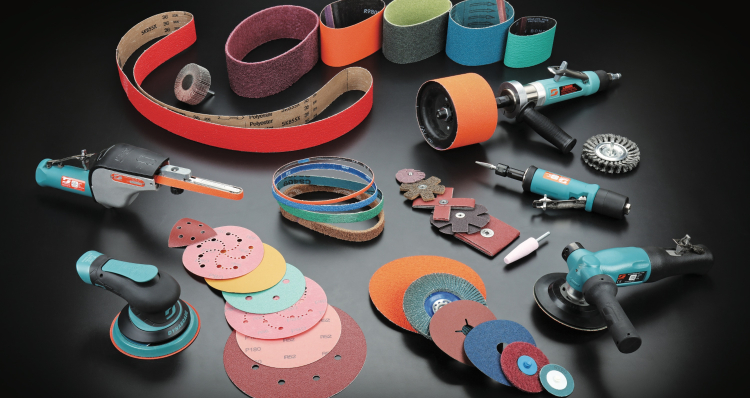 The foundation of American manufacturing is ongoing innovation, and the success of Dynabrade is a prime example of this. Dynabrade got started in 1969, when Walter Welsch was working at 3M and developed the first Dynafile abrasive belt tool. The Dynafile improved the task of hand-filing metals and various hard surfaces, while being faster and easier than previous tools. This entrepreneurial innovation formed the root of Dynabrade's growth, and established the company's reputation for excellence, as well as its leadership position in design and manufacturing of unique portable abrasive power tools and accessories.
"Our founder Welsch was known as the man with the method," President Hardy Hamann explains. "He always focused on end-users' real needs with the applications. He looked at how to improve users' processes by developing innovative abrasive tools, and we are doing the same thing 50 years later with 21st-century technology. We are manufacturing best-in-class air tools, but we're really selling process improvements, surface finish improvements and improving the environment for the operator. That is really what wins us the business."
Based in Clarence, N.Y., the company has 150,000 square feet of office and manufacturing space at its headquarters. Dynabrade has subsidiaries in Luxembourg and India, and does business in more than 90 countries, serving hundreds of distributors around the world, speaking 26 languages. Director of Marketing Ron Veiders estimates the company has more than 900 tools and approximately 12,000 saleable SKUs to meet users' needs, while constantly looking for the next product that will improve clients' operations.
"We are a company on the move," Veiders says. "We are constantly thinking about how do we stay current and pertinent to the industries we serve and take it to the next level. Our salesforce is more than 30 percent of our global employment so we have feet on the street to partner with our customers. We are experts in the industries we serve and we go over and above with cost analyses for clients. Now we are evolving to be process solutions experts and expanding with abrasives and vacuums, so we can be a one-stop shop in that aspect. With innovation, we continue to succeed."
Positive Impacts
Dynabrade promises to "listen, observe and optimize" to be the first choice for abrasive power tools and process solutions. It starts by designing high-quality tools and innovative solutions aimed at improving operators' safety, process time and finishes, which reduce customers' costs. Dynabrade's product line involves air and electric power tools, clean air solutions, abrasives, machines for grinding, sanding and finishing, and related accessories. The company's goal is always to work in a way to have a positive impact on all of its stakeholders: customers, employees, shareholders and community.
It achieves these positive impacts by working closely with its stakeholders. Dynabrade prides itself on the reach of its field sales, having territory managers both domestically and internationally, with more than a third of its global staff in sales. The company invests in this area to allow its sales staff to work closely with customers, performing insurance testing, cost analyses and other value-added services that are helpful. Dynabrade only sells to its distributor network, but it works closely with end users to ensure they are optimized with its products.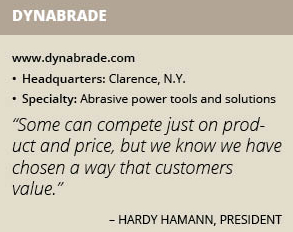 "We work with customers to make sure they are doing the processes in the best way," Veiders says. "For example, we sell the accessories from the air line to the tool, as well as the abrasives that go on our tool – including specialty abrasives – and the clean-air solutions to analyze dust in the air. If customers are sanding wood, we work with them to ensure they are doing it efficiently. Is their air pressure correct? Are they oiling the tool? Is their environment sufficient for the process? Are they collecting the dust that's caused? We look at all of that to really optimize their processes."
The service continues because Dynabrade has a proprietary process where it can enter all of this information and use it to develop a quantified solution for customers. Sales staff provides customers with a detailed report so they can see the results of the improvements over two years. All of this is free of charge, but it's important to Dynabrade to go this extra mile because it wants end users to be as efficient and optimized as possible. Dynabrade is making major efforts in considering the environment for the operators, because it understands working in clean air is best for everyone.
"We equip our sales people with performance assurance instruments," Veiders explains. "They have all the gauges and meters they need to analyze customers' tools, the air pressure and air-quality meters, so they are providing true registered analysis."
Hamann notes this level of service really separates it from others in the market, and not just because of the depth of service Dynabrade offers. "We see many manufacturers in the power tool industry or the industry in general reduce their salesforce because they feel they can provide all the necessary information on the internet," he says. "We chose the opposite approach with a high level of touch, and we have more feet on the street than ever before. We earn business by improving customers' performances and showing them how to save money. Their savings often exceed the costs of our tools by a large margin."
Once Dynabrade's tools are implemented at a customer's facility, the company follows up. "We provide service, all the accessories, parts, and we make it turnkey," Veiders says. "If something happens, we are there because we want to make sure the customer is fully taken care of." With a global salesforce, Dynabrade takes pride in being able to continuously serve its customers.
"Our tools are used in production environments, not the DIY market," Hamann says. "We are global, and we serve a wide range of production facilities. One of our targets is automotive assembly plants, and we well to plants in the United States, Germany and China. We provide the same type of support worldwide, and the support remains the same if the facility is large or small."
Strong Track Record
Dynabrade says it continues to enhance its operations, product offering and its level of service to become more of a one-stop shop for its customers. The company may have been founded on pneumatic air tools and abrasives, but it is focused on including more clean air solutions in its offering, including industrial vacuums to collect the dust that is generated during the grinding process.
Hamann notes Dynabrade's complete product solution is enhanced by the expertise provided by its technical salesforce around the globe, and combined, these offerings have yielded strong returns in the past few years. "Last year was the best year in the company's history, and we've had a great track record," Hamann says. "We've actually been reaching out to our market through surveying and they see that we're finding ways to compete in different ways than competitors. Some can compete just on product and price, but we know we have chosen a way that customers value and say is different than the others."
It's all about "solutions selling," Veiders notes. "Our products are craft-made in New York, and we deliver high-quality products that reinforce everything we stand for," he says. "We're solutions selling at the end-user level and really engaging our distributor network."
Dynabrade gives credit to its long-term employee base for its ability to maintain this level of excellence. The average tenure at Dynabrade is 15 years, and part of the business is an employee-stock-ownership plan. Hamann explains this supports a sense of ownership at all levels of the company. "It's like a one-team approach," he says. "We all win or we all lose, and so far, it's been winning customers. We are having a good time, and there is a great sense of ownership here."
This momentum is something the company wants to maintain, and Dynabrade continues to enhance its operations. The company has implemented lean manufacturing techniques like 5S and Kaizen, and it is looking into automation where it is feasible. It also has invested in a production information management system to further improve.
"That information management in production helps us to get the product information out and regulate that information," Veiders says. "We have thousands to SKUs that reach all points of sale, and we want to ensure they all have the proper specification information, back up data, videos and photos. This is reaping rewards for our distributors at the ground level and online level, as well."
As a midsize company, Dynabrade is committed to organic growth, as well as growth through acquisition, it just wants the right opportunities. Further, it is taking a balanced approach to investing in growth in the United States while also investing in emerging markets, such as Mexico, China and India. The company feels well-equipped to meet these goals.
"When you have a method and surround yourself with the right people, success will follow," Hamann says. "And our customers are seeing that when they partner with Dynabrade, success will follow. We've seen success, the end users have seen success and the distributors definitely have seen success. We want all of that to continue."