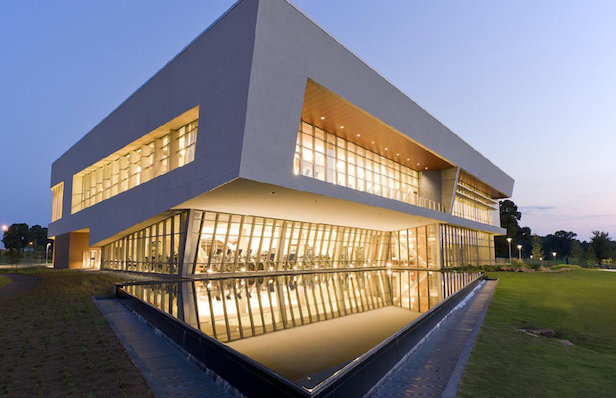 E&H Steel Corp. Inc. is not interested in being the biggest firm in its industry. "We just want to be the best at what we do," Vice President Scott Quattlebaum declares. "We pride ourselves on being a company that does what they say when they say it, and we provide our customers with the best possible product that's on the market."
Based in Midland City, Ala., the structural steel fabricator started operations in 1986 with a modestly sized location that now spans 138,000 square feet. "We've also added all different kinds of computer-controlled equipment that better helps us provide the product we sell to our customers," he says.
This includes a plasma drill that can cut raw sheet steel into different shapes that are incorporated into buildings. "It has sped up the plate-processing part tremendously," Quattlebaum says.
E&H Steel also recently added a structural steel angle shear and punch for making steel shapes. Like the drill, it is "computer controlled, which allows us to be more efficient," he says.
Award-Winning Work
E&H Steel provides structural steel supports for commercial and industrial buildings. "Those could be a hospital, a medical office building, an arena or it could be institutional work," Quattlebaum says.
A signature project that graces the company's website is the Florida Polytechnic University Innovation Science and Technology Building in Lakeland, Fla. The facility, which was designed by renowned architect Santiago Calatrava, covers 160,000 square feet.
The project won E&H Steel the most awards it has ever received for a project, including the 2015 American Institute of Steel Construction (AISC) IDEAS Award. The company also won Engineering News-Record's 2014 "Best of the Best" project for the Southeast USA Award.
On the Rise
Like many steel fabricators, E&H Steel has coped with a downturn in its market for the last three years. However, "We're starting to see an uptick," Quattlebaum says, explaining that this is due to an increase in commercial construction projects.
"Hopefully, that's going to gain momentum through the second quarter, third quarter and fourth quarter of this year," he says, noting that this will not only provide E&H Steel with more work, but also the opportunity to grow its staff.
"We hire based on market demands," he explains. "We can provide additional jobs … if the market continues to uptick the way it is now."
Up to Standard
E&H Steel's quality focus helps it to meet the standards of multiple associations, including AISC. "They come and audit E&H Steel every year and they make sure that our quality standards meet the minimum standard," Quattlebaum says.
The company also meets AISC's Sophisticated Paint standards. "We've been trained to do the multicode paint system," he says. "We can do the specialty coatings that our customers may require."
Officials from Miami-Dade County also audit the company every year. "They come in and verify that we're providing the product we say we are and we're doing it [according to] our quality control and quality assurance manual," he says.
Essential Traits
E&H Steel provides extensive training when it hires new employees. "We take them from knowing nothing about what we do and train them in every aspect of what we do," Quattlebaum says, noting that he personally oversaw this process when he worked in the company's engineering department.
But when the company hires an employee, it focuses on their personal qualities as opposed to past experience. "We look for somebody with a work ethic, honesty and integrity and we look for people who are loyal," he says.
These people want to be part of E&H Steel's family, Quattlebaum says. "They're not so much looking at their overall position so much as they are looking what they can contribute to the whole," he states.
The Family Business
Quattlebaum has nearly 30 years with E&H Steel and praises its work environment. "Even though we're not all related, it's run like a family business," he says. "The owners of the company are Christian people who do what they say and mean what they say.
"They've been extremely loyal to me, and it's been reciprocal on my part," he states, noting others also have 10 to 15 years with the company and take pride in their work. "Even though we're not the biggest, I would put E&H Steel's shop against any other shop in the United States, because we put out a quality product."
He predicts a strong future for the company with the rise in commercial construction. "E&H Steel is on the verge of being able to expand its operation, because of the surge in the market," he states.