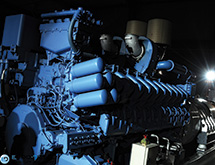 E1 DYNAMICS has made major strides since starting up its operations in the U.S. less than 10 years ago. Its Belgian-based parent company, EURO-DIESEL, has been supplying power protection equipment around the Eastern Hemisphere since 1989. In 2007, the company made the decision to open a North American operation, starting E1 DYNAMICS to bring the technology solutions of EURO-DIESEL to the U.S. and Canadian markets.
"We officially formed the company in September 2007 and spent the first seven months creating marketing documents, selecting supplier partners and selecting sales channel partners by using independent sales representatives across the market," says Robert Suchon, founder, president and CEO.
Building a Presence
The company formally launched for commercial activity in April 2008 as the North American Operation for EURO-DIESEL's diesel rotary uninterruptible power supply (DRUPS) solutions in conjunction with a major industry event in Las Vegas. Within the company's first six months, E1 had landed its first contracts to deliver EURO-DIESEL DRUPS into the U.S.
"Our sales and supplier partners were influential in giving the customer confidence to make such a decision," Suchon says. "The first system was installed in 2009 for a highly visible government operation. It involved all-U.S. supply partners and allowed E1 to expand its operation with project management, engineering management and service employees."
In mid-2009, the company landed a significant order for a 16+megawatt installation and has continued to grow ever since. At present, it has more than 85 megawatts of power sold to the market with 16 employees between the U.S. and Canada.
E1 is currently one of the major players in the DRUPS field and continues to significantly shape the overall DRUPS market in its efforts to compete with all of the static UPS suppliers. E1 and EURO-DIESEL remain relatively small, as they focus on multi-megawatt, mission-critical operations and try not to compete against the commodity level products available in the market.
"We specialize in that we can offer one DRUPS system that can replace three to five other static UPS solutions," Suchon says. "We serve all customers who need clean, reliable and uninterruptible power."
E1 DYNAMICS has become a leader in the technical integration and system level design using DRUPS systems to optimize customer operating cost, and help achieve optimal facility design layout to avoid overspending on construction or workflow efficiency. The DRUPS products are continually upgraded, and E1 recently released the latest version of its technology for very large DRUPS systems of two megawatts and above with a model that requires minimum off-line maintenance, low load level efficiencies and the smallest footprint vs. power available to the client.
Seeking Growth
With every new location within North America where it establishes a new customer partner, E1 creates a working service location with factory-trained direct E1 service technicians. These service technicians are highly trained, mostly coming from the Navy nuclear field, and are integrated into E1's team to support specific regions as well as technical resources within E1's project management and engineering departments.
"Our focus has always been on customer service and delivering exceedingly qualified talent to support all customers from design to integration and operation," Suchon says.
The best investments E1 can make to improve are in people and providing them the proper business tools to achieve success. As the equipment is manufactured either at headquarters in Belgium or at its supplier facilities in the U.S. and Canada, E1's people must possess the correct technical and managerial styles to ensure success.
Currently, E1's focus is on providing the highest levels of service and technical operation for all existing customers. Satisfied customers become its most significant sales tool. E1 continues to evaluate current and new markets, working to implement a more formal marketing plan and establishing initiatives to attack these markets to showcase its successes and gain access to new markets where it is still relatively unknown.
"Our challenge is not so much proving we have the best overall solution," Suchon says. "We must get into the evaluation process much earlier to get the client to understand the value E1 brings to new project objectives."
Still only a small organization, access to the major markets have been the biggest challenge. E1 works with some of the most highly reputable sales representatives across the nation, but obtaining more opportunities is priority one for the sales team. "E1 is as tenacious and dedicated as anyone could be," Suchon says. "We understand the value of proper customer support and focus on doing what is best for all customers. We all take part in ensuring success for not only our own operations, but also for each customer's mission."