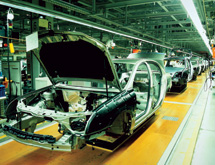 Eagle Bend Manufacturing has been a success story in its homebase of Tennessee's Anderson County since it opened in 1987. The Clinton, Tenn.-based automotive parts manufacturer has created hundreds of jobs for its surrounding community and, along with other manufacturers in the region, been a key part of the county's economy.
Eagle Bend's contributions to the city and county will grow even more during the next five years. A $64 million expansion plan launched in 2012 will add 100,000 square feet of manufacturing space to the 334,000-square-foot facility. The expansion will add new production lines including a laser hot stamping line and create 188 new jobs. These new jobs will include assembly, laser and press operator and maintenance positions.
The investment reflects the company's confidence in the local community and benefits not just Clinton, but the entire state, the company says.
"Eagle Bend Manufacturing represents the type of success story we are aiming for in our economic development efforts," Tennessee Gov. Bill Haslam said in a press release announcing the addition last year. "We have placed a renewed emphasis on helping existing industries grow right where they are, as this is essential to reaching our goal of becoming the No. 1 location in the Southeast for high-quality jobs."
Eagle Bend is one of Anderson County's largest private employers, Anderson County Mayor Myron Iwanski said in the press release. "This expansion demonstrates that Anderson County has the infrastructure, skilled labor force and low business costs required to be profitable in today's tough economy," he added. "We appreciate the long-term commitment that Eagle Bend has made to Anderson County."
Innovative Processes
Eagle Bend Manufacturing is a Tier 1 automotive parts supplier for car and light truck OEMs. The company is a division of Cosma International, an operating unit of Magna Inter­national Inc.
Cosma operates a total of 47 manufacturing facilities and 25 product development and engineering centers worldwide. The company manufactures a variety of metal body systems, automotive components, assemblies and modules including vehicle frames and chassis systems.
"A fundamental ingredient to Cosma's success has been our commitment to the development, implementation and improvement of new technology," the company says. "Whether it has been taking traditional processes such as stamping or resistance welding and applying them to innovative product applications, or through leading the industry by being the first to introduce technologies into completely new product applications, as was the case with hydroforming, Cosma is dedicated to breaking new ground every day."
The Eagle Bend facility's manufacturing processes include hydroforming, stamping and roll forming. Stamping is one of Cosma's longest-lived offerings. "From the smallest reinforcement to the largest body system, Cosma's expertise in providing innovative stamping solutions includes forming a wide range of materials such as advanced high-strength steels and aluminum," the company says.
The company uses hot stamping methods to form complex, high-strength parts previously manufactured through cold forming. "We have taken an industry lead in bringing this forming process to body structure applications in areas where vehicle crash performance has become more critical due to ever-increasing government standards," Cosma International adds.
Cosma uses hydroforming methods to produce parts including frames, subframes and vehicle front ends. The process, which the company in part pioneered, allows for design flexibility, the reduction of the number of overall components needed and other benefits.
Parts that are integral to driver safety such as bumper beams, frame rails and roof bows are manufactured through roll forming methods. This method ensures the rigidity and structural integrity of these components. "With the ability to tightly bend, pierce and weld roll-formed components in sequence, along with less material waste, the customer sees the full benefit of this cost-effective process," the company says.
Cosma also uses several technologies to assemble complex parts. Its assembly processes exceed industry standards in the areas of mean time between failure and mean time to repair. "We are aggressively pursuing advances in the assembly of components into systems and modules," the company adds. "Our flexible assembly technology involves utilizing robotic assembly cells for multiple low-volume product lines. By substantially reducing the need for 'hard' fixtures, a flexible cell can reduce capital and floor space requirements by up to 30 percent over traditional assembly processes."
The company has also developed several advanced joining technologies it uses in its processes. These include remote laser welding, resistance braze spot-welding, single-sided spot-welding and tandem MIG welding. "Remote laser welding systems deliver speed and weld access advantages by way of rapid laser beam movement from one weld location to the next," Cosma says. "Resistance braze spot welding provides a speed and low heat method of joining closed sections; the result of this unique process is a dimensionally and structurally superior assembly.
"Single-sided spot welding allows for the joining of sheet metal stampings to tubular sections without the need for weld access holes in the tubes," the company continues.
Playing Fair
Magna International Inc. is one of the world's most diversified suppliers of parts to the automotive industry.
The Canada-based company's capabilities include designing, engineering, testing and manufacturing a number of car components including:
Interior systems
Seating systems
Closure systems
Electronic systems
Powertrain systems
Roof systems and
Hybrid/electric vehicles and systems
Magna employs roughly 104,000 employees in 269 manufacturing operations and 84 product development, engineering and sales centers in 26 countries.
An entrepreneurial culture the company calls "Fair Enterprise" is at the center of Magna's operations. This culture builds ownership and inspires employee pride.
"The commitment of our employees is fundamental to our continued success, so we are committed to continuously improving employee relations," the company says.
Several company programs further this philosophy and increase employee participation. These include an employee hotline, secret ballot voting on workplace issues and an employee advocate program.