Survival of the fittest
A combination of a set of family values that it holds dear, a worldwide supply base of products and industry-leading manufacturing capabilities have made East Coast Fittings (ECF) a preferred partner for retailers, contractors and developers alike
When Charles Darwin published his scientific explanation of the theory of evolution in 1859 in the book 'On the Origin of Species', he was of course detailing how species that were able to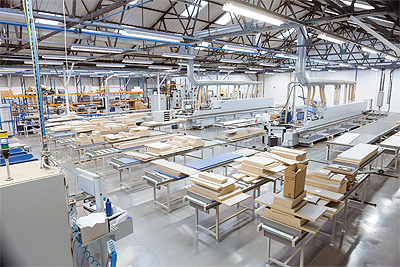 develop characteristics best suited to their environments were more likely to survive and flourish. Given the nature of his work, and indeed the point in history that he set out his thesis, Darwin likely wouldn't have spent much time philosophising about how the same theory could apply to the world of business, but as we have since come to realise ourselves, the ability to evolve and adapt to change is just as vital to the survival of companies as it is plants or animals.
What seems like a tenuous link to East Coast Fittings (ECF), one of the UK's largest fitted furniture trade suppliers of doors, cabinets, appliances and components, becomes much clearer when discussing the history of the business with its Managing Director, Derek Goodman. "ECF began life as East Coast Fasteners in 1980, a company dealing primarily in the supply of nuts, bolts, nails and fixings," he begins. "An early milestone in our evolution was when we began supplying Sharps Bedrooms in Leicester, a relationship that saw us extending out into the supply of hinges, handles and other furniture fittings. Assisted by the growth of Sharps itself into a nationwide chain, we soon built up a portfolio of customers with similar requirements.
"The next phase of our story saw us take a distributorship on behalf of Blum UK for hinges and drawer systems, followed closely by a range of made-to-measure mitre framed bedroom doors. It was this latter decision that kick started our move into manufacturing, primarily to gain control over quality and availability. Further expansion followed into the manufacture of carcasses and ancillary items; to the point where today we are able to supply complete kitchens, bedrooms and bathrooms, with customers able to come to us for everything from sinks and taps, to worktops and lighting systems. This was a huge turning point in the evolution of our business, where quality, innovation and reliability of service remain today the driving forces. Our manufacturing activities continue as the focal point of our operation, accounting for close to half of our total turnover and driving us in the direction that we want to go."
ECF can today boast a customer portfolio numbering in the thousands with fitters, national retailers, developers, contractors and OEM's from across the UK and Ireland purchasing from its constantly expanding product range. In addition to household brand names like Blum, Caple and Egger based products, ECF offers a strong range of 'in-house' brands that have become well established in the industry including, GADDESBY, VOLANTE, innostor plus and Expressions.
"Even in the face of such growth, we have retained the values of a family-owned business with a reputation for quality and excellence," Derek enthuses. "We have always been an honest, can-do company that prides itself on delivering the best level of service possible."
ECF's activities originate from its 130,000 square foot premises in Leicestershire, which is now home to two complete manufacturing production units; the second of which was installed in 2016, an investment estimated to be worth £2 million, and helped to virtually double the manufacturing capabilities of the company. "Our respective units are kitted out with cutting edge equipment and systems, including an automatic storage and retrieval system, CNC nesting machines, carcass presses and two Homag 2492 machines for edge banding," Derek explains. "This second unit was brought in primarily to satisfy the 'completes' market, giving us the ability to produce complete rigid kitchens that we sell as our GADDESBY range, and providing ECF with a level of manufacturing capability that is as good, if not better, than anyone across Europe can offer."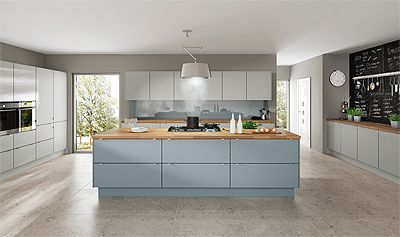 Of the investment made by the company in its new facilities, Derek tells us that approximately £300,000 has gone towards the conversion of its old sales office into a new design and marketing suite. "This unit includes space for displays of its products, brand new meeting rooms, and a facility from which IT solutions take a customers' room dimensions and specifications, and showcase the various different complete kitchen designs and colours available," he adds. "In my mind, there is no doubt whatsoever that what we have created here has become one of the major USP's taking the business forward, and has provided us with an added level of flexibility and choice to allow us to compete with the other players in our field."
With the aforementioned capabilities now in place, ECF finds itself ideally positioned to pursue the launch of new ranges and products during the second half of 2018. Among the products due to be unveiled is an option to source a selection of rigid carcasses, a brand-new line of doors and a new, upmarket kitchen design, Volpi (an Italian-named nod to the Leicestershire Fox).
"I feel that 2018 will also be a year in which we further consolidate our manufacturing capabilities and reap the benefits of our substantial investments," Derek adds. "Further to this, we are also looking forward to the launch of an online ordering platform, something that will initially be more geared towards the componentry side of ECF."
This online platform is just the latest of a long line of examples of the company responding to changes in the marketplace and adapting accordingly. "We have always kept an open mind about what the future may hold for both us and the industry as a whole," Derek concludes. "I think one of the things that has characterised us since the beginning is how we have been prepared to change where necessary. If you look at our evolution from a fastening company to a furniture component specialist, and then to a complete manufacturer, it highlights how this adaptability, together with a commitment to maintaining the same ethos and values that ECF was built upon, has helped get us to where we are as a business today."
East Coast Fittings Limited (ECF)
Product: Kitchen, bedroom and bathroom manufacturing