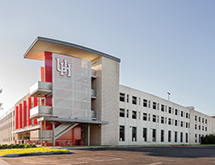 With its experienced staff and large production capacity, East Texas Precast Co. says it can meet any project schedule. The precast manufacturer and full-service subcontractor oversees the erection of parking structures.
Since the plant was founded in 1982 as a structural precaster, the company has grown in size, capacity and capabilities. During that time, its parking garage expertise grew, as well.
Sales Manager Chris Romani says clients select precast parking garages over other options for several reasons. First, "precast is very versatile both during and after construction," he says. Color, aggregate and finish can easily be varied, for example. After it is used, precast can then be recycled or repurposed instead of demolished and wasted. In fact, Romani says, "Given precast's ability to create large spans, spaces in total precast structures can be repurposed rather easily."
East Texas Precast Co. also is able to work with tight project construction schedules. "While the general contractor and other trades are working on the site, we are manufacturing the building," Romani says. According to the Precast Concrete Institute, building with precast can shave one to four months off the overall construction schedule.
Romani also stated that precast is a very durable and resilient material. He stated, "one of the great things about precast is that is can withstand the test of time, even under the harshest conditions." He further stated that precast has natural resistances to fire, blast, seismic, and wind condition. Insulated precast walls, he added, can create continuous vapor barrier around buildings.
Lifting Power
East Texas Precast Co. operates six gantry cranes during its daily manufacturing process. Its 38-acre production facility in Hempstead, Texas, 30 miles northwest of Houston, includes a wood shop, batch plant and steel shop. The company is constantly improving the plant with more efficient and safer processes. For example, it recently began utilizing an NMB splice sleeve to make connections between two members without welding. "There is less chance for human error," Romani explains. "This process allows us to make a stronger structure while reducing erector safety risks. Overall, it's a more efficient process." This step in the manufacturing process is now quicker and performed with better quality.
East Texas Precast Co. continues to win business in the Houston market as well as in greater Texas and western Louisiana. The company held up well during the Great Recession. "Houston has been one of the first markets to boom after the recession," Romani relates. The oil and gas business has been strong and many global corporations have relocated their headquarters to Houston, moving from California and other locales. With much land available, many companies have also created corporate campuses in suburban areas. These often include 10 or more buildings with parking garages from East Texas Precast.
Student Parking
Recent projects for East Texas Precast Co. include the West Gate Parking Garages in Katy, Texas, the Memorial Hermann Parking Garage in The Woodlands, Texas and the University of Houston Stadium parking garage.
The university sought a parking garage that would allow it to maximize campus space for education and research facilities. The structure also afforded the university an opportunity to earn parking revenue. As the precast was produced offsite, East Texas Precast Co. minimized construction distractions to students and staff. "This garage matches the campus and was given some final highlights with additional signage," the company says. "Its design was optimized using precast to maximize parking spaces so that it can provide parking not only for college classes but also for sporting events."
Why do clients such as the University of Houston choose East Texas Precast Co. rather than others? "We have a large production capacity and can meet their needs on the schedule," Romani explains. "So when they have a project that needs to be done, we can meet and beat the schedule starting on time and finishing either on time or early. Specifically, for the university, we were able to manufacture substantial pieces and thus were able to utilize two cranes during the erection process, allowing [construction crews] to spend minimal time on campus, which made everyone happy."
Another advantage is the company's experienced team. "We bring to the table an exceptionally experienced team with a vast array of precast knowledge," Romani says. Also, its relationship with sister company Gulf Coast Precast Erectors "allows for great coordination between manufacturer and erector," he says. The company also offers high engineering quality and very competitive pricing, Romani adds. In all, it is the company's outstanding process and quality that has made it a success – and the best is yet to come.