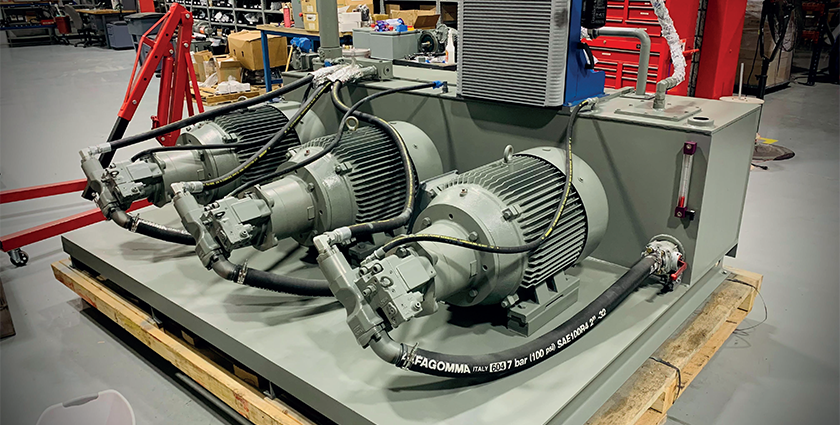 Eastern Industrial Automation
Where anything is possible
On the eve of its seventh decade, Eastern Industrial Automation continues to push boundaries when it comes to in-house engineering, maintenance, and procurement capabilities
It was in the year 1963 that Richard Gorsey began personally delivering mechanical components to textile mills throughout New England. In doing so, he was laying the groundwork for what would come to be known as Eastern Industrial Automation (EIA), a company that today represents more than 1000 global manufacturers, and supplies in excess of 1,000,000 specific products to customers worldwide.
But the EIA of today is a far cry from the company of 60 years ago – one that has not only undergone exponential growth, but has transformed its business beyond the sale of top-quality Industrial components. Instead, EIA has now established itself as an industry-leading portfolio of in-house application, engineering, maintenance, international and procurement services.
"We pride ourselves on selling packaged solutions to our customers to directly impact their bottom line, so we are very prominent when it comes to total cost solutions," says Drew Tucci, Vice President, Sales and Marketing at EIA. "As it pertains to our vast OEM partners, we're developing and delivering bottom line solutions when it comes to sub-assembly manufacturing and precision machined parts. On the business side, we understand pull system procurement models, and we deliver lots of extra pieces to reduce the total cost of procurement." It's a profile that places EIA as a full-service engineering provider, with a mission "to provide an application solution, deliver quality products, predict that product's life expectancy, repair and install it if needed, and create solutions to prevent costly downtime."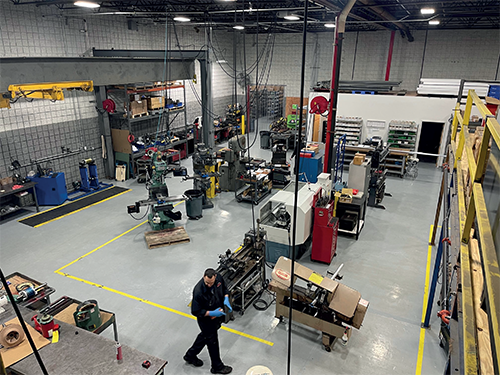 With primary responsibility for EIA's field and shop services, Joe Colarusso, Engineering Services Division Manager at EIA, offers some insight into the depth of the company's service offering. "What we provide in the field is vibration analysis, laser alignment, field balancing, and predictive maintenance," he tells us. "We're able to predict a machine's life expectancy with a set of points and alarms, take vibration measurements, download them, and trend them to avoid machine stoppage."
It's a capability that equips EIA to search for and identify early indications of possible bearing failure, along with other factors that could precipitate a machine shutdown. "We're able to help keep our customers production equipment operating at peak efficiency and avoid costly machine stoppage by utilizing, vibration analysis, (PdM program) which looks for anomalies and monitors changes from the established vibration signature 'baseline' of a system. This is achieved through examining of a machine's vibration history and over time analysis to predict problems before serious issues arise." According to company estimates, the vibration program alone provides its customers with savings in excess of $750,000 in eliminated downtime, underlining exactly why EIA continues to pride itself on a tangible bottom line impact.
The same is true of the company's mechanical service solutions, through which EIA is able to offer direct, in-house customer repairs. "We have technicians who are trained to go on a remote site and change a bearing, a coupling, a pump while conducting laser alignment analysis, and then start the machine up and check its ideal operating performance," Joe explains. "To use an analogy, they're like doctors performing an EKG of a customer's machine, utilizing the vibration spectrum to identify a fault." It's an exciting area of development, located within the umbrella of EIA's predictive maintenance (PdM) solutions.
"Our PdM division is actively involved in the development of remote sensing programs with OEM and end user partners utilizing Rexnord and Schaeffler sophisticated technologies," states Joe. "These programs feature a wireless remote, accelerometers within the sensor, and have the ability to monitor both temperature and vibration. "As part of this continuous, cloud-enabled system, the end user is informed via an alarm on their cell phone whenever a machine is developing a problem," he continues. "At that point, they're able to conduct further analysis to determine the precise nature of the problem. As technology improves, the scope of what it's possible to conclude with that data continues to evolve. End-users can now determine the input speed, and thereby identify whether it's a bearing fault frequency or if the machine is unbalanced. Particularly in the case of equipment where it's difficult to get to a bearing, being able to carry out this identification accurately is a critical cost-saving solution."
The solutions don't end there, either. Oil analysis, along with air leak detection and thermography, are additional offerings that serve to round out the vast capability within EIA's field services division. With that, attention turns to the shop floor. Here again, Drew hints toward what is a continual evolution of the company's capabilities: "Our machining capabilities continue to expand and complement our Tier 1 manufacturing partners while positively impacting our customers' bottom lines. We act as a machine shop with a distributor's mindset. We stock costly made-to-order components and deliver via point of use, on-line transaction or install on machinery if required. We also repair just about any product we sell, including couplings, bearings, and gearboxes," Joe states.
"We're also very active in linear rail alterations and cutting; we will design applications in the field, return to our shop and cut the rail, mount the bearings on the rail, and package appropriately to support a vast array of OEM customers."
EIA has also enjoyed plenty of recent success in manufacturing. The company has built hydraulic power units for use across multiple industries, including food processing, lumber processing machinery, paper and material handling. Key partners Toshiba, Nachi Hydraulics and Nopak offer global resources to help expand this department's mission.
Festo Corporation, a leading global manufacturer of pneumatic and electromechanical systems, components, and controls for process and industrial automation has been a critical partner to EIA's expansion.
Pat Sharkey, Pneumatic Division Manager commented: "One of our unique abilities is to utilize our pneumatics expertise, combined with the motion control and automation division, to provide a new solution for a revolutionary cancer treatment system for a major US university. We partnered very closely with Festo to design in a piezo valve to use in the project. This created a quiet system that is for use right next to the patient. We were able to utilize data acquisition to store patient information to allow exact re-positioning for future radiation treatments."
Inevitably, one of the major drivers behind EIA's success, is people. The company employs a large sales force, diverse in skill sets as part of a network that covers the northeastern US and niche markets throughout the US. The company prides itself on low turnover and has utilized the pandemic to promote from within, add new strategic positions and prepare for critical retirements.
"Our team is built on individuals with knowledge, drive, and the heart and desire to succeed," argues Phil Basquiat, National Sales Manager at EIA. "Through our shadow program, new hires are placed alongside our existing specialists, giving them ample opportunity to learn from experienced figures within the company, and to spend time with our manufacturing partners."
Sitting alongside its field services team, EIA also boasts a diverse unit of highly trained salespeople within its Business Development Group. Their role is to cater to EIA's high-volume, multi-national OEM customers, working with colleagues across the world, including the company's engineers in China. EIA operates wholly owned businesses in Shanghai, China – Shanghai Motion Control Technology Co. Ltd.
Second generation, Geoff Filker, Principal of EIA says: "We stock far more product per location than anybody in our market, we're very nimble, diversified, and experienced when it comes to the interchange and procurement of available products to meet immediate customer needs. We pride ourselves on supporting a broad range of Tier 1 manufacturing such as Dodge, Regal/Rexnord, Schaeffler, NSK and many more. At a time of significant supply chain disruption, it's a role that has been more challenging than ever. Thankfully, however, EIA and our strategic manufacturing partners have proven that we are well-equipped to ride the storm globally."
"Nevertheless, this wouldn't be the case without our phenomenal group of individuals," Drew reiterates. "Not a day goes by in the company that there isn't some form of training or function going on to bring our employees up to a level above that of our competition. We're not in the yes-no business; we live in the maybe world, with a 'can do attitude', in which anything is possible. For example, we're developing specialized business units to support select marketplaces, including a Machine Tool Division that sells products focused to the precision spindle and machine tool repair industry. This division guarantees a 15-minute response, deals worldwide, heavily stocked, and offers unique channel expertise for that industry." Steve Kenworthy, Machine Tool Division Manager, adds, "We continuously train our team to increase our technical proficiency in critical machine tool components to provide the fast response demanded by this industry to maintain OEM-level machine performance after repairs have been completed."
"Other distributors don't have this level of technical expertise in-house," Phil agrees. "Instead, they go back to the manufacturer for help. At EIA, meanwhile, our vast group of specialists have worked for manufacturers in the past, have tons of application experience with various products, and they share that with our salespeople. We're also a very active Tier One supplier in terms of our industrial knowledge and participation in distributor councils and association involvement. It results in a level of service which is far stronger than that of our local competitors."
Turning to the future, optimism abounds at EIA. The company is eyeing a number of opportunities, including the expansion of its machine services, the promotion of industry 4.0 smart product technology, and providing additional manufacturing services to a broad range of customers. With an ongoing labor shortage in the US, Drew is also confident that demand for EIA's field services will remain strong. As he indicates: "We're expanding our team of engineering specialists in each of our regions, and growing those regions, with the goal of supporting a technical sales team with appropriate business acumen."
Although supply chain issues remain a concern, the company remains focused on supporting its customers with the incorporation of new and innovative technology across its operations. "Anything we can do to reduce the volume of components sitting on our customers' shelves, and bring it in as a sub -assembly, is a real advantage in today's marketplace," Drew concludes. "We expect to expand that part of the business and continue to remain an organization that empowers its employees to be entrepreneurial thinkers with a vast array of technical expertise and support."
Eastern Industrial Automation
www.easternia.com
Services: Engineering solutions and maintenance