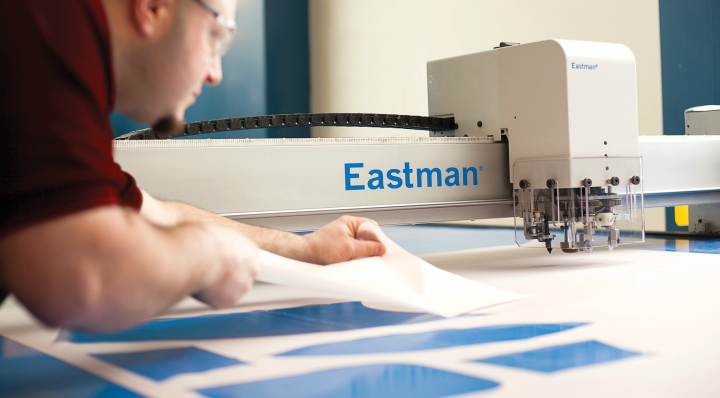 Eastman Machine Company is the oldest fabric-cutting machine company in the world. The Buffalo, N.Y.-based company took off when it introduced the first electric cloth-cutting machine in 1888, which allowed the clothing industry to evolve from the manual drudgery of cutting to a modern operation.
One hundred and thirty years later, Eastman Machine is still considered a leader in that field. Today, the fifth-generation family-owned and operated company is the largest manufacturer of a complete line of cutting equipment, ranging from manual to fully automated systems. Eastman Machine has thousands of automated systems installed worldwide and tens of thousands of manual machines in more than 100 countries.
"Today, with the advent of industrial fabrics and composite materials, the market has changed dramatically," President and CEO Robert Stevenson says. "Our machines are now used in as many as 12 markets, including aerospace, marine, apparel, green energy, industrial, recreational, sports and outdoors segments."
Keys To Success
Eastman Machine attributes its success to its ability to adapt and react quickly to changing materials in the marketplaces the company operates in. "We are a very flexible, lean manufacturer," Stevenson explains. "When products are introduced in the marketplace, we are able to customize our machinery to meet those needs and get them to market quickly."
He adds that speed is Eastman Machine's biggest asset. "I've always believed that it's not always the biggest companies that dominated the small companies, it's the fast companies that beat out the slow companies," Stevenson says. "We like to think that we can respond to inquiries and manufacturing needs faster than anyone. We don't supply machinery; we supply solutions to our customers."
In addition, Eastman Machine prides itself on its culture of innovation. Vice President of Manufacturing and Engineering Trevor Stevenson notes the company continuously rolls out new
products. "We're always adapting to what our customers need, whether it's a new machine or new options for a machine," he says.
One of the company's latest innovations is the Talon 25x™, which automatically pulls stacked material plies from the spreading table to a modular, bristle-block conveyor bed for reciprocating knife cutting of patterns. A precise system operation with state-of-the-art motion control communications provides an industrial-strength solution for cutting up to three centimeters of compressed material goods. "We rolled the Talon out last year," Trevor Stevenson says. "It has been received very well by our customers – some of them say it has changed their life."
Eastman Machine will feature the Talon at the upcoming TexProcess Americas tradeshow, which will be held at Atlanta's Georgia World Congress Center May 22-24. "We will cut material showing everyone that walks by its capabilities," he explains. "We made it so that it can cut everything from soft cotton to carbon composites and ballistic materials."
Eastman Machine will also introduce visionPRO this year. The high-resolution camera system, combined with state-of-the art software algorithms, ensures cut paths around printed shapes, registration marks or repetitive patterns are precise and accurate. visionPRO scans the entire surface of the fabric and is able to identify the entire geometry and distortion of the printed elements.
Working Together
Eastman Machine's suppliers play a role in its success, especially in providing a consistent product. Also contributing are its 125 employees based at its Buffalo headquarters and 100 in Ningbo, China. "Everyone has a say in the company," Trevor Stevenson says. "We have employees that have been with us for years. We even have multiple generations here that pass down the knowledge they've learned from decade to decade."
Eastman Machine will celebrate its 130th anniversary this year. "We take great pride in our history," Robert Stevenson says. "We sell machines worldwide, we give back to our communities and are also proactive helping start-ups when they join an industry using our equipment. We are also proud to work with some of the most sophisticated businesses in the world."
As Eastman Machine moves forward, it plans to continue being a world leader in the industries it serves. "My philosophy is that a business is like a three-legged milking stool," Robert Stevenson explains. "Your three obligations are to your customers, employees and community. As long as you support each one equally, then you'll have a great company.
"We take great pride in what we do to support our community here in western New York," he concludes. "We're involved with many charitable organizations, including United Way. We support our employees through wellness programs to help provide them with a healthier lifestyle. We also support our customers by always being there for them, whether it's in person or via technology."