Banging the drum for British manufacturing
Having achieved success in the water cooler and dehumidifier industries, British manufacturer Ebac Group Ltd has continued to expand into the washing machine arena
Founded by its current chairman John Elliot in 1972, Ebac Group Ltd began as a one-man business; over the years it has grown into a flourishing international firm thanks to the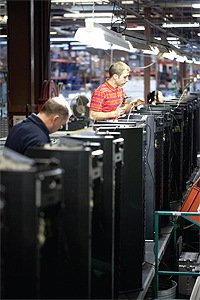 development of innovative products in the dehumidifier and water cooler markets. Based in Newton Aycliffe, County Durham, the company is today split into four segments: Ebac Foundation, Ebac Ltd, Ebac Industrial Products and 50 per cent of XEL Design. Ebac Group Ltd is also the market leader for water coolers in Europe and Britain's leading manufacturer of dehumidifiers; chest freezers and washing machines are other products manufactured by the company.
With innovation at the heart of Ebac's operating philosophy, its dehumidifiers have led the market for more than 25 years, while its water coolers continue to re-define the perception of these products both at home and in the office. Well known for its expertise in bespoke airconditioning and refrigeration solutions for industry, the group was also the first to produce and retail Brita Filtered Water Coolers that were ideal for the domestic market. On top of this, Ebac offers management services and financing solutions for businesses and start-ups in the bottled water industry.
Also key to the company's ongoing growth and success is its best of British approach to manufacturing and the fact Ebac operates as a foundation that is owned by a Trust. With no shareholders, all profits are returned to the company to promote growth, provide jobs and support local communities.
One way this return of profits has strengthened Ebac over recent years is its expansion into the washing machine market. Having spent five years and £6 million of its own funds, as well as a £1 million Government grant, to bring washing machine manufacture back to the UK, the company opened its new production line for the manufacture of washing machines in 2015. Established with the goal of tapping into a market of £2 million sales per year, this decision followed the closure of the last two plants to make washing machines in the UK in 2009.
During October 2016, Ebac officially launched its new range of washing machines; as expected, these products were robust, reliable and cost-effective and proudly represent British design and manufacturing capabilities. During the final quarter of 2016, sales of washing machines were higher than anticipated, a trend that has continued throughout 2017 so far, as Tony Hird, Sales and Marketing Director at Ebac Group Ltd comments: "There has definitely been an appetite from consumers to buy British made washing machines, which appears to be driven from a combination of patriotism and an understanding that buying something made in the UK helps the UK economy and British families."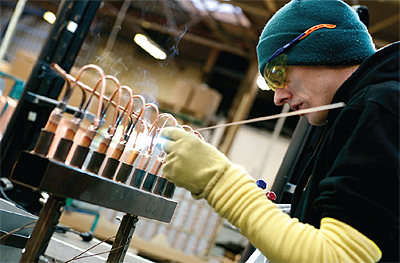 He continues: "In fact, our post-sale research has highlighted that there is a preference for some consumers to choose a British made washing machine, and whilst that is a great USP for Ebac, there is also an expectation that comes with Made in Britain. The product has to be better-than-average quality, reliable and with a range of the latest features that you would expect from a modern washing machine. We seem to be meeting and even exceeding these expectations as product satisfaction levels are very good.
"When you begin a project like this, you can never be 100 per cent sure how the market is going to react to your brand and product. We did a lot of research and product testing, but the real test is when a consumer decides to spend their hard-earned cash on your product. So far, signs are encouraging, but we have a long way to go. The washing machine market is very competitive and dominated by some big brands. Yes, the product has to be good, and we must never lose sight of that, but Ebac has some significant USP. Buying any product in Britain just makes sense. It improves our economy, provides jobs for British families both directly and indirectly, and the more we sell the more we can re-invest in making more products and employing more British people."
Within the company's washing machine range is the E-Care + eight kilogramme 1600 spin, A+++, dual fill product, which boasts hydro fin and jet power cleaning, dual fill for lower utility bills, a drum cleaning programme for easy maintenance; efficient, durable and low noise motor technology. Dual fill is offered as an alternative to traditional cold fill machines, which offers customers shorter wash times and lower energy bills; the machines also have a ten-year warranty, which has further boosted popularity.
Meanwhile, in other areas of the business, Ebac has performed well, with a new contract secured to manufacture and supply bottled water coolers to the US as well as a new in-store distribution of its dehumidifiers with two major UK electrical chains. Looking ahead, Ebac is keen to continue its success story in all areas, with the aim of achieving profitable growth to circa three times its current size. "We will achieve this through expansion of our water cooler business into the US, the exporting of dehumidifiers into Europe and the growing of our washing machine sales in the UK. However, over the next 12 months, we will continue to expand our washing machine sales by working with independent retailers throughout the whole of the UK while also building on our brand as a British manufacturer of quality products," Tony concludes
Ebac Group Ltd
Products: Manufacturer of dehumidifiers, washing machines, chest freezers and washing machines