Cool and Collected
In its ambition to be a pioneer within the manufacturing industry with sustainable home electrical devices, Ebac Group Ltd is excited to continue along its path towards success
British manufacturer of industrial and domestic dehumidifiers, watercoolers, and washing machines, Ebac Group Ltd (Ebac), will celebrate its 50th anniversary in 2022. Since it was brought to life by John Elliott MBE, who is now the Chairman, the Newton Aycliffe-based business has grown to be one of the most progressive manufacturers in the UK. In its latest milestone, Ebac's washing machines, which have been proven to minimise the use of water and electricity, were awarded the accreditation by Which (Nov 2021) as the most sustainable washing machines on the market.
When we last spoke with the business, we learnt from Tony Hird, the former Sales and Marketing Director, about the success of Ebac's infiltration into the washing machine market as recently as October 2016. He noted that there was a greater appetite for British-made products because it bolsters the UK economy, and it is this patriotism that has pushed the company's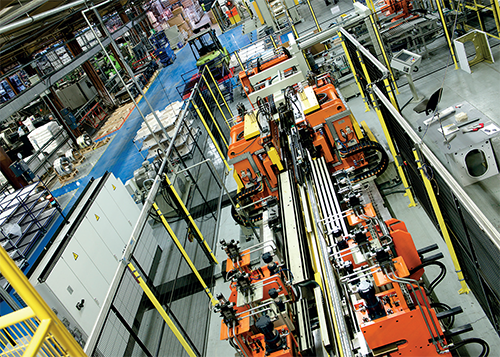 innovation forward ever since.
This time we speak with the business's Managing Director, Graeme McGregor. In September 2021, Graeme, who has a history of working at senior levels with a number of complex companies, was appointed to apply his expertise to Ebac. He expresses his excitement for the positive impact that the company is contributing towards the local economy and the UK's manufacturing industry as a whole. "This business is exactly the type of business that the north needs to help its economy reach its potential. It is locally owned, with specific objectives in its constitution to deliver manufactured products from factories in County Durham. Its focus is on designing and manufacturing great electrical products that are popular, reliable and affordable for the UK market and beyond."
Personal service
In our discussion, he shares with us the 'core competency that runs through the business', and how it is helping expand Ebac's portfolio of cutting-edge technology, which stems from a history of demanding projects. For example, in 1992, Ebac was recruited by the Ministry of Defence to design and manufacture unique air conditioners that would cool field hospitals from the extreme temperatures of the desert during the Gulf War. Then, in 1994, the business constructed a dehumidifier that was installed while the English Channel Tunnel was being constructed to ensure building operations were completed without hazardous moisture interrupting the timeline. Ebac was then called upon to create an efficient air conditioning system to be used for the Jubilee line in the London Underground two years later.
Graeme says that together with its drive for innovative technology, Ebac continues to be a British manufacturer, with a uniqueness to its products that makes it a stand-out amongst its competitors. "Before the decline of the high street, many British towns offered an electrical repair shop that was often family-owned. In recent times, that personal touch has been lost as electronic superstores, with offshore centralised call centres and online repair support, begin to dominate the market. Ebac has bucked that trend and returned the personal experience back into the process, from initial call to engineers based across the United Kingdom. Accordingly, we have trained more than 50 service engineers to bring the local touch back to whitegoods repairs," he says.
"Throughout our 50-year heritage, we have been a family business focused on giving our customers a personal service. This is why we reinforce our products with reliable actions such as a seven-year warranty on all our washing machines and dehumidifiers."
He continues to elaborate on this warranty, "For seven years after purchasing an Ebac washing machine, our local engineers – who have been provided with an extensive selection of spare parts and specialist equipment by Ebac – will visit customers within 24 hours to tend to any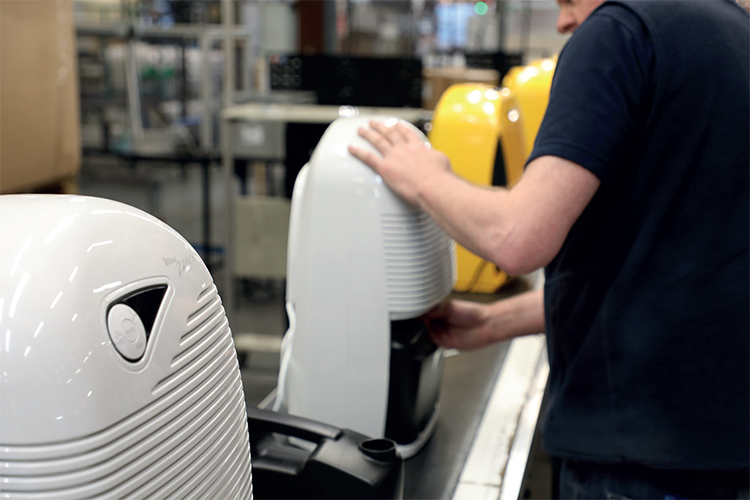 problems. For the small number of issues that can't be resolved immediately, we will provide a like-for-like replacement within 72 hours.
"We compete intensively on technology, and offer our customers outstanding sustainable washing machines that are of course coupled with that warranty in the unlikely event that there are any issues with our products. Over the past few years, our market share has continued to grow, and we are always unlocking the capacity and efficiencies of our manufacturing lines, in order to meet the growing customer demands for our products. Additionally, we offer an impressive catalogue of smart-controlled dehumidifiers, and are investing in the expansion of our water-cooler range." Graeme expresses.
While the company is proud of its refined technology, manufacturing processes and equipment, Graeme shares how the company is particularly proud of its team, without whom its success would not be possible. "Our key USP is our people. The Ebac Foundation ensures that the business remains in the United Kingdom, but our workforce ensures that we and our products continue to flourish in challenging markets. Our staff care about our customers, and as a result of our closely-knit culture, we never lose sight of the personal touch of our products in our customers' homes," he says, adding that this culture is bolstered by the company's initiative to take on apprentices, which allows Ebac to remain focused on supporting and growing the local community.
Proud of having curated a company ethos that is set on building relationships and reliable skills across its operation, Graeme shares how Ebac believes that suppliers are also tied to its success. "We look to build long-term relationships. Many of these have serviced the business for a significant number of years. With strong communication links, we work with our supplier partnerships to continue to enhance our product offering to customers. Connections and quality are key drivers in respect to our supplier partnerships, and this is always viewed together with a fair charge for their services."
Moving forward, Graeme divulges that numerous plans are in place for Ebac's future, and the business is particularly excited for what lies in store for 2022. "We see this next chapter as a year of growth, and we plan to commercialise the new products that were developed during the lockdown. As we emerge from Covid-19, we will be continuing to ensure that our facilities are being optimised to their full potential, and as a family business, the wellbeing of our employees will remain our priority. Most importantly, we will continue to provide a uniquely personal service to our customers. There are numerous plans that will be implemented over the next three to five years, and although I'm not at liberty to discuss those now, I can assure our customers that we will continue our growth as a British manufacturer, and we look forward to seeing our brand across numerous other appliances in our customers' households," Graeme concludes.
Ebac Group Ltd
www.ebac.com
Services: Dehumidifier, washing machine and water cooler manufacturer