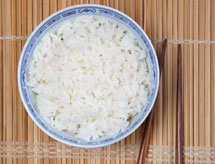 There are not many firms that can draw on their company's diverse and century-long legacy for expertise or inspiration, but Ebro North America, a division of Ebro Foods S.A., can.  "Ebro Foods has experience, assets and markets around the world," notes Senior Vice President of Operations Brett Beckfield.
Ebro North America (ENA), with headquarters based in Houston, Texas, and Harrisburg, Pa., is a business unit of Madrid, Spain-based Ebro Foods. Ebro is the largest producer of rice products and second-biggest producer of pasta in the world.
Ebro Foods formed ENA in 2011 to capture the synergies of two companies, Riviana Foods Inc. and New World Pasta. These two companies have created the core of the largest rice company and largest retail pasta company in North America.
The 100-year-old Riviana Foods, which Ebro purchased in 2004, manufactures such rice brands as Carolina, Mahatma, Success, Minute Rice and Gourmet House wild rice. Two years later, Ebro purchased New World Pasta, which produces such pasta brands as Ronzoni, Creamette, San Giorgio, American Beauty, Skinner, Smart Taste and Healthy Harvest.
The commitment to growing the U.S. rice business is reflected by the company's large capital investment in a state-of-the-art plant in Memphis, Tenn. This facility can not only manufacture traditional rice products but innovative rice cup products.
"The plant came on line just last year and we believe it is the largest of its kind in the world," Beckfield says, adding that the location in Memphis provides ENA with other advantages.
"Much of the rice grown in the United States is not far from Memphis," Beckfield says. "So this was a good logistical choice. It is also close to our milling operations in Arkansas."
Additionally, Beckfield notes that there have been "substantial investments" in upgrading the pasta facilities.
All this has made ENA more and more competitive in the marketplace. Today, the company employs a staff of more than 1,000 in nine facilities across the United States and Canada. "Five are focused on rice and four are focused on pasta," Beckfield says, adding that the company enjoyed sales of approximately $1.5 billion last year.
And ENA has not stopped growing. Last year, the company purchased the No Yolks and Wacky Mac pasta brands, as well as ARI Rice, which was part of the global SOS rice acquisition. With this purchase, "We picked up the world's only rice mill with a deep water port," he says, noting that ARI's rice's facility is located in Freeport, Texas.
"This facility can uniquely load and unload directly into ocean going ships as well as the typical trucks and trains," Beckfield says.
A Healthy Business
ENA's rice business is a healthy one, Beckfield says. "There has always been a strong demand for rice," he states, adding that Riviana's brands connect well with its customers and consumers.
In addition, ENA has led its market with innovative rice and pasta products, including microwavable rice cups that cook in a minute, as well as frozen rice products. Beckfield praises Ebro Foods CEO Antonio Hernandez Callejas for driving innovation.
"Europe is especially working on innovation," Beckfield continues. "We have a state-of-the-art R&D facility in Spain that is always thinking of new and innovative ideas.
"While we will continue [to produce] traditional rice products, our future is going to be tied to innovation," Beckfield says.  But as Ebro North America strives to stay to innovative, Beckfield admits more challenges are forthcoming. "You have to do define the path yourself," he asserts. "We are up to the task."
Organized for Success
A longtime veteran of the food industry, Beckfield joined ENA nearly five years ago and stresses that its operations are designed to be "organized for success."
Within the company's operations, the aim is to bring "order to chaos," Beckfield declares. "That means we bring progress rigor, consistency and creativity to what we do.
"Our goal is to be the best supply chain in the industry and to bring as much value to our consumer and customer as we can," he adds.
Beckfield says he considers ENA's future to be exceptionally bright. "One of the reasons I came to this company is that we're going to change things in a business [where] I don't think everyone would recognize the opportunities," he says.
"We're going to do a lot of innovation in areas of nutrition, health and wellness, and convenience [by] bringing added value to our customers," Beckfield declares. "I think that's pretty exciting. We have a strong base business [and] that's a great foundation to build new ideas on."
He adds that the company is currently at work on a new rice and pasta products that will deliver more value to its consumers. "They are products [that] offer features you can't get anywhere today," he says.