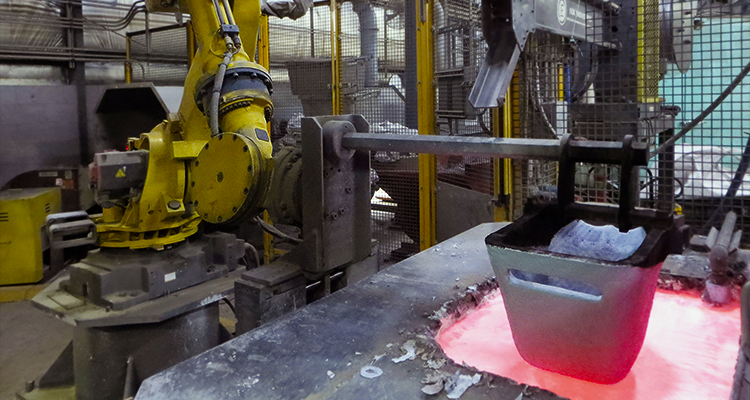 Eck Industries is delivering success through robotics automation and employee dedication
Kiley Eck Hayon, President, and her cousin Tyler Eck, Vice President of Sales and Engineering, are the fourth generation to uphold Eck Industries. Hailing from Manitowoc, Wisconsin, the business has been a key player in the state's foundry industry since 1948, when Kiley's great-grandfather decided to break away and start his own venture.
"Our great-grandfather, William Eck, was in his late 50s when he decided to leave his executive position at another foundry to establish Eck Industries," she opens. "When you think about it, it must have taken a lot of guts to do that back then, in the late 1940s. However, he had a couple of long-standing customers onside, who were ready to invest, so he purchased Kasper Construction Company's garage on two-and-a-half acres just north of Manitowoc.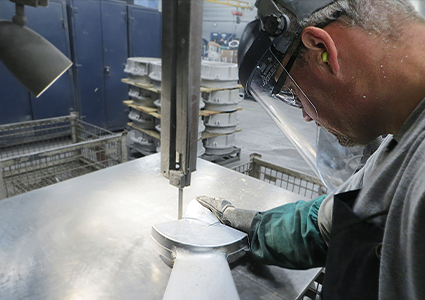 "Our grandfather, Robert Eck, his son, had already graduated from college with a metallurgical degree and was working over in Pennsylvania at Bethlehem Steel at the time. It was only a few months though, before he moved across to be with his father in the August of that year. From there, they set about steadily growing Eck Industries, one customer at a time."
The business was initially built upon orders from the likes of Harley-Davidson, Wisconsin Motors, West Bend Outboard, and Johnson Motors. However, moving into the 1950s, it became a key supplier to AC Electric, which catapulted the company into the aerospace market, producing aircraft computer castings. This was a significant period for Eck Industries, as it led to growth in terms of both size and capabilities. The following decade, the organization acquired Scherer Die Casting in Cedarburg, WI, which expanded its service offering even further.
Quality first
"We have always been known for our work with higher complexity casting solutions," Tyler adds. "We deal with a lot of the higher-strength alloys that we've also played a part in developing over the years, so we possess a lot of knowledge, especially when it comes to the technical side of the foundry industry. Similarly, we've got a strong history of high proficiency among our technical staff, whether from the metallurgical or engineering side.
"Our grandfather set us down this path many years ago, but it's also reflected by the trade organizations that we're a part of through the American Foundry Society. As a result, historically, our culture has always been incredibly technically focused. He was a very driven man, industry wise; he wasn't obsessed with seeing how much money he could cram into his pockets, he was more concerned with producing the absolute best casting we could to support our customers.
"That's still what Eck Industries is about today," he continues. "I'm in charge of the engineering group, and there's definitely areas where we could save a bit of money, at the compromise of our quality, but we don't go down those paths. That isn't the Eck way. Despite being generally conservative, our grandfather still made some significant leaps throughout his career; whether it was the acquisitions or new processes and developments, he was always chasing that next big thing, which is something I'm sure he'd be proud of us for maintaining."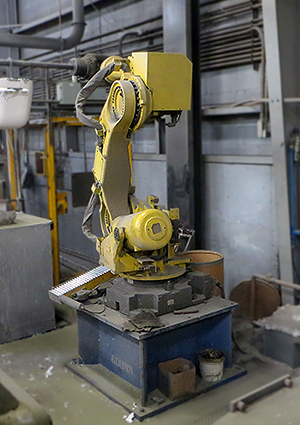 Working smarter
With Kiley and Tyler's generation at the helm, the organization has embraced the shift towards modernizing certain processes, with a keen focus on automation. Unlike many businesses in its situation, Eck Industries has taken a self-sufficient approach to integration.
"A lot of the other manufacturers we speak to choose to work with external automation integrators," Tyler explains. "We, on the other hand, made the move to bring all of the necessary technologies and staff in-house. For the last five years or so, we've steadily employed three automation engineers so that we can fully manage the transition ourselves. This approach allows our teams to overlap, which means automation knows exactly what the manufacturing and engineering segments require.
"We've found that we get far more suitable ideas this way, as opposed to hiring an outside entity who will naturally have a much narrower scope of understanding. It also means that the team can take a greater level of ownership over their work. They built it, so if there's a problem, they're right there to fix it, and can take a longer term view of the project and its maintenance. Contractors get in their cars and leave once they've finished, it's just not the same as having a dedicated team who live it every day."
"I would say," Kiley interjects, "that this is a prime example of Eck Industries' cross-functional, collaborative teamwork, which is one of the leading unique selling points (USP) that largely sets us apart from our competitors. I remember us first seeing some of our robots in action at a trade show some years ago, and I knew immediately that I wanted to implement them in our facility.
"When I told my dad he said, 'No way, robots don't belong in foundries,' but look at us today, we've got nine working across our shop floor as we speak. This really reflects my background in technology, as I was a key driver in delivering these changes. Today's workforce is more focused on working smarter, not harder. People don't want to do the hot, hard, and heavy anymore, they want careers that don't tear their bodies apart, which automation can help to facilitate.
"I just want everyone to go home safe at the end of the day," she adds. "We have continued to ensure that Eck Industries' family-ownership has a prominent impact on our working culture. One of our employees has just celebrated his 50th anniversary here, which means he literally knew my grandfather before I did! There are so many family links within our teams, between dads, uncles, brothers, cousins, and sisters, and it really shows. They say you spend more time with your colleagues than you do your relatives, but not if you work here."
Talent retention
Unfortunately, no working culture has been safe from the ongoing issues the manufacturing world has been suffering from following the pandemic. However, Kiley reassures us that Eck Industries' innovative approach to automation has always been there to support the company's human teams, rather than being in competition with them.
"We started the automation process years ago, way before the labor shortages had begun," she explains. "So I'd love to say my crystal ball told me so, but it's actually just a lucky coincidence for us. We have never intended to replace any of our employees with robots, their implementation is to simply make people's lives easier. Another benefit of introducing robotics has been the repeatability of certain mundane tasks, in which case, we've generally been able to reposition any affected employees elsewhere in the business.
"The way we see it, if you're not growing and progressing, you're dying. So, looking forward, we're aiming to keep on developing Eck Industries as much as possible. We're incredibly diverse, which has always been one of our clear selling points, and something that we will certainly maintain. However, there's still a couple of markets that we're not playing in and we're always open to acquiring like-minded enterprises to expand our geographical footprint."
"We're currently reassessing our people side, to a certain degree," Tyler concludes. "Now, more than ever, we're looking at developing it further, to bolster what we can offer our loyal employees. Historically we've been blessed by intergenerational team members following in one another's footsteps, but there's been a shift in the employment market over the last five years. As a solution, we're in the process of improving our talent retention by investing in more thorough training programs for our teams. That's how you cultivate a long-standing, fulfilled workforce."