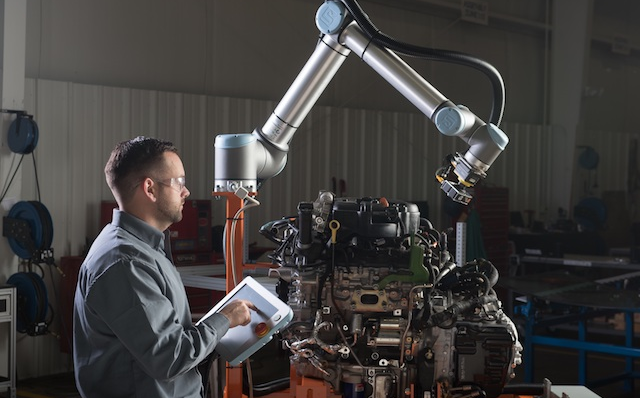 You might not realize it when you drive a car or truck, use a home appliance, or see a piece of construction or agricultural equipment at work, but chances are you are using or seeing something that was made with the assistance of Eckhart Inc.
Founded in 1974 and based in Lansing, Mich.,Eckhart continues to be a market leader in designing, engineering, and manufacturing factory automation equipment. "We provide custom highly-engineered solutions to manufacturers all over the world," President and CEO Andy Storm says. "Our primary focus is to ensure that the quality of life for our customers and the end-user continues to improve."
Storm brings a unique, international perspective to U.S. manufacturing and how it has refined its processes in recent years. He held positions with GM, American Axle, Pratt & Whitney, Oshkosh Corporation, and Stratasys before taking the leadership mantle at Eckhart in July of 2015. He also served as a fellow at MIT in the Leaders for Global Operations Program.
At Pratt & Whitney, Storm was exposed to the competitive nature of the global aerospace market as a member of Pratt's Global Repair Services business unit, delivering OEM and MRO components to facilities across the United States, Europe, and Asia.  Storm believes U.S. manufacturing should be the envy of the world. "One thing that differentiates the U.S. from the rest of the world is the constant focus on product and process innovation," he says. "Manufacturers are always asking, 'How can we manufacture products more efficiently, with higher quality and improved safety?'"
Strong Portfolio
Its continuous drive to improve processes and enhance efficiency has earned Eckhart an impressive list of customers including many blue chip manufacturers. That roster includes GE, Caterpillar, PACCAR, Ford and John Deere, as well as many others. "The world our customers compete in never stands still," Storm says. "Innovation and creativity are in the DNA of every Eckhart employee. From collaborative robotics, additive manufacturing tool development, and autonomous guided carts, Eckhart's advanced industrial solutions help our customers build more products safer and faster than they did before."
Eckhart's drive for innovation has resulted in a portfolio that includes collaborative robotic systems.  It is the fastest growing business unit within Eckhart and is complimentary to adjacent technologies in Eckhart's portfolio such as autonomous guided carts (AGC's), additive tool manufacturing (3-D printing), and ergonomic general assembly/torque secure tooling.  Eckhart recently engineered and delivered a collaborative robotic cell that picks door handles from over 550 unique storage locations and sequences them to an assembly line.  The customer opted for a collaborative robot that runs safely next to operators, eliminates the need for complex interlocks & controls programming, and is a fraction of the cost of a traditional robotic cell.
To create its culture of innovation, Eckhart practices four core principles. The first is to operate with a sense of urgency. "We need to demonstrate this through our actions daily and do it consistently," Storm says.  "Most manufacturers work in an environment of unpredictability.  Problems are plentiful and most come without warning." Recently, in fact, a large Fortune 50
industrial customer reached out to Eckhart for help.  An outdated piece of equipment had failed and their engine assembly process was being impacted.  They asked Eckhart to benchmark their current process and design an innovative solution to overcome legacy process constraints.  Within 24 hours Eckhart had their best engineers working on design concepts and exploring innovative ways to automate 26 individual torque secure functions via an overhead mounted tool.  "To ensure a high level of responsiveness during the integration phase, we sent the same people who designed and assembled the tool to our customer's factory," Storm says. "Their factory level team spoke directly to Eckhart subject matter experts. This helped us optimize responsiveness and demonstrate through action a high level of commitment to our customer."
The second is what Storm calls "an unrelenting focus on increasing material velocity," or the speed at which products can be built and integrated into an end-user's facility.  Within each function at Eckhart there are Group Leaders who are responsible for initiating and leading continuous improvement activities.  Each are tasked with examining how direct material and information flows from suppliers to receiving locations and then on to the point of use during the assembly process.  The Group Leaders often critique standard work that ensures quality processes are followed consistently.  Together, the continuous improvement mindset and focus on standard work helps employees see waste in the Eckhart value stream.  From work-in-process to field installation manuals, the Eckhart team focuses on how more value can be delivered in less time to customers.
Overall continuous improvement is the third principle. This includes the quality of the design as well as the manufacturing and implementation of a specific piece of equipment. As a custom tool manufacturer, Eckhart's highly engineered solutions often involve mitigating safety or critical-to-quality risk in an assembly process.  Eckhart applies best practices from across multiple industries during the conceptual phase of their design process.  During a recent project, paper cutouts were used with operators "in station" at the customer factory to evaluate opportunities to improve ergonomics and productivity.  By speaking directly to the operators, Eckhart was able to integrate a level of detail into the design that eliminated seventy degrees of operator motion during assembly, and improved the quality of life for the operators using the tool on the assembly line.
The fourth principle encourages the individuals who work at Eckhart to think critically about their work. This relates directly to the quality of employee Eckhart searches for. "It is a very difficult and demanding profession that is not for the faint of heart," Storm says. "We encourage manufacturing aficionados, particularly those who enjoy overcoming challenges, to consider a career at Eckhart. There is nothing more rewarding for our employees than the moment they realize their ingenuity and hard work positively impacted the quality of life for a customer and generated real value for operators in a manufacturing plant."
Finding people who enjoy challenges can be difficult, especially if a company is selective to begin with. "We are very, very selective with who we hire," Storm says. "When there is an opening, we wait for the right person to come along, as opposed to just filling a slot." Once hired, however, some Eckhart employees have been known to stay with the company for more than 40 years.
One-Stop Shop
In addition to its decades of experience, Eckhart maintains its competitive edge by performing design, manufacturing and implementation all in-house, with the last step taking place on a customer's manufacturing floor. "We are proud to be a one-stop shop," Storm says. "When we have a dedicated team that can solve our customers' problems efficiently, the quality of life goes up for that customer."
Though the company does significant work in Europe, its North American focus gives it quick access to its main customer base. "Basically, we can be on any of our customers' floors within hours, ready to assist in solving any problems," Storm says. "Being able to respond to urgent requests is a core strength of Eckhart."
The ability to respond quickly has led to some very impressive work in recent years. The company recently was awarded a major contract to design and integrate general assembly tooling into Volvo's new green-field factory in Charleston, S.C.  Additionally, it just completed an automated quality inspection project for General Electric.
"Our company has grown by leaps and bounds," Storm says. Indeed, Eckhart recently announced a distributor partnership with Rhino Assembly Corporation in South Carolina and has started looking at larger facilities within North America to accommodate its growth.