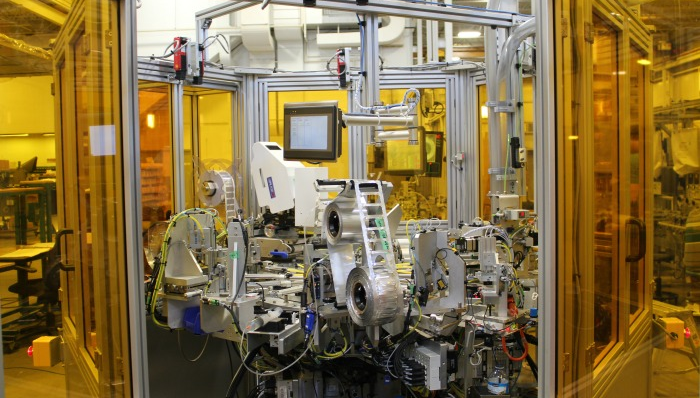 Eclipse Automation designs and manufactures custom turnkey automation solutions and equipment in industries spanning energy, health sciences, transportation, mining, consumer, industrial and electronics. The company works closely with every customer to explore the most efficient solutions and identify opportunities for improvement to achieve sustainable, long-term benefits for their projects.
From design and engineering to manufacturing and testing, Eclipse Automation does it all in-house. "We have a vertically integrated model," President Steve Mai says. "We take control over every aspect of product realization in developing custom automation solutions. The flexibility we provide in our project realization and approach is an essential part of our business operations."
Mai and his business partners, Todd Ronald and Richard Bula, combined their expertise in automation, manufacturing and software development to found Eclipse Automation in 2000. With the company's rapid expansion, Erik Woerner became a partner in 2007, helping to lead Eclipse's growing operations. Eclipse Automation acquired JR Fabrication in 2007, and then Forefront Automation in 2011, which allowed the company to establish an even broader customer base and double the company's overall size.
"We've been an actively growing company for many years," Mai says. "We're planning on future expansions within all of our divisions and a projected 50 percent growth over the next 5 years."
Some of that growth includes investing in its employees, equipment, and technology, while also expanding its operations outside of Canada into the United States. In 2014, the company opened facilities in Charlotte, N.C., and Fremont, Calif., to offer customers more flexibility and efficient services. "We need to be ready to scale next year," Mai says. "We're definitely planning on increasing staff and operational capacity to be able to stay on top of evolving customer demands. Since scaling our operations in the United States, we've experienced a steady growth equal to Canadian operations."
In 2016, Eclipse Automation joined the world's leading suppliers of custom automated manufacturing equipment to launch the Smart Automation Group. This global collaborative partnership, which also includes Insys Industriesysteme AG, Transmoduls Ltd, SMZ Wickel-und Montagetechnik AG, JULI Technology and ITE Automation, enables Eclipse Automation to stay at the forefront of an ever-changing market.
"The Smart Automation Group shares its global reach, intellectual property, resources and relationships in order to keep ahead of the curve and really utilize our know-how to a greater extent for our customers," Mai explains. "We take any asset between us and our partners that is deemed to be a benefit to a project and utilize it further to make the overall client experience better. Whether timing, price point or more advanced technology that is brought to the table, we evaluate it on a project-by-project basis. It is our unique ability of working with our partners that really benefits our customers."
Custom Process
Eclipse Automation operates out of a 120,000-square-foot manufacturing facility in Cambridge, Ontario. The key to every new project and process is quality, and the company is ISO-certified and recently acquired the CSA Z229.1 certification, achieving an even higher level of quality control. All processes are monitored through an internally developed software system so Eclipse Automation can streamline everything more efficiently. It can use its systems to trace everything in real-time from inception to completion, allowing Eclipse Automation the flexibility to make decisions quickly.
"We've developed our own software, which allows us to focus on all the tasks that go into project realization," Mai says. "We have full-time product tracking, quality control – complete visibility of each stage of the job. The in-house ERP system really lets us have a lot of transparency in what we're doing. And we can manage the cycles to be able to execute."
Eclipse Automation usually has 30 to 35 major projects being designed and manufactured at any given time. "People come to us with a product they want to bring to market or produce more of," Mai explains. "We have customers like Tesla Motors that may want to envision another model. They come to us for elements of parts that need to be made or a process for the vehicle. We engineer it, then manufacture it – whether robotically or conveyed – then provide testing to ensure quality control."
Entrepreneurial Spirit
Since the majority of Eclipse Automation's work is customized for its customers, the company has embedded an entrepreneurial spirit into its culture. The company looks for people who are eager to learn Eclipse Automation's processes, customer needs and requirements to design and manufacture custom solutions.
"It really drives the ability to learn as you go through your career," Mai says. "It's definitely an interesting environment that allows you to be innovative and entrepreneurial, while realizing we still have to be able to compete in the space. We empower our employees quite a bit and give them the tools to make a difference on each and every project."
The ability to secure projects from both a sales and project realization standpoint is shorter. "We find the proper people who realize those cycles and have the systems in place to bring them on and get them up to speed in our process," Mai says. "We've built a good reputation with what we do and a high percentage of our work is from the biggest companies in the world. We've done work with Apple, Tesla Motors, Google, General Motors and numerous other Fortune 500 companies. It speaks a lot to what we've built and the staff we have to support it. What we're selling is our know-how and the ability to develop these products through our realization platform to get customers what they need. We rely heavily on our employees. We're proud of them and the ability they have to support the future of Eclipse and its customers."