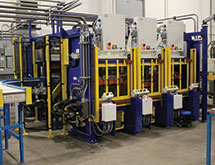 Based out of Cambridge, Ontario, Eclipse Automation has become a top supplier of custom automated manufacturing equipment. The company works with partners around the world in the solar, health sciences, transportation, consumer, industrial, telecommunications and electronics industries. Its goal is to assist in the creation of efficient and profitable assembly and testing operations.
Its Cambridge headquarters is a vertically integrated, ISO 9001-registered manufacturing facility that houses more than 175 employees. The company provides in-house system design, fabrication, system integration and commissioning services. Eclipse also has extensive expertise in manufacturing technology, including precision assembly, robot integration, welding and material-handling technology.
Fully Integrated
Eclipse is focused on creating long-term relationships with customers, utilizing its end-to-end integration services to ensure success at every stage of an automation program. From pre-automation services to project management and post-installation support, Eclipse can assist customers with project planning, design for manufacturing and risk management. It also offers comprehensive post-installation support plans, including training, spare parts management, process optimization and long-term service agreements.
"As a vertically integrated automation company, we strive to provide turnkey service and offering as much in-house service as we can," President Steve Mai says. "We believe in maintaining a high degree of control, which is why we have a great deal of technical expertise and know-how internally."
Serving a diverse array of market segments has benefited Eclipse, as it has managed to find a solid equilibrium between its markets on a cyclical basis over the past 36 months. The company has built solid internal expertise for each market, which allows it to best understand its customers' needs.
"We have full mechanical, electrical, programming, machining, wiring and testing capabilities here," Mai says. "Our headquarters spans four different side-by-side facilities where we do everything from engineering, integration, assembly and testing to machining, sub-assembly, fabrication and painting."
Evolutionary Steps
Mai says different market segments tend to trend up or down at different times depending on the prevailing economic conditions. The company has taken a number of steps to ensure it isn't overly reliant on one sector or another. In the early 2000s, the company was heavily exposed to the automotive market before it diversified into the electronics and industrial market segments.
From there, Eclipse evolved to serve additional market segments. An acquisition in 2011 allowed the company to grow quickly in the medical, energy and electronics markets. The company has since structured itself so it can specialize in its wide array of market sectors.
"We have a lot of technology that we've either acquired or created over the last 14 years, and to be able to use it to its full capability requires rapid communication with customers," Mai says. "We must be able to show them that we have the expertise needed for their specific projects from start to finish."
Over time, the company has invested heavily into its internal software. In fact, Eclipse's own team wrote its ERP software system. That allowed Eclipse to better meet the quality standards of its customers and rapidly adapt to their needs.
"We've gained a lot of control and real-time information, and we've built a foundation that allows us to rapidly adapt to market changes," Mai says. "That has helped us get to where we are today. As we've grown our presence in various market segments, we've had to expand our capabilities through innovation, technology and staff. We've been able to convey information rapidly as the needs of our markets have evolved and we've been able to tie our whole company together by investing in our ERP and communication systems."
Eclipse supplies its solutions all around the world. Although it is based in Canada, about 80 percent of its North American business comes from the United States.  This is why the company recently opened an additional manufacturing facility in Charlotte, N.C., while also adding a sales and service facility in Fremont, Calif.
"We needed to expand our footprint to improve our offerings," Mai says. "We've seen a lot of growth because of our expansion already."
Over the short term, the biggest focus for Eclipse is on further leveraging its current expansion effort in the United States. Essentially, the company will focus on proving to customers that it can deliver more efficiently, as its investment into U.S. expansion will allow the company to further leverage its core assets. This includes its internal know-how, which allows Eclipse to successfully execute projects.
At the same time, Eclipse will focus on streamlining internal processes even more. It is investing in software that will enhance internal communication throughout all of its facilities. That way, the company can provide the same capabilities and attention to detail to customers no matter where they are located.
"As a custom automation company, we pride ourselves on being flexible, as well as our ability to adapt to changes within our market segments," Mai says. "Our job is to support our customers so they can get their products to market. We've seen substantial growth in the last 14 years, and the end-goal is to always service current and new customers in the most efficient manner. We believe we are at a vital point in our journey. We have a strong footprint and will continue to invest in whatever it takes to support our current markets and find opportunities in new ones."