Making a difference
Working with customers throughout the world and across more than 40 different industries, Ecolab's products, services and expertise helps to ensure operational efficiency, safety and sustainability
With a 95-plus year history of innovation, more than 10,000 patents, and nearly three million customer locations across 170 countries under its belt, Ecolab has more than solidified its status of being the global leader in water, hygiene and energy technology and services. Around the world, businesses in the foodservice, food processing, hospitality, healthcare, industrial,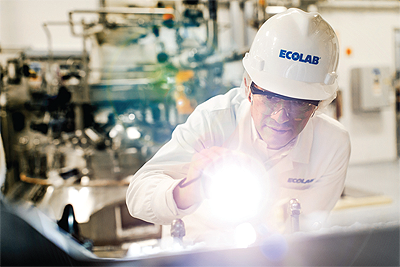 and oil and gas markets today use Ecolab products to keep their work places clean and safe, operate efficiently and achieve their sustainability goals. Meanwhile, the company's 49,000 associates – including 27,000 service professionals and 1600 R&D scientists – help to deliver comprehensive on-site service to maintain clean environments, promote safe food, optimise water and energy use, and improve operational efficiencies.
Jerome Charton is Ecolab's executive vice president and president of the Europe region, and is responsible for the broad scope of the company's business across the continent. In the ten-plus years that he has been with Ecolab, Jerome has also led its Paper division – which operates now under the Nalco Water name – and its Food & Beverage business in Europe, giving him an excellent understanding of what makes the company tick. "Ecolab is very much a value driven entity, and making things safer and healthier for our customers is what motivates us day in and day out," he states. "Each division of the company is specifically organised around its customers, adding value wherever possible through the supply of products, services and expertise specific to a particular industry sector.
"In my time with Ecolab, I have witnessed first-hand how it is a company that thrives on its ability to grow, whether that be through organic growth or through targeted acquisitions, and embraces constant evolutionary change. The latter is facilitated, in part, through a commitment to innovation, which has seen us launch numerous new products and services that have not only helped our customers, but helped Ecolab to reinvent itself."
Looking over Ecolab's recently released 2018 corporate sustainability report – titled Accelerating Meaningful Change – one can see the positive effects the company is having. In 2018 alone, it helped its customers conserve more than 188 billion gallons of water – placing it ahead of its target of saving 300 billion gallons by 2030 – save 19 trillion British thermal units of energy, avoid 2.4 billion pounds of greenhouse gas emissions, and eliminate 54 million pounds of waste.
"One of the biggest reasons behind the recent success of the company has been its ruthless focus on its customers and their needs," Jerome continues. "Our own ability to innovate, and to be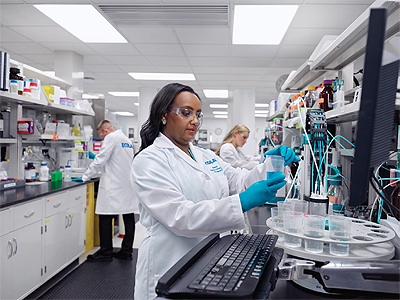 nimble and agile has meant that Ecolab has been best equipped to anticipate said customer's requirements and develop new technologies to manage these. For example, we recognised early the fact that water usage and scarcity would become a global challenge to respond to, and so we invested accordingly to transform ourselves into a global leader in water management. We have since taken the same approach when it comes to the other 'mega-trends' of today, specifically food scarcity and the need for hospitals to treat an increasingly aging population."
Through its Nalco Water subsidiary, Ecolab recognises that water is a critical component of its customers' business, and it has used its expertise and innovative solutions to help them to manage their water usage. An example of such innovation can be seen in its online tool, the Ecolab Smart Water Navigator. "This free online platform allows companies to better understand how they are using water footprint, find too a practical roadmap for sustainable water management," Jerome explains.
There are also lots of examples of tangible, field-based work that Ecolab has completed with customers around the world to address the issues surrounding water use. "In Spain, for instance, we have worked with a large chemical customer based close to the Ebro River which, due to the nature of its operations, consumed a lot of water," Jerome adds. "By working with this company and encouraging it to embrace the reuse of waste water in its process, we were able to reduce its total water needs by some 40 per cent, and also to make more water available to growing municipalities along the river.
"Meanwhile, in the Nordics, we have been working with a major dairy industry player to reduce not only its water use by up to 700,000 cubic metres, but also its total wastage by 1.7 million tonnes, resulting in savings of approximately €6 million. This example reinforces our belief that, fundamentally, the protection of the environment and optimisation of resources go hand-in-hand with economic growth. It is that balance of encouraging reduced consumption of limited resources while helping industries to grow that we try to achieve with every one of our customers."
Ecolab, as Jerome goes on to reveal, is also a company that does its best to practice what it preaches. "Internally, we have instigated programmes of our own to become more efficient as a business, while also keeping one eye focused on the future success of Ecolab. We have our own sustainability targets that we are taking great strides towards, including reducing our own water usage by 45 per cent in Europe by 2020, saving 60,000 tonnes of CO2 per year on the continent, and utilising renewable energy across our own facilities.
"We also constantly make efforts to develop our working culture, all the while maintaining those core values of customer focus, creativity and flexibility, through a programme called 'Faster, Smarter, Better'. The aim of this is to simplify what we do as a business by removing unnecessary processes and pushing those processes and ways of operating that best suit our customer's needs."
With its excellent levels of staff retention, Ecolab benefits from the experience of its workforce, but this also means that it needs to appropriately lay the groundwork for the next generation to come through the business, both on the manufacturing and field-based sides. "We have several successful programmes that we use to recruit and retain new talent," Jerome says. "In addition to partnering with bodies such as major universities throughout Europe, we also support employee networks that help to foster development. These include CONNECT, which brings together young professionals across business units through networking and events, and the E3 resource group that works to empower and engage female employees. These are just some of examples of the effort being made to ensure that the next generation of Ecolab employees have the best chance to grow and to promote the values that Ecolab holds dear."
Ecolab
Services: Global leader in water, hygiene and energy technologies