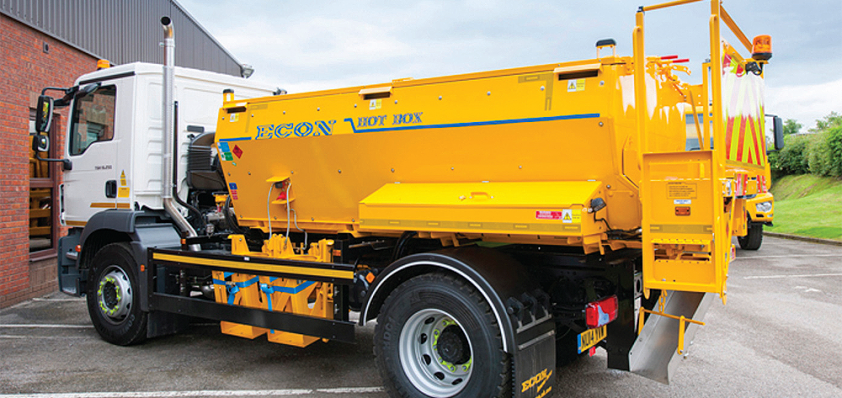 Reliable winter maintenance and beyond
Through maintaining full control of the manufacturing process, Econ Engineering makes reliable road gritters and multi-purpose bodies, whose quality and versatility have allowed the company to hold an 80 per cent share of the market in the UK
Econ Engineering's 50th anniversary is a wonderful occasion to present one of the UK's finest manufacturers. Having grown from a single man with a dream, into the largest builder of road gritters in the country, this North Yorkshire company celebrates half a century of business activity in 2019. Despite being a market leader in the winter maintenance market, this family run engineering business is still experiencing an increased demand for it's product range. Unsurprisingly, the company has recently been recognised by a number of external bodies, such as the Sunday Times, which ranked it in its International Track 200 in 2017, and Scotland Excel which shortlisted it for the Supplier Excellence Award in the Environmental Practices category a year later.
In Jonathan Lupton's words, Econ Engineering differs from the majority of other businesses in this sector in that it does not just assemble the gritters, but is in full control of the manufacturing process from start to finish. Jonathan, who is the company's Operations Director, comments: "We are capable of executing each of the steps required to build a gritter. Our workforce is skilled in processes such as laser-cutting, pressing, shot blasting, painting and of course, assembly. I would also single out our expertise in anti-corrosion coatings, as we have developed these along with a leading manufacturer as it is key to the longevity of any winter service vehicle."
Owing to its wide-ranging product expertise, Econ Engineering now occupies an enviable position at the forefront of the UK's gritting and winter maintenance market, its product portfolio containing not just gritters, but also snowploughs, multi-purpose highway maintenance vehicles, and road patching bodies. What is more, the business' fleet of over 700 spreader vehicles makes it the largest gritter hire company in the land, too.
"Traditionally, our customers have been local authorities and the main contractors that work for them," Jonathan discusses Econ Engineering's client base. "But due to the popularity of one of our other products; the HotBox, we also sell to various hire companies. Consequently, utility businesses hire these for their own operations."
The HotBox has been designed to support pothole repair activities and the latest version developed by Econ Engineering can be fixed onto either 18-tonne or even larger commercial vehicles. "Effectively, the HotBox enables you to carry hot tarmac for patching and repair work, to the area where it will be used," Jonathan explains. "With ever restricted budgets, councils are having to find cost effective solutions to road maintenance, so patching small sections with minimum road disruptions using the ECON Hotbox hits the spot and we have seen a dramatic increase in orders over the past few months."
Testifying to Econ Engineering's innovative thinking are the several multi-purpose body options that the manufacturer has developed. Jonathan explains: "We have supplied local councils with a variety of bodies that enable general highway maintenance duties or winter salt spreading tasks to be provided from a single chassis by just switching the body over, thus extending the use of their fleet to all year-round maintenance tasks, rather than having expensive equipment lying dormant for part of the year. For example, we offer a range of spreader/tipper combinations, with the one replacing the other, depending on the season or the type of work that needs to be done.
"On the hire side of the business, we are continually expanding and replenishing our fleet, having just ordered another 100 chassis, which is a significant investment on our part," he continues. "We are also expanding our mobile service division, with two new state-of-the-art service hubs due to be opened in Alloa, Scotland and Cardiff, Wales within the next 12-18 months. These developments will enable us to strengthen our position in the market, ensuring that our customers have the most reliable alternative to purchase and a speedy mobile repair service should the unexpected happen."
The first half of 2019 has proven exceptionally strong for Econ Engineering. As it became clear earlier, the business is presently seeing a flurry of orders, not least because of the harsh winter the UK had to endure in 2017-18. These horrendous weather conditions have evidently forced local councils and contractors to upgrade their fleets, in order to be better equipped should the future deliver another winter storm like 'The Beast from the East'. As a result, Econ Engineering's order book has been filled in no time and the similarly high number of enquiries for hire trucks make Jonathan's outlook for the remainder of the year more than positive.
Handling customer requirements did by no means distract Econ Engineering from the company's intention to mark its 50th anniversary in style. The celebrations started with an open day on 11 May at the manufacturer's site in Ripon North Yorkshire, where customers, partners, and local residents alike had the rare opportunity to see inside the factory that has created some of the most iconic vehicles on our highways during the last 50 years.
"There was a rich diversity of events and activities we had prepared for our guests," discloses Jonathan. "We were offering guided factory tours and also had our vintage collection of machinery on display throughout the day. Perhaps the most exciting feature however, was the unveiling of a state-of-the-art golden gritter we had built to mark the anniversary. It is scheduled to tour the UK in the autumn, visiting several communities and spreading the fame of Econ Engineering. As a matter of the fact, just a few days after our open day, we were the main sponsor of Cold Comfort – the UK's largest winter maintenance conference and exhibition and as such, we had the golden gritter positioned outside the exhibition venue in Harrogate, where she attracted a lot of attention. We are always humbled by how much interest our customers, suppliers and fans have in the heritage of this family-owned business. So, in order to do the story justice, we commissioned a 50th anniversary limited edition book to document the story using our extensive archives, and anecdotes from employees past and present. The book will be distributed later this year.
"Clearly, the last few years have been a time of continued success and accelerated growth for Econ Engineering's business, but we never rest on our laurels and our product development is very much driven by our customer's needs. So, our next generation of SPARGO controllers will have telemetry capable of remotely diagnosing faults, re-ordering parts, ensuring the right parts are available for the depots to execute preventative maintenance in the shortest possible time, as well as managing flow rates and routes to optimise efficiency. As road repair techniques improve and new forms of de-icer are introduced, we will continue to develop products and services ahead of the market. We strive to be more than just thought leaders as we forge influential partnerships with governing bodies to set new standards for road safety," Jonathan concludes, declaring his unambiguous ambition for Econ Engineering to be at the forefront of keeping Britain on the move today, tomorrow and long into the future.
Econ Engineering
Products: Salt spreaders and road maintenance vehicles
http://econ.uk.com