Cutting landfill waste
EDGE Innovate is maximising the opportunities it sees in the waste recycling industry, relying on the close relationships it has established with its distributors and end users, which allow the Northern Irish manufacturer to design spot-on industry-leading solutions
The waste recycling industry has been growing fast over the last decade, as the pressure to reduce waste going into landfills has increased with more environmental considerations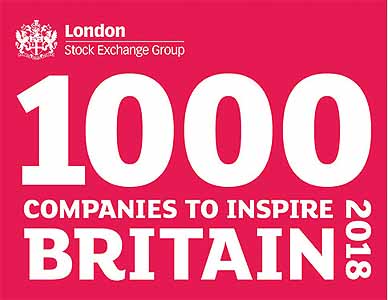 permeating business all over the world. Consequently, the new factors that have come into play have made the availability of reliable and efficient material handling equipment an imminent requirement for operators. Stepping in to deliver high-quality machines is EDGE Innovate – a Northern Irish company, which, for more than ten years has persistently extended its global footprint in the sector.
"Different countries require different types of equipment, which means that the demand for our machines is very diverse," Managing Director, Darragh Cullen remarks."The more developed countries have tighter recycling legislation; therefore, they need more complex machines and there is a larger demand for equipment that diverts waste from the landfill and enables it to be used again.At the same time, there are still a lot of countries that do their sorting manually. Our product can be seen in over 50 countries, which is already a massive scope of action, but the challenge for us presently is to get into even more countries. It is evident that the regulations are becoming more and more stringent and this is pushing us to develop more advanced technology and create more technically challenging and complicated machines," he discusses.
Rightfully considered an international leader in the field of waste recycling equipment, EDGE Innovate bravely took its fate in its hands in 2008, when the company had to change the road it was on, in the face of hardening economic conditions. Darragh remembers the company's roots:"We originally started as a subcontracting manufacturer for local businesses more than 20 years ago, but as demand for our services dropped due to the downturn, we had to reassess the future and take a different strategic direction.This is how we decided to start designing and manufacturing our own product range, in order to gain some control over the situation. Our objective ever since has been to create equipment that will give our customers a competitive edge in the marketplace."
Adhering to its creed has allowed EDGE Innovate to turn into an influential company in Britain's business landscape. The manufacturer was included on London Stock Exchange Group's '1000 Companies to Inspire' list in May this year – a prestigious accolade presented to a selected few, which recognises SMEs' efforts to grow dynamically and apply working solutions that could serve as a blueprint for their peers, and ultimately, for shaping the future of the UK's economy.
Earlier in 2018, EDGE Innovate was also named as one of Ireland's Best Managed companies by Deloitte, and Darragh comments on the meaning of these awards for his business: "It is always great to receive recognition from awards' bodies of this kind, because they are basically telling us that we are doing a good job. It also boosts our team members' morale. The business' greatest asset is the people who work here, so all these awards reflect our staff's commitment. What is more, winning prizes sends a positive signal to both existing and potential customers that the quality of our products has been praised by some authoritative organisations."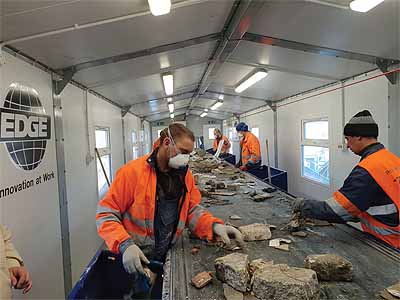 EDGE Innovate works tirelessly to perfect its distribution network, which plays a fundamental role in business' expansion."Our distribution partners are the immediate customers of our company, and then, they sell the equipment to the end users, who are often companies that own landfills or waste transfer stations. Another group of traditional end users are aggregates producers and also people who operate import terminals, where our equipment is used for cargo loading and unloading onto and off ships. Our equipment can also be used found in the rail loading and unloading sector.
"It is our customer service and backup proposition that our clients value most in their dealings with us," Darragh maintains."Buying a piece of equipment is just the start of the journey. The customer insists on having quick and easy access to spare parts and technical backup and we are very strong in this aspect.We have been able to build excellent working relationships both with our distribution partners and our end users, which allows us to design tailor-made solutions for the customers."
To ensure the consistency of product quality, the company has established a 15-strong team of design engineers that take care not only of the creation of new machines, but also the improvement of existing equipment."Our product ideas are ultimately driven by our clients," Darragh reveals."They will normally come to us and tell us:'If you can come up with such a solution and bring it to the marketplace, we will definitely be testing and purchasing it'. It is again a testament to the strength of our sales and marketing team, which is in constant discussion with our distribution partners and end users, over the possibility of new product launches."
Currently, EDGE Innovate has all its manufacturing processes under one roof at its facility in Dungannon, County Tyrone, but given the growth trajectory the company is on, it has started to feel the need for physical expansion. "We are in the middle of finalising our plans for a 50 per cent increase of the factory floor space between now and the end of 2018.We are always eager to invest in the latest production technology and we have already invested in automated drill lines and laser-cutting machines, but we are now looking to bring in a new stateof- the-art paint facility and expand our assembly space, as well," Darragh summarises the business' plans in manufacturing terms.
But, what about external development? "We are presently looking to set up a distribution hub in the East Coast of the USA, which will sell both equipment and spare parts. Moreover, we are placing a sharp focus on South America, as we have identified the marketplaces there as potentially strong.To further our aspirations in the region, we have already sent some experienced people there to investigate the business conditions first-hand," he discloses."We have just completed our growth strategy for the next five years. It projects significant growth, both in terms of sales and revenue, and market expansion. We intend to launch a number of new products throughout this period to help us hit the revenue targets we are certain, we can achieve."
EDGE Innovate
Products: Conveyor and sorting machines