EH Stock has tool intentions
Specialising in the design and manufacture of precision cutting and ultra-hard tools, EH Stock is a well-regarded supplier to companies in the engineering industry, particularly in the automotive sector.
The business was formed almost 40 years ago and quickly established a reputation as a trendsetter, becoming one of the first companies to make PCD (Polycrystalline diamond) and PCBN (Polycrystalline Boron Nitride) available to the UK machining industry.
Detailing the company's story so far, Paul Curry, operations manager of EH Stock (Saint Gobain Abrasives) tells Manufacturing Today Europe: "The company was formed in 1969 as a cutting tool manufacturer that produced high speed steel, tungsten carbide, rotary cutters and various forming tools. In the 1970s we became one of the first UK businesses to produce PCD and PCBN at reasonable prices. More recently, in 1997, we were taken over by the Unicorn International Group, which in turn was acquired by the Saint Gobain Group later the same year.
"It is a group that has a history dating back to 1665, and now operates in over 50 countries employing in excess of 200,000 people. We are able to fit into this very large international organisation by being part of the high-performance materials sector, which is Saint Gobain Abrasives." And while Paul admits that EH Stock is a comparatively minor cog in the forceful Saint Gobain machine, he insists that its lack of size is more than compensated for by a high level of quality and customer service.
"EH Stock is a relatively small company in Saint- Gobain terms with only 35 direct employees. However, we have a very proud history of being able to respond quickly to the various needs of our customers. We have proven ourselves to be fleet of foot in terms of supplying planned and unplanned requirements as well as designing new tools and helping our customers to overcome problems they face when they are trying to introduce products themselves," he says.
The ultra-hard tools for which the business has become synonymous utilise PCD for non-ferrous metals or composite materials, while PCBN tools are used for hardened steels and cast iron. Commenting on the customers who utilise such products and the partnerships that have been fostered with them, Paul comments: "Primarily, we are suppliers to first-tier companies in the automotive sector, and our sales engineers work on application engineering with them. We go to a customer and look at what they are machining and work with them to pinpoint their problems. By doing so we can introduce tools that will improve their operations, whether that be to remove metal, improve cutting speed or just generally improve the durability of the tools."
That service has improved further since a year on year investment programme began in 2006, which saw the annual addition of state-of-the-art CNC grinding machines. "Each of these machines sees investment of in excess of £300,000 and is in addition to other on going factory investment to allow us to compete in the global market place. This investment has seen us reduce labour costs and dependency with machines capable of running 24/7 regardless of whether the factory is physically crewed, so even if the factory is shut, the machines will be running." It has also allowed the company to continue to compete with the cheaper, emerging markets that have changed the face of the manufacturing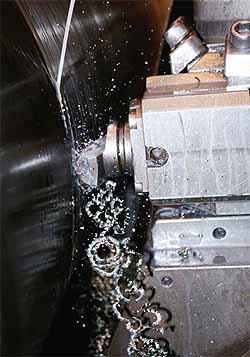 sector in recent years. "The continuation that the CNC machinery offers has allowed us to continue operating from a European base and to compete with the low cost economies," Paul says.
Individual handcraft of every tool has also been phased with investment already completed and planned regarding induction and vacuum brazing in line with the continual effort to implement lean working practices, as Paul explains: "We endeavor to keep the manufacturing as efficient as we possibly can. In years gone by the approach has been some what of a cottage industry, by that I mean we used a high skill base to turn out small batches, however as volumes have increased we've turned to ever more advanced CNC machinery as the modern world is too competitive to tackle volume in any other way."
Not that the company has discounted the talent of its staff, in fact it is rightly proud of their expertise. Paul comments: "We've retained a large part of our skilled workforce, their expertise is called upon to meet our low volume high tolerance work with PCD, tool development work with our customers and transfer to volume production on the highly automated new machines where we need to understand just what we are asking the machine to do.
"As a small company we are lean by nature, but one of the key aims is to unlock the full creative ability of our staff. We have a great mix here, from teenagers all the way through to experienced personnel in their 50s with 35 years' experience to call upon. We need these experienced employees to pass on their knowledge and help the younger staff grow and realise their full potential. We're fully committed to training and aiding the development of everyone here ranging from NVQs through to HNCs and even degrees."
It is proof that with the right team and working practices, and a fair bit of financial clout, that manufacturing in the UK is still a viable option. And with expansion in Europe and beyond on the horizon, exciting times are in the offing for all at EH Stock. He states: "There are plenty of further opportunities for the company as the market, while in a period of contraction, is huge. We've built a business base in the US and Europe with both continuing to develop out into new customers. September sees the launch of our new standard catalogue and a revised web site will soon be in operation to drive this additional offering to the market.
"We are moving progressively forward in Germany, Italy and France as well as retaining our traditional markets on the continent. It is down to us to go into those markets, target the customers we can best work with in order to grow out of the competitive environment rather than be constrained by it. Customer service through on time delivery and response to need is a key strength of ours. With that in place it is all about tool design and the quality of those tools that will gain us business and sustain the company," Paul concludes.
EH Stock
Products: Diamond cutting tools
Sites: UK
Employees: 35
www.ehstock.com