A smooth operation
Ekamant is one of the leading producers of coated abrasive products for the wood, metal, and automotive industries
Ekamant is a company that has a deeprooted history in the industry, and has provided coated abrasive products for many years, to customers across the world. However, it has continued to move forward and find ways to improve – retaining its sense of tradition and history with a forward looking and youthful approach. It has persisted in supplying market-leading products,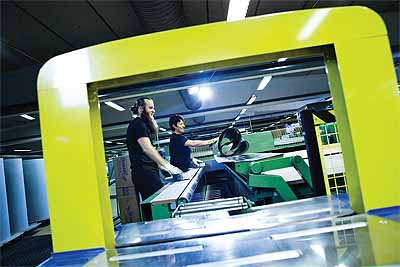 while also expanding into new areas, and supplying developing markets. There is a great deal to be impressed by about the company and its history, but there is also a great deal to be excited about for its future.
With more than 80 years in the business, it is one of the oldest — as well as one of the most innovative, with a history of introducing groundbreaking-coated abrasive technology. Ekamant is still located in Markaryd, deep in the heart of a Swedish forest, where the company was founded in 1928. The coated abrasive knowledge the company has accumulated over the years has been passed down from generation to generation. It is constantly discussing new ideas for improving the technology it uses. Ekamant is also always trying, testing – and eventually succeeding. But the goal is always the same: how to find ways to make its products even better and more effective in supporting the customers' development.
Ekamant is Sweden's only producer and exporter of coated abrasive products, and for decades now, Ekamant has excelled as an innovator in the field of sanding technology. With the resources available to the company as well as extensive research and development, Ekamant will continue to excel in the 21st Century. There are many ways it has been able to do this, though a significant reason for this can be attributed to the company's values, and some of these were highlighted by CEO Mikael Rietz: "For us, quality is the number one priority. The company also focuses on providing high performance and service through our highly skilled technicians to our customers. Creating products that are not only at the pinnacle of excellence, but are made to save costs for clients. We manage to combine all of these, to provide something that helps solve many aspects of a customer's needs. These are also all things that we will keep increasing in the future, and due to new factory equipment we are able to be more streamlined, efficient, and even higher quality."
Ekamant abrasives are sold in more than 50 countries around the globe. It has its own global sales organisation and conversion plants in five different countries with approximately 450 employees in total. This is even further enhanced as Ekamant's business concept is to offer a full range of the highest quality coated abrasive products to end-customers and distributors within the global market, in combination with an outstanding distribution and service offer.
Ekamant is also entrenching and solidifying its position in the metal market – the product range for these new metal products is extensive and is for all types of metal grinding, and by using backings ranging from flexible cloth up to strong/ heavy polyester backings and different grain types from standard grains to high performance grain types, every metal sanding operation is covered. The key to succeeding in this market is not only having a good product, but also more importantly having professional people that are able to introduce the product to the customer. One aspect of this has been that Ekamant focused on employing new colleagues with long experience in the metal industries.
The importance the company places on the people that work there is clearly significant and it has been a major focus for the business recently, and it has been recruiting the very best personnel for Ekamant, as Mikael elaborated: "We now have a better structure of the company – we have also been able to attract some really good people, talented ambitious individuals, as we see that the people at the company are central to its success." New people in combination with already highly skilled and experienced staff makes it a strong set up for the future.
Ekamant also produces coated abrasives for the wood industry, as well as products for the automotive market, and this sector looks to become a growing part of the business in the coming years. Ekamant has made great strides in the global automotive industry, and Mikael discussed this: "In Asia we have been gaining a good position, and throughout the world there is quite a significant amount of sales coming from the automotive industry. There are also promising signs in other locations, for example in Brazil we have a long-term distributor, and we are seeing a growing market there. There is also a focus on the European market, such as in the German automotive sector. This is just one part of the business that we will be further growing going forward."
The company has had a long and rich history; however it is its future that is really exciting. Ekamant has managed to continue its marketleading position in the wood side of the business, while also solidifying its service within the metal industry, and is also making inroads in the automotive business, furthermore all of these are supplied internationally to an extensive and growing number of countries. Ekamant is passionate about quality of product, quality of personnel, and quality of service, all of which are made to be a cost effective option for all of its customers around the world.
Ekamant AB
Products: Coated abrasive products for the wood, metal, and automotive industries