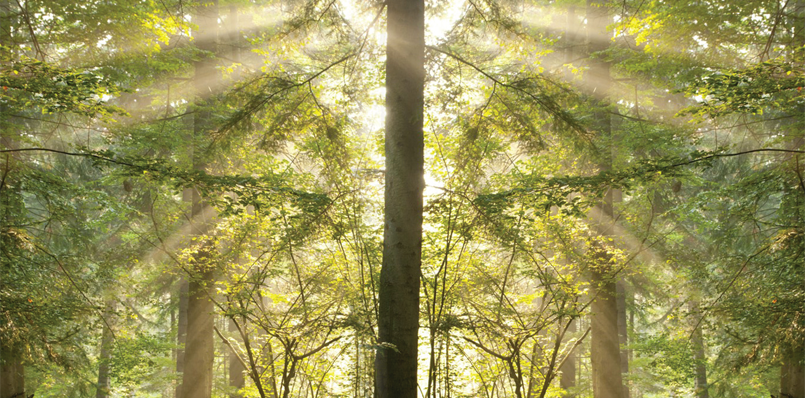 A polished offering
Bringing a tradition of innovation together with modern technology has enabled Swedish company Ekamant to occupy a leading global position in the abrasive market
Ekamant is currently one of the world's leading producers of coated abrasives for the wood industry. Founded in the Swedish forests back in 1928, the company has grown solidly through a programme of continuous improvement and innovation to establish a wide range of products suitable for a variety of applications. "The company has a history of introducing groundbreaking coating abrasive technology," begins CEO, Mikael Rietz. "Today, we serve more than 60 countries globally with all kinds of abrasive products and are still expanding our global footprint every year."
The core strength for the Swedish firm is its consistent focus on innovation. "Throughout our history we have tried, tested, failed and eventually succeeded with our products," continues Mikael. "However, the goal has always been the same: to find ways of making our products even better and more effective in supporting our customers' development. Our combination of tradition and high technology is unique and it has inspired us to think outside of the box and use abrasives in an innovative way for the benefit of both present and future generations."
An overview of the company's product milestones goes some way to illustrating this approach in action. In 1953 Ekamant adopted an electrostatic coating method in manufacturing and three years later it developed its first resin-bonded abrasive paper. In the seventies, the company had its first patent awarded for antistatic abrasives and later on launched Antistatex – the first antistatic abrasive paper in the world. This tradition continued in the eighties as Ekamant responded to customer demands by introducing a range of phenolic resin-bonded coated abrasives, which demonstrated much improved durability. More recently, in 2008 the company looked outside of its established wood market and began offering solutions to the metal, automotive and composites industries.
"We are continuously developing our products and adapting them to the market and our customers' needs," notes Mikael. As a result of such a history, today's product offering can be defined by quality and durability as well as being supported by outstanding technical support and service delivered by a globally integrated distribution network.
Today, the company's portfolio encompasses a whole range of solutions for wood, metal, automotive and composite applications. From wood shaping and sanding, to aluminium and lacquer polishing, Ekamant's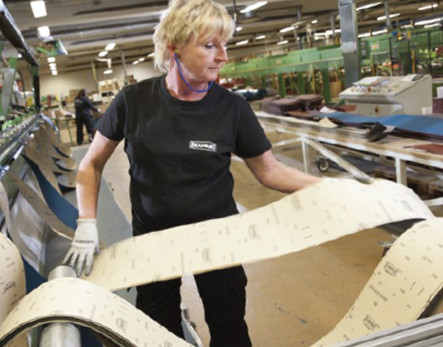 products are available in a variety of belt, sheet, grinder disc and roll offerings. In addition to this standard offering and in keeping with its continuous drive for innovation, the company has developed abrasive brush products, finishing concepts for polishing applications, foam backed abrasives, machine accessories to accompany the standard range, and a non-woven product for cleaning and polishing purposes called EKA-BRITE.
The company currently operates from its main operational site in Sweden, which it has upgraded this year to meet higher demands from the market. However, as Mikael explains: "Our strategy is to make customer orientated products by fine tuning standard products to customer needs in our conversion plants around the world." In order to ensure its products meet exacting standards across the company, Ekamant has established synergies between modern technology, highly skilled employees and strictly regulated raw materials to guarantee the highest quality is maintained from material to finished product. "It is very important for us to work in close co-operation with our suppliers," notes Mikael. "Daily contact as well as general updates with the suppliers is an ongoing process."
The market for Ekamant at the moment is positive. Mikael expresses some awareness to particular challenges facing the industry as a whole. "We are seeing more and more low cost products with increasing levels of quality coming into the market," he says. "However I believe there is still a lot of opportunity for us to continue delivering high quality materials combined with good service to our distributors and end customers."
In accordance with its tradition for innovation and product development, Mikael notes that the next 12 months will see a continued focused on developing new products and services. "As well as this, we will be looking at maintaining efficient development of our processes to meet our customers increasing demands," he adds.
"We have experienced stable growth over the last few years and as we move forward we will keep our focus on growing organically, market by market. We believe in delivering high levels of service alongside good and stable products to the customer to support their business.
Strong collaboration with selected partners is an effective way of developing the service and product offering to the market."
Ekamant AB
Products: Leading specialists in coated abrasives for the wood industry
Sites: Five