Going places
Elddis is a leading manufacturer of the UK's first and only fully bonded touring caravans and motorhomes, and it has continued to solidify this position with its investments in people and facilities
Elddis last spoke with Manufacturing Today Europe in December 2015, and within the article the company gave details about a number of impressive developments and investments, which
have not only reshaped the company, but also the industry itself. It has changed and evolved in a number of ways, and these include its innovative construction methods and designs in the form of its SoLiD Construction system, which remains the first and only fully bonded construction system for touring caravans and motorhomes.
It combines this technology with the breadth of expertise and talent among its growing staff, and the result has been a product range and brand with a reputation and sales that only continue to grow. The company is committed to always finding ways to improve its vehicles, deliver innovative and unique design and ensure that these remain at the forefront of the industry, which will no doubt maintain Elddis' presence as a leading manufacturer of state-of-the-art vehicles.
Since its last appearance in MTE, the company has continued to make investments in its products, facilities and personnel, and Elddis' Production Director Gary Jones gave some more details on what has been achieved: "There have been three major things that have happened to our product since our last articles in MTE.
"First of all, we re-launched the Compass brand – which consists of three ranges of touring caravans – with a whole new look and feel, combining its heritage with up-to-date technology and design. The Compass portfolio has enabled us to continue to grow our Retailer network in the UK, strengthening our presence and expanding customer choice.
"The second was that Buccaneer (our premium caravan range) was expanded to eight feet wide, whilst we also introduced under floor heating and a number of other class-leading features.
"This was a hugely significant change. We were the first – and remain the only manufacturer in the UK to produce eight feet wide caravans. This has been a huge commercial success, and, based on our customers' appetite for these larger-sized caravans, we saw potential to go eight feet wide with specific models in our core ranges: Elddis Avante and the all-new Compass Casita.
"At only 6" wider than a standard width caravan, you'd be forgiven for thinking that the difference in width is nothing to shout about. But the results are astounding. We are able to design and manufacture a choice of unique and exclusive layouts that simply would not be feasible in a standard-width caravan … and as sales figures attest, we were right to make this bold decision."
Retailers are prioritising orders for the larger model. Not only has Elddis created something that clearly taps into customer needs and demands, it is also currently the only UK manufacturer to make this option, which once again is an example of how the business is leading the way in the industry.
Gary went onto discuss another highlight of 2016: "The third thing that was quite a feat was we made all the motorhomes on a low-line chassis. Predominantly, over the last ten or 15 years, motorhomes have required an electronic step to get in and out of the vehicle. However, four years ago we launched a whole range of low-line, compact motorhomes (Elddis Accordo) where we wanted to target the caravan market and focus on improvements from a building perspective.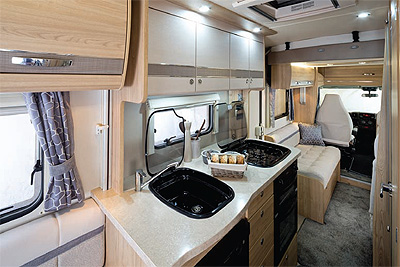 "The result of which has been that this year we have developed all our products on a low-line chassis, which was a massive design achievement. This means that not only can the user can step straight into the vehicle, but the vehicle itself is more streamlined, with a sleeker profile, and is more nimble to drive.
"One of our best-selling motorhomes is our 6-berth Autoquest. Until now, this has been in the form of a hi-line overcab bed – popular, but incongruous with our new low-line line-up. We therefore developed and designed something that would retain the six beds it had beforehand, and we did this by putting in an electronic rise and fall bed at one end."
The passion and expertise that Elddis constantly displays when designing its products illustrates why it has become so popular with customers and retailers.
These impressive moments of 2016 were further added to when Elddis received several awards for its vehicles, including three sought after accolades at the Caravan Club Caravan Design Awards. Since then, and the start of the 2017 Season, Elddis has swept the board with yet more awards, including the title of 'Tourer of the Year' from both Practical Caravan and Caravan Magazine, plus 'Innovation of the Year' and 'Layout of the Year' for the all-new eight feet wide Elddis and Compass models.
These awards are an example of the extent that these designs appeal to those that matter most, the customers.
Due to the success of Elddis and its various products the company has seen demand continue to grow, along with its market share both within caravans and motorhomes. In order to meet these the business has embarked upon various investments in its personnel and facilities: "We have gone from around 300 members of staff to about 400 in the last 18 months, and we are employing more people and creating more job opportunities, plus more chances for people to move within the business, which is great.
"For example we have got around half a dozen key operatives in the process of developing in order to be Team Leaders, which ensures that we are nurturing the talent that will inevitably manage the business one day in the future," Gary explained.
In terms of improvements made to the manufacturing site he added: "We have just spent around half a million pounds, and one of our biggest projects was to install more capacity into our machining area. This is where we manufacture all our internal furniture parts. This project began in October 2015 and stage four will be complete in February 2017."
A key aspect of the developments has been to ensure that the materials flow throughout the factory, and to create an even more effective system that will keep up with the growing demand for Elddis' products. The improvements it is making to the factory and process has meant it has achieved the ISO9001 2008 certification, and aims to gain the 2015 standard in early 2018, which provides its customers with the peace of mind that all products are of the highest quality.
Therefore, as Elddis continues to build upon its foundations it looks set to go from strengthto- strength and grow even further. The company will continue to harness the improvements it has made to the factory, and the various upgrades it has introduced using technology, such as making full use of its CAD, CAM, and 3D capabilities, as well as the major shift forward it made from paper drawings to computer interfaces at every work station.
Elddis has combined this with its expanding staff numbers, which include fresh and highly qualified designers with its experienced personnel that have great insight into the industry. In addition to this it is proud to continue to welcome apprentices into its ranks, taking on board more youngsters every year to train and develop. All of which have enabled Elddis to advance what it is able to do and the scale of its ambitions, taking its leading products into many more markets and to many more customers across the UK and abroad. While Elddis has clearly had a very successful history it looks well placed to enjoy even more prosperous years ahead of it.
Elddis
Products: Touring caravans and motorhomes