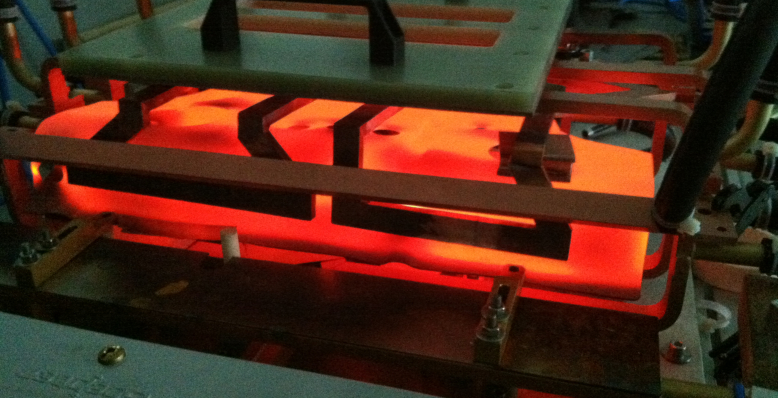 eldec LLC is in the business of solving its clients' induction heating challenges. But doing that, Sales and Market Development Manager Mark Davis says, requires it to adapt its technology to the marketplace's needs. "Adaptation may take the form of changing or modifying your current product portfolio to provide an even better solution for your customers," he explains.
eldec, which originated in Germany's Black Forest, has built, sold and serviced products in Michigan for the past two decades. Founder Wolfgang Schwenk started the company in 1982 and began building induction tooling out of his garage.
Over time, eldec grew a customer base, including those in the automotive and power generation industries, that required new, solid-state induction power supplies, which its team developed. In 2013, eldec became part of the EMAG machine tool group, allowing it to join one of the top machine builders in the world.
Today, "We here at eldec LLC specialize in building and servicing induction generators for applications in the North American market," Davis says, adding that the company's MICO product is a strong example.
MICO, which features an all-in-one innovative design, combines a frequency converter and coolant system into a common housing with a single-source disconnect. This provides a simpler option to users, he notes, as opposed to bringing a cooling water supply and tooling separately to a job site.
eldec's customers instead can bring them together in a product that has a single point of connection. "Everything is tied in as a system," Davis says, noting that this not only provides users with benefits in efficiency, but also in floor space and time.
"Our German colleagues introduced the MICO almost 10 years ago to provide this combined platform, which has become widely accepted and frequently emulated," he continues. "We like to say that MICO stands for 'Modular Induction, Coolant Onboard.'"
Adapting to Needs
The MICO features an attractive aesthetic and multifunctional design, but it is not engineered to be "all things to all people," Davis admits. For example, the product is indoor-rated and not useful "up tower" in the windmill service environment, which some of its customers require.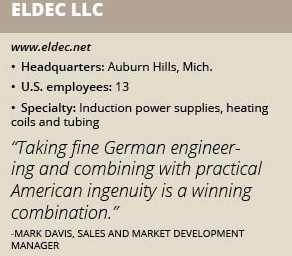 These clients have situations that require them to service the windmills to keep them running. However, "You can't bring it down to the ground," he says. "You have to get the equipment for servicing it up there."
eldec has adapted to these clients' needs. Last year, the company developed an outdoor-rated "Wind" package that did the job. "It's perfect for use in remote or high locations, such as the top of a wind turbine tower where conventional induction solutions cannot be used. The application called for flexible cables for a shrink fit and removal operation," he recalls.
In addition to an MFG 30-kilowatt power supply and compact chiller, eldec designed and built a rigid, shock and vibration lift cage for the Wind unit that could be lifted by a hoist. The product also can operate equally well in subfreezing or sweltering environments, Davis says.
A Winning Combination
eldec also has adapted the MICO design to meet customer demand with the recently introduced mini-MICO, Davis says. The mini-MICO came together as result of customer requirement for a direct-coupled dry-coil, not standard on any platform. "We adapted common elements from our all-in-one induction system, including rugged and compact, user-friendly design, to create an all-new solution. Taking fine German engineering and combining with practical American ingenuity is a winning combination," Davis says. The by-product is an even smaller footprint (about 80 percent of the MICO floor space), yet with the same three-ton cooling capacity.
eldec's efforts to meet its clients' needs reflect the philosophy of its president, Jochen Arnold. "Service sells," he says, "and by that, I mean the driving factor for continued eldec innovation is always focused around the customer workpiece." He recommends his colleagues be driven by solutions to specific processes and challenges in the present, instead of being occupied by the past.
Pressing Hard for Safety
eldec will also unveil new induction concepts for heat treating of press hardened automotive steels at FABTECH. "It has huge potential," Davis says. "It's something more and more people are forced to deal with as the Press Hardening process continues to gain popularity."
Induction heating looks, for example, at ways to pre-heat for press hardening to increase oven throughput in a hybrid process and as an alternative to roller conveyor downtime. Others may be looking to induction to achieve specific local metallurgical structure. In any case, all are looking to improve steel strength for increased safety and lighter weight, both for better fuel efficiency or longer ranges in case of electric vehicles.
Whether it is hardening, pre-heating of specialty press hardened steels, pre-heat for weld or post-heat annealing, innovative induction technology promises some extraordinary process gains, including increased uptime, smaller footprint and less energy consumption.
Eldec is considering a new generation of high power, optimized generators tuned to press hardened steels. Visit it at Fabtech Booth C12544 to begin the conversation.
At the Top
eldec, Davis notes, is currently ranked as one of the top induction companies in Europe, as measured by annual turnover and online ranking tools. By the same token, it also was recently ranked in the top five in North America.
"Our goal is to be one of the top two induction equipment houses in the country," he declares, adding that the company will be debuting the mini-MICO to the North American market at the FABTECH expo this November in Atlanta.
eldec also is growing its web presence worldwide. To find out more information, visit its main site at www.eldec.net or its micro site, wwww.inductionheatingexperts.com.