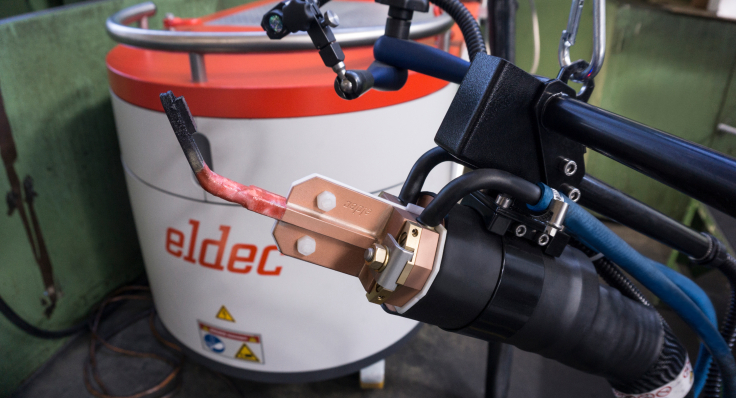 eldec LLC is in the business of solving its clients' heating problems. Sales and Market Development Associate Mark Davis explains that while some competitors are content to simply sell customers their products, eldec takes a more thorough approach with the intent to provide solutions for their customers.
"We want to make sure the customer's process is improved and if there's anything we can do to shape the process to be more cost effective and efficient," he says. "That's where we really shine."
Originated in Dornstetten, Germany, eldec manufactures, sells and services induction heating coils and power supplies for clients across the world with manufacturing locations in Michigan USA, Germany and China.
Founder Wolfgang Schwenk started the company in 1982 and began building induction tooling out of his garage. Over time, eldec grew a customer base, including those in the automotive and power generation industries, that required new, solid-state induction power supplies, which the eldec team developed.
In 1998, the company established its U.S. operations in Auburn Hills, Mich., where it has been for the past 20 years. Eldec became part of the EMAG Group in 2013. EMAG is one of the top ten machine tool companies in the world. "We here at eldec LLC specialize in building and servicing induction generators for the North American market," Davis says. It also offers induction tooling and heating systems for the aviation, aerospace and mining industries.
One of the strengths of eldec's generators, he notes, is that they are very compact and mobile, allowing them to be carried into rugged environments. For example, "You could use them underground in a mine or up-tower in a wind turbine," he says.
Davis also highlights their design. Its MICO line of energy generators features "very clean lines, like something out of the automotive industry," he says. "[They're] very compact, transportable and powerful. In addition, the eldec induction power supplies feature a liquid cooled, light-weight, Hand-Held Transformer (HHT), which allows the operator to easily manipulate the inductor tool over, in and through the work area, heating surface."
Quality Focused
The EMAG Group focuses strongly on process flow and streamlining its operations, which eldec does as well. That way, "[We are] providing the best solution for our customers," Davis says.
"Everything ties together in a process flow, whether it's in induction brazing or shrink fit," he says. "Parts have to come to the operation with the proper tolerance spans and ranges for the thermal effect [to be] at the proper amount."
eldec employs an experienced team. "Most of our technicians have 15 years of experience here," Davis says, noting that this makes them not only capable of manufacturing its products, but also servicing them.
"We're not just a sales arm," he asserts. "We service everything that we build and sell, so our people are astute technically, not only in the quality build, but also in trouble shooting."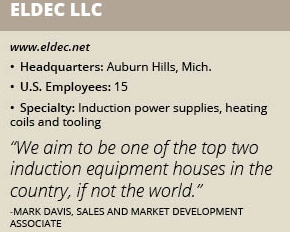 Branching Out
A large portion of eldec's business has been focused on the power generation market. However, it appears that this segment is either experiencing some downturn or for sure a saturation in terms of capacity," Davis says.
The company, he recalls, enjoyed benefits from an industry surge in 2010. "We were looking at some relief that we were not dependent on the automotive industry like some machine tool people are," he says. "Now with the decline of power generation, we're seeing that same pinch."
This has driven the company to look at new applications, including electric vehicles and e-motors in the automotive market. Additionally, "One of the markets that isn't as big for us, but we're trying to make bigger … would be die hardening," Sales Engineer Greg Holland adds.
He notes that the company plans to grow its share of this sector by attending this year's International Manufacturing Technology Show, being held this September in Chicago. This will mark eldec's first appearance at the event with induction generators.
Sister company EMAG will display its hardening equipment, but eldec will feature its machines and samples of its applications. "We'll also have an interactive display," Davis says, adding that attendees will be able to see the equipment operate, first hand, and even try it out themselves.
Aiming for the Top
Davis joined eldec about 10 years ago, sometime after Jochen Arnold became president. "He was also part of EMAG, before the merger, so we have ties running through eldec here and in Germany," Davis says. "It's been a very good fit."
He praises the work environment that eldec has nurtured.
"There is an atmosphere of teamwork and collaborative efforts to get to the solution," he says. "[Our people] are not out to get the credit, but out to find the solutions."
Holland, who joined eldec two years ago, has a background in other industries, including chemical engineering. "This is a new industry for me," he says. "It's been good learning through guys who dove in with both feet."
Both see a strong future for eldec, which not only plans to branch out into new markets, but grow its status in the industry. Currently, "[We're] in the top tier of induction equipment manufacturers in the world," Davis says.
The company, he notes, is currently ranked among the top induction companies in Europe, as measured by annual turnover and online ranking tools. By the same token, eldec LLC was recently ranked in the top five in the United States. "Our goal is to be one of the top two induction equipment houses in the country," Davis declares.
eldec also is growing its web presence worldwide. "It has been lacking and we've had greater and greater efforts to improve that," he admits.
Holland notes that the company's recent additions include a blog at its web site. "We are in the midst of changing- our entire Website structure to accommodate for the ever changing demands of the search engines. When finished, our site(s) will provide more relevant information for our customers and people interested in our technology," he says. Feel free to check out its main site at www.eldec.net or its micro site at www.inductionheatingexperts.com.