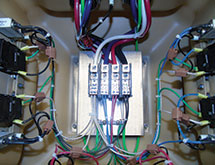 Electri-Cord Mfg. Co. is dedicated to meeting the needs of its customers, regardless of where those customers are located in the world. "Our customer service, and our ability to respond and react to customer needs, set us apart," explains Dennis McDonald, vice president and general manager of the Westfield, Penn.-headquartered operation.
The company takes what it calls a "Globally local©" approach to business, which includes utilizing manufacturing facilities in the United States, Mexico and Asia and maintaining inventory in local distribution and sales facilities to provide products "when and where our customers need it," he adds.
The company can rapidly supply samples and inspection data and can offer international manufacturing services to customers regardless of their location. Electri-Cord's North American operations include a 55,000-square-foot manufacturing headquarters in Westfield, Penn; a 15,000-square-foot manufacturing facility in Northborough, Mass; a 53,800-square-foot manufacturing facility in Guadalajara, Mexico; and a distribution center in Mendota Heights, Minn. An affiliated partner company, I-Sheng Electric Wire & Cable Co. Ltd., operates plants in Taiwan, China, Vietnam and Brazil. All of Electri-Cord's facilities have engineering and quality departments with sales representatives across the country to provide their customers with a world-class manufacturing partner.
Electri-Cord's strategically located manufacturing plants allow it to serve customers from one or more of these facilities. If a customer needs a quick-turn prototype it may be built in one of the company's U.S.-based facilities and moved to a lower-cost facility when the project reaches full production. Having multiple plants also gives the business a contingency plan if something were to happen at one of these facilities, as each of the others share the same capabilities.
"Our customers' business depends on quality suppliers who consistently produce reliable products on time and to their specifications," the company says. "At Electri-Cord, our mission is to meet the ever-evolving needs of our customers by manufacturing a broad portfolio of high quality electronics products and offering a range of custom capabilities that add value and distinct advantages."
Adapting to Needs
Established in 1946 as a power cord company, Electri-Cord today specializes in contract electronics manufacturing including wiring harnesses, cable assemblies and electrical panel builds. The company also offers a plethora of domestic and international power cords.
Electri-Cord's strategic markets include military, alternative energy, medical/life science and automotive/transportation.  The company's adaptability to multiple markets has allowed it to weather a number of economic downturns and market changes and enabled it to outlast many of its competitors. "We've been able to adapt by asking our customers what their problems are, and helping them come up with solutions," CEO Mitch Samuels says.
Most recently, the company has responded to a reduction in military spending by entering new markets including the medical, life science and industrial manufacturing sectors. Electri-Cord took a big step in this direction in 2014, when it acquired Northborough, Mass.-based ORM, a wire harness, panel and box build contract manufacturer serving this growing business sector in New England.
The acquisition brings with it the ISO 13485 certification for medical device manufacturing. Electri-Cord's other certifications include ISO 9001, ITAR, UL 508 and UL 698. The company is in the final stages of preparing and auditing for the TS16949 approval, which is expected by the end of 2015 to better serve its customers in the automotive market.
"All Electri-Cord products carry the appropriate certifications for their industry and geographic market, and meet or exceed all required safety and quality standards," the company says. "In addition, we have incorporated automated systems in many areas that have resulted in fail-safe testing on machinery."
The company's testing processes include its usage of the CT100 Semi-Automatic Power Cord Tester, equipment it designed. The CT100 tester is the most widely used power cord tester in the world. "This is the golden standard for power cord testing, and many of the largest global OEM companies require this test on all power cords manufactured for them," Electri-Cord adds.
Product Life Cycle
Electri-Cord's manufacturing capabilities include all aspects of wire and cable assembly processes from cutting, terminating, soldering, molding, harnessing and testing for the simplest to the most complex of products, McDonald notes. The company manufactures systems entirely to the specifications of its customers, which include 25 Fortune 500 companies. "We are fast, reactive and consistent," McDonald says.
Electri-Cord can tailor its production schedules directly to customer needs, and can dedicate manufacturing cells to a single customer if added specialization is needed. Products are designed in collaboration with our customers. "With us, it's a womb-to-tomb scenario," he adds. "We can take a product from early design through ramp-up and production all the way to the end of its life. Many of our competitors don't do that."
The company is assisted in its efforts by vendors including ComTec Solutions, who provides comprehensive IT solutions to Electri-Cord. "They know our business inside and out, we consider them a strategic partner who helps us optimize the use of our information systems to achieve excellence in the industries we operate in," Samuels says.
Samuels and McDonald credit much of the company's success to its technical and manufacturing staff, many of whom have been with the company for a number of years. "I've given out a dozens of 40-year commemorative watches, and I give out multiple perfect attendance awards each year," Samuels adds. "We're a very good company to work for."