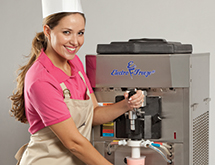 In 1946, H.C. Duke & Son LLC was a commercial laundry equipment repair company that fielded an unusual request. A small ice cream franchise asked the company to build an ice cream freezer for its stores, and what it developed was the first pressurized soft-serve ice cream machine.
Armed with this innovative new equipment, the small ice cream chain began opening up new franchises all over the country, and today Dairy Queen is one of the biggest names in the market. H.C. Duke & Son soon left the commercial laundry equipment market to concentrate entirely on ice cream machines, purchasing the Electro Freeze brand in 1969 to expand its reach outside of Dairy Queen.
Today, Electro Freeze remains one of the biggest and most trusted names in soft-serve ice cream technology, with a network of distributors that spans the globe. Vice President of Sales Penny Klingler says the company's tradition is one of innovation, and that continues to be its focus to this day. "One of the things we pride ourselves on is our ability to be first in the market for some unique operational innovations," she says.
Among the innovations Electro Freeze has introduced to the world of soft-serve over the years are the twist freezer, the mix-in flavor blender and slush freezers with a neutral base. As the needs of Electro Freeze's customers continue to change, the company works tirelessly to address those needs with new products such as its most recent development, the Genni™ mobile app that monitors machines remotely. Through the company's manufacturing capabilities and engineering expertise, Electro Freeze has the tools in place to continue serving its customers with innovative equipment for years to come.
Quality Counts
Electro Freeze's main product lines include soft-serve ice cream and frozen yogurt machines, slush and smoothie frozen beverage equipment, frozen cocktail machines and flavor-delivery systems. The company's customer base includes some of the country's largest foodservice chains, and it has followed many of them into international markets. No matter how Electro Freeze serves its customers' needs, Klingler says, it does so with a strong focus on quality and reliability.
"They're buying a piece of equipment from us that's going to deliver the highest-quality product for them," she says, adding that the company's slogan, "Taste the difference," refers to the quality of the company's equipment and the difference that quality can make when compared to its competitors'.
"Even if it's the same soft-serve mix going in, it's not the same product coming out," she says.
The key difference between Electro Freeze equipment and that made by its competitors is the dedication to quality control within its manufacturing operations. Klingler says the company tests all of its equipment for 24 hours with real dairy products before it is sold, ensuring that customers receive equipment that works properly right away.
The other side of that equation is the company's in-house fabrication capabilities, which give Electro Freeze strict control over the welding, machining and fabrication of the majority of its equipment's crucial components. By manufacturing much of these components in-house rather than sourcing them from overseas, Electro Freeze ensures its customers receive reliable, high-quality equipment. This also allows the company to build customized equipment for its customers.
"Unlike a lot of other manufacturers out there, we do try to control our quality in-house," Klingler says. "We don't cut corners."
The emphasis Electro Freeze places on manufacturing with quality means its equipment is very long-lived. The normal lifecycle of the company's equipment is about 15 years, but many customers have machines that have been in operation for 25 years or more. Although overseas manufacturers may offer lower prices, Klingler says there may be hidden costs related to unreliability. "[Purchasers] don't realize that the equipment is coming in without the national trained service network to support it," she says.
New Ideas
Electro Freeze continues to lead the market in terms of innovation and new features, and Klingler says the company looks for ways to incorporate new technology into its equipment to make life easier for its clients. For example, the company's new Genni system allows operators to monitor the status of their equipment through an app on their smartphones or tablets.
Klingler says the Genni system meets the needs of Electro Freeze's customers because many of them have multiple locations and are challenged to keep watch over how their employees maintain the equipment. By checking their Genni app, these operators can tell if their machines have been cleaned and are operating properly. "We really waited to do this the right way," Klingler says.
Electro Freeze has been leading the way in the soft-serve industry for more than half-a-century, and thanks to its dedication to quality manufacturing, it expects to hold that position for a long time to come. "When we get a customer, we have a customer for life," Klingler says.