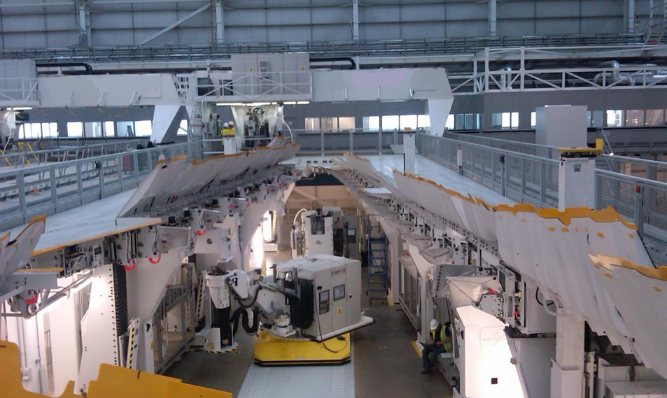 When Electroimpact provides a new piece of assembly line equipment or an automated machine to an aerospace manufacturer, the company is not just selling a product – it's selling engineering. About 550 members of its 800-person staff have engineering degrees. Those engineers are empowered to procure items, design, assemble and install equipment – whatever it takes to get the job done.
Electroimpact Vice President John Hartmann calls it the "cradle to the grave" model. "By giving those engineers their ownership they give it their all because it's a reflection of their work," he explains.
Being engineer-focused means that Electroimpact contributes more to its customers' assembly lines, resulting in a better product than another company that may just be integrating technology without looking at the wider impact. Manufacturing customers who buy a piece of equipment from a third party that must integrate the equipment into the existing production line are potentially limited by the third party's capabilities. As an OEM, Electroimpact can drive the whole system and determine what it can do instead of having to adapt the equipment to what is already in place. It can also provide full factory integration for complete assembly lines.
"The engineers have a lot of ownership in what they're doing," Hartmann says. "We have a lot of the pieces now. A lot of integrators tend to be just that, integrators. Their job is to bring a lot of the pieces in from other manufacturers to try to create something. We tend to have a lot of that technology required."
Speed is another advantage. Because Electroimpact manufactures its systems, the company can make adjustments without having to coordinate with numerous vendors and equipment suppliers. "The fact that we control a lot of that technology means we can make that change almost instantly," Hartmann says.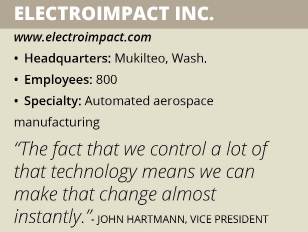 Automation Experts
Its engineering focus has been part of Electroimpact since its beginning. Peter Zieve founded the factory automation and tooling solutions company in 1986 with two other engineers. Its proximity to Boeing's factory in Everett, Wash., made it an ideal equipment supplier for the aerospace manufacturer and helped fuel its early growth. Today, Electroimpact boasts about 800 employees and works with most major airplane and parts manufacturers including Airbus, Fuji Heavy Industries, Northrop-Grumman, Israeli Aircraft Industries and Bombardier.
Electroimpact produces aircraft assembly equipment out of its facility in Mukileto, Wash., located north of Seattle. The headquarters includes eight buildings – a ninth is under construction. Assembly bays vary in height between 35 and 52 feet tall, with 3- to 5-foot thick foundations capable of supporting large machinery. The company can validate all of its equipment in-house and has inspection areas to check the quality of all incoming parts and outgoing systems. In addition to the main production facility in Mukileto, Electroimpact operates smaller locations in the United Kingdom and Australia focused on providing warranty and maintenance support.
When Electroimpact started out it made automated riveting machines. That eventually led the company into large-scale automation systems.
In recent years, Electroimpact added automatic carbon placement systems – the machine that lays carbon onto molds – and accurate robot technology. For accurate robot technology, Electroimpact takes articulate robots and reengineers them to be more precise so they can be used by the aerospace industry. Electroimpact buys robotic arms and retrofits them with secondary feedback, joints and CNC machines at the end of the arm. The kinematic routine that directs the machine is rewritten to achieve the higher levels of accuracy required in aerospace production.
Using robotics in airplane manufacturing is not unlike auto production. Both systems require thousands of repetitive movements. But where an auto robot is primarily doing a single task on a production line, aerospace manufacturing requires the robot to address a large part. A single robot must address thousands of holes and be able to perform multifunctional tasks such as drilling, putting fasteners in and inspecting its work.
Other aspects of Electroimpact's automation work involve enhancing existing systems. One of the company's latest developments is an advancement in automated fiber placement (AFP) machines that increases lay-down rates. The machines can speed up the production of airplane components. Boeing, for instance, will use Electroimpact's AFP machines to produce the carbon-fiber composite wings of the still-in-development 777X series of airliners.
Those kinds of forward-thinking machines and support services are increasingly important to jet manufacturers that rely on factory automation to keep up with increasing global demand. Both Airbus and Boeing set company records in 2015 for airliner deliveries – 635 for Airbus and 762 for Boeing – marks that would be far more difficult to achieve without the engineering know-how Electroimpact provides.
Encouraging Creativity
Electroimpact's skills as an engineering-focused OEM are something the company has developed for more than 30 years. Longtime employees are mixed in with new engineers, enabling them to share their experience with the company's new hires and establishing a foundation for Electroimpact's culture.
That mix of youthful enthusiasm and experience often results in exciting advancements and improvements, Hartmann says. The company seeks out hands-on people, the kind who might modify a car or repair their appliances in their spare time. "We want people that like to build things, that want to get out and get their hands dirty," Hartmann explains.
Embracing that passion also means letting engineers think creatively. Electroimpact is not dogmatic about how problems must be solved. The company is open to ideas and encourages employees to try new solutions to develop their skill sets. That approach can lead to the breakthroughs that help Electroimpact maintain its status as a leader in aerospace automation. "Most time we're faced with some challenging requirements from our customers," Hartmann says. "We give these young engineers a lot of responsibility to solve their problems."