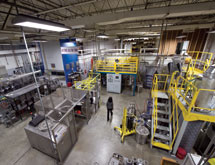 Electron Energy Corporation
To its customers and employees, Electron Energy Corporation (EEC) is more than just a producer: it's an invaluable resource of scientific knowledge. The company, founded in 1970, is staffed and led by engineers and others with decades of experience in magnetic materials research, development and manufacturing.
"Our employees bring a combination of engineering knowledge, design expertise and understanding of magnetic properties to their work here," says Dr. JinFang Liu, the Landisville, Pa.-based company's vice president of operations and engineering. "Our people are very proud to be working here; a few of our original employees are still with us. We've accumulated a lot of knowledge over the last 40-plus years."
In addition to its longtime staff, EEC also regularly attracts new manufacturing and professional personnel who want to be on the cutting-edge of magnetic-related products. "Most of the people who come here are intrigued by the opportunity they have here to do work that really matters and has a positive impact on the quality of life for everyone." President Michael Walmer says. "We offer opportunities for people who embrace lifelong learning, and we love the fact that we learn something new every day."
Committed to Quality
EEC specializes in developing and manufacturing magnets and magnet assemblies using alloys containing rare earth and transition metal elements. The company is one of the nation's leading suppliers of samarium cobalt (SmCo) magnets and assemblies, for which it produces its own alloys. The company also designs and manufactures neodymium iron boron (NdFeB) magnets and assemblies. EEC also recently expanded its product line beyond rare earth magnets to include alnico and ceramic materials.
The company's products are used in advanced technology systems such as traveling wave tubes (TWTs), klystron tube devices and magnetrons, all of which are used to amplify microwave signals. Applications of these products include military, aerospace and commercial applications in satellites and radars.  EEC SmCo magnets are also used in gyroscopes, accelerometers and permanent magnet generators. The company also serves the medical industry and high-performance industrial markets.
EEC designs and produces magnets and magnet systems to its customers' specifications. Company engineers help determine clients' needs and participate in product design. Rapid prototyping services are also available, with prototypes typically turned around within two weeks.
"Our customers expect, require and value the extra attention and engineering expertise we provide," Walmer says. "What differentiates us is our commitment to work closely with customers – using finite element analysis and other tools – to help them select the best magnet materials and optimize their systems and devices to provide maximum performance."
Lifetime Guarantee
EEC SmCo magnets are guaranteed to work for as long as they are intended in their applications. EEC magnets used in the TWT amplifiers of the Voyager 1 satellite, launched in 1977, continue to operate. The company's products serve other applications with a life expectancy of more than 40 years. "The standard warranty for many products is that they are free of defects when they leave the supplier's facility," the company says. "The warranty for EEC samarium cobalt magnets goes well beyond that."
An Integrated Process
EEC is unique among U.S.-based rare earth alloy producers in that it is fully integrated in its manufacturing operations. The company creates the alloys used in its samarium cobalt magnets, which gives it the ability to tailor magnetic properties to specific applications and enhance magnet performance and efficiency, Walmer says.
The alloy production process begins with the melting of pure, elemental metals to form brittle, intermetallic compounds that are then crushed and milled into fine powder. This powder is then pressed into blocks and other shapes. After this, the alloy goes through a process called sintering, which is a high-temperature process designed to densify the pressed material. Magnet blanks are finished, following sintering and heat-treating, with abrasive cutting and grinding processes. Parts are then magnetized and adjusted to precise field strength requirements, the company says.
Alloy production is performed in  its headquarters in Landisville, Pa. Other manufacturing functions in the facility include powder production, pressing and sintering. The Landisville facility also houses the company's Technology Center, which conducts funded contract research for agencies including the Department of Defense, Department of Energy, National Institute of Standards and Technology and the National Science Foundation.
The company, in August 2012, opened a second manufacturing facility in Lancaster, Pa., which houses the finishing operations including lapping, honing, grinding, cutting, magnetizing and adjusting. All finished products are shipped from this facility.
Doubling the size of its manufacturing operations will support EEC's growth into the next 15 years. "We are committed to the continuous improvement and expansion of our capacity and capabilities in order to support our existing customers and the new customers that we continue to cultivate," Walmer says.
EEC has adopted lean manufacturing philosophies through most of its operations. "Our manufacturing challenge is large, given that we service high-mix, low-volume markets," Walmer says. "We continue to focus on improving our lean approach to our production and administrative processes.
"Through the improved velocity that is created via a lean culture, we have reduced our lead-times and improved our customer service," he adds. "Simultaneously, we continue to implement process improvements to our manufacturing processes, yielding a more consistent product and reducing our cost of scrap."
A Family Business
Michael Walmer's father, Marlin Walmer, founded EEC in 1970 after working at the Hamilton Watch Company. During this time, he developed a process to produce platinum cobalt magnets for the world's first electric wristwatch.
While at Hamilton, the elder Walmer learned of the discovery of SmCo magnets, which inspired him to start his own company. Michael Walmer, who has a degree in materials science and engineering from Lehigh University in Pennsylvania, joined the company at its inception, helping his father establish and grow the business.
Michael Walmer took over as the company's president and CEO in 1999, and remains directly involved in the company's processes. Of all of the company's strengths, he says he is most proud of EEC's people.
"Although the magnetics industry is international, it is relatively small and it's fairly easy to know many of the key players in our industry," he says. "Although we have very good competitors, I can say without hesitation that we have some of the best people in the industry."