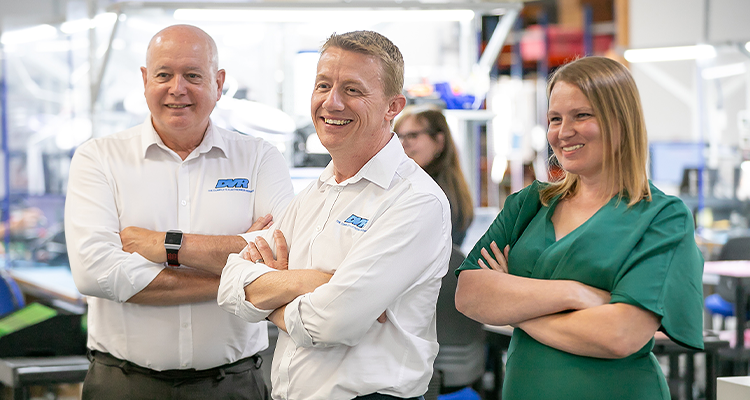 Electronics specialist, DVR, is 40 and thriving 
Tony O'Brien, Sales Director, first joined DVR back in 2009, when David Hellings, MD, got wind that he was looking to sell Speed Assembly Services (SAS), based out of Lordswood in Kent. 
"The enterprise was originally formed by David's father, Richard Hellings, who named the company after himself, David, and his wife Victoria, hence DVR," Tony opens. "Just as it formed the basis of the organization's name, the family essence still remains true in how we operate today as a business. Richard started out in 1983, and initially worked to develop the original printing electronics to emboss clothing with motifs such as names and numbers.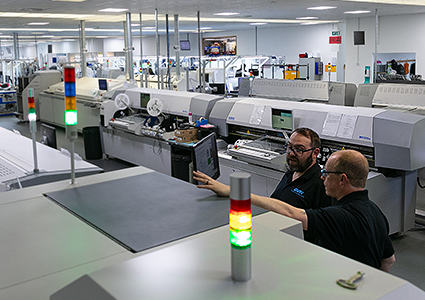 "David didn't join DVR until around 2004, when Richard decided that he wanted to take the business to the next level and begin to expand its footprint and capabilities. David was keen to explore growing the company through acquisition, which is where I came in. He learned that my business partner was ready to sell up, so DVR purchased SAS and we joined forces as two organizations that were turning over around £1 million each per annum." 
From the company's humble beginnings, footprint wise, in a 2500-square-feet facility in Basildon, DVR has grown over the last 40 years by purchasing additional units that have accumulated to almost 45,000-square-feet of manufacturing space today. 
"As a contract manufacturer, we operate across a broad spectrum of verticals and market sectors," Tony explains. "We see ourselves as a service provider and take great pride in supporting anybody who requires the manufacture of electronic products. Some of the typical customers that we work with are based in electric vehicle (EV) charging, fire detection, marine-based personnel safety, scientific equipment, measuring and monitoring technologies for the food industry, and also medical, automotive, and military products and components. 
"We're ISO 9001 2015 and IPC 620 approved, and have IPC 610 staff trained up to class 3. Additionally, we do J-standard training for the reworking and removal of components and electrical devices on circuit boards, cyber essentials, and we're approved to work with military establishments as well. We're currently looking to develop our work in the medical field further by obtaining ISO 13485 from the medical approval industry to manufacture products directly for our customers in that sector. 
"The medical industry is one that never really suffers," he continues. "It has always had a huge requirement for professional manufacturing expertise and that's not something that will ever change. This is one of the key reasons that DVR has chosen to accelerate its route down the path to being at the forefront of medical equipment specialists in the UK. 
Exhibition presence 
"Similarly, the country has begun the enormous shift across to EV. We're already producing thousands of boards to facilitate this transition for multiple EV charging organizations but are always looking to complement these capabilities with other future customers who reside in the same marketplace. Our other key emerging markets are heavily based in the energy industry, whether it's wind or the current organic fuels. We've seen lots of businesses are starting to move away from the Far East for production and looking to base their supply chains closer to home, if not in the UK, at least in Europe." 
DVR has a strong presence within the industry's expo scene. The company is typically featured around February time at Southern Manufacturing, then again in June at Subcon, and rounds off the year towards the end of October at the Electronic Design Show. Tony cites the events to be the perfect opportunities for presenting DVR's offerings to new customers, and to essentially drum up new business. 
"We've been attending exhibitions across the UK since 2009, and I can honestly say that they are the greatest marketing tool in DVR's locker," he states. "Over the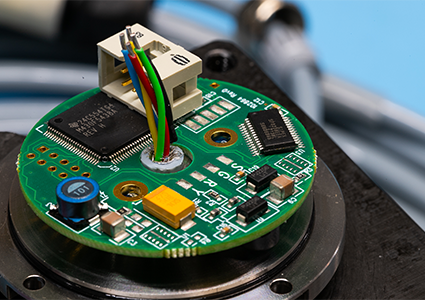 last 14 years, the expos are accountable for the vast majority of the company's growth; they are excellent for networking, which always results in meeting new clients and receiving referrals. 
"We've had millions of pounds worth of business because of our nationwide presence, which simply comes from getting all the right people together in the correct place. At the same time, we spend a lot of money on our stands, but it's the best way to showcase DVR's capabilities. It's hugely important for customers who approach our stand on the day to get a complete sense of our professionalism and a solid impression of our manufacturing facility at Basildon, considered one of the best equipped in the UK." 
As the conversation draws to a close, Tony steers towards DVR's growth strategy and its target of being a £25 million business within the next five years. 
"We're already talking to potential clients in the medical industry that could yield within the region of £5 million, as well as others within automotive and defense whose projects combine to almost £10 million," he concludes. "So, £25 million within five years is more than achievable. However, any business is only as good as the people it employs. There's no point in investing millions in your machines and technology if you aren't doing the same for your workforce. I'm very proud of our people who are carrying us forward because the quality of our products and services are wholly reflected in their skills and efficiencies. They are the ones who enable us to continue our surge toward these new organizations and customers."