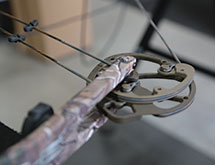 The transformation of Elite Archery over the past five years can only be credited to a passionate and laser-like focus. The company was established in 2005 and acquired by The Outdoor Group in 2009. Led by President Peter Crawford, Elite Archery has moved from a low-profile player in the archery arena to one of its top performers.
"What we saw when we purchased Elite Archery was a company that had a really good bow design but had limited manufacturing capabilities and wasn't doing any marketing," Crawford explains. "It also didn't have relationships with distribution channels and we knew we could fix those things."
The product was solid and provided a promising foundation on which the company could grow. Crawford and others on the leadership team just needed to put the right parameters in place. When it came to manufacturing, Crawford knew the company needed to start doing more in-house, and for that it turned to All American Manufacturing. Elite Archery's parent company, The Outdoor Group, began working with All American Manufacturing two-and-a-half years ago and purchased the company in 2013.
Bring it Back Home
All American Manufacturing was founded in 1985, and laid its roots in manufacturing precision components for industries such as medical and consumer electronics. Elite Archery wanted to redesign its manufacturing process to create a better, stronger bow with tighter tolerances and repeatability, essentially building precision into the bow-making process.
"It's not an easy process to make a bow," explains Mike Veltri, vice president of manufacturing at Elite Archery, and He is also the former owner of All American Manufacturing. "It has a lot of moving parts with a string traveling through it and pulls around a set of cams and modules and there are limbs involved. We looked at each one of those components from an engineering perspective to make it better."
Veltri says to improve the performance of a product there are two ways to go – a better process or better materials. In Elite Archery's case, it chose both. Investments such as water jet-cutting machine to make limbs and  custom drilling equipment to drill its axel holes for all of Elite Archery's bows resulted in a superior product.
Sales for Elite Archery and its sister companies grew so quickly that they engulfed All American's entire capacity, prompting their parent company to buy the manufacturer. Since then, All American has added significantly more equipment to keep up with growing demand. All American now operates 20 CNC machines, including six Haas machines. Veltri says the company has a leg-up on the competition in terms of product delivery.
"Our engineering and product design team comes up with ideas for new products and because of the high level of skill of our toolmakers, they can take those ideas and turn them into prototype parts and production parts in a very short time," Veltri says. "Because everything is in-house, we can compress the product development cycle from over a year down to just a few months."
The in-house investments have paid off. Elite Archery was a small name, but today it's one of the top-five in the business, Crawford says. The company is building a 72,000-square-foot facility that will open in November to handle expected growth. "We're growing at well over 100 percent and we have the capacity to handle 100 percent more growth," Crawford says.
As Elite Archery grows, Crawford says quality is on the company's agenda just as much as quantity. The company has implemented various procedures to ensure a safe work environment and a safe product.
The employees, Crawford says, have been the No. 1 factor in Elite Archery's growth over the past five years. Most of the people who come to Elite Archery and help make the product also use the product, including Crawford.
"Everyone takes a great deal of pride in what we do, and so it comes across to our customers as very genuine," Crawford says. "That's why the quality and the performance are there. Everyone is completely invested in the process. The company is only as good as the people we bring in; it's not just about having a machinist or assembler.
"It's also about having good people that know how to work together," Crawford continues. We have a policy here that if people can't get along, no matter how talented they are, we will make a change."