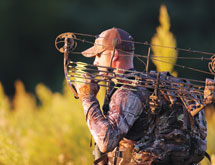 "There is quite a bit of engineering involved in the design of our products," Crawford says. "We wanted to create products that not only shoot fast, but draw easily." Though shooting speed is a major factor in the design of its bows, he claims that "shootability," or the bow's ease of use, is equally important in Elite Archery's design. Incorporating a two-track cam system, the bows require less effort to draw and provide a steadier, more accurate aim, he says, in addition to offering high shooting speeds.
"We work with some very good engineers who have a lot of great ideas," Crawford says. Elite Archery has taken many of these great ideas to market. "We offer the No. 1 product offering in each of our product categories," he claims.
In another effort to maintain its high product quality, Elite Archery has acquired companies that supply parts for its bows. Scott Archery and Custom Bow Equipment, makers of releases and custom hunting and target sights, as well as Duel Game Calls (formerly Mossback Game Calls), and Solid Broadhead Co., an arrowhead manufacturer, all became part of the company's business family in 2012. These acquisitions have helped the company by strengthening its brand awareness in the industry, Crawford explains.
As a boy, Crawford was introduced to bow hunting by friends. "I loved the outdoors and developed a passion for the sport," he says. At 31, as he became a local celebrity in the sport, Crawford was approached by a bow manufacturer's representative who wanted him to promote his company's products. He got the opportunity to harness his passion for bow hunting when he purchased Elite Archery in January 2009.
One factor that sets Elite Archery apart is its customer service. "We offer a lifetime warranty on our products that is transferable from one owner to the next," Crawford boasts.
Designed To Perform
The riser or frame of an Elite bow is cold forged of strong, structurally sound 6061 T6 aluminum and then machined. As a result, Crawford says, it is less likely to twist while shooting, which provides a more accurate shot. Top and bottom cams are machined to be symmetrical to each other for consistent accuracy and to ease the shooting process. Anti-vibration technology, by Limbsaver, minimizes fatigue on the user's arms. Strings and cables are supplied by another newly acquired asset, Winner's Choice Custom Bowstrings.
Elite Archery uses a process called Kolorfusion when decorating its camouflage bows. This involves powder coating the limbs and risers, then wrapping the parts in fabric dyed with the desired camouflage pattern before baking the wrapped parts in a specialized oven. This baking process transfers the camouflage pattern from the fabric onto the parts. The bow's cams and modules as well as cable and suppressor rods are coated with Cerakote, a premium ceramic-based coating often used in the firearms industry. "We wanted to not only make sure our bows shoot well, we also wanted to make sure they looked and felt good, too," Crawford notes. As a result, Elite Archery bows withstand impact, scratches and even corrosion or chemical damage better. An added benefit is that – thanks to Cerakote's low coefficient of friction – the bow's parts move with much less friction and therefore last longer.
A focus on consistency is another way Elite Archery ensures product quality. "Furnishing our quality department with the right tools needed to accurately measure our parts has enabled us to maintain repeatable quality throughout our lines," Crawford says. Because its products are specialized, the company has created many of its own gauges and testing equipment. Additionally, the manufacturer has optical comparators as well as access to a coordinate-measuring machine (CMM).
After the bow is assembled, it goes through a final tuning process and then is shot several times to ensure consistency and smooth operation. "Every single bow is tested before it leaves our factory," Crawford says.
Working closely with its suppliers has ensured its quality levels remain high. Crawford claims that, at some companies, communication ends when the suppliers are handed the purchase order.
Different Styles
Elite Archery's product line features five models: Answer, Pure, Pulse, Tour and Hunter. "Each is designed to accommodate different hunting styles or target specific shooting as well as individual heights," Crawford says. "Instead of changing our lines, we continually seek to improve these products – such as making the bows easier to shoot."
The company promotes its products by producing its own television show called "Elite Archery's Respect the Game TV" on The Sportsman Channel.  The show is in the middle of its second season on the air. Elite also sponsors other hunting shows on The Sportsman Channel as well as The Outdoor Channel.
Crawford says the company is looking to grow in the youth market, too. Buoyed by the popularity of movies like "The Hunger Games," he is seeing a lot of interest among younger people to try bow hunting. "We're looking to develop a good, yet relatively economical bow that will grow with the younger shooters." mt