Made better
Operating with more than 125 years of industry experience, Ellis operates with a mission to make the most of every space through expertise, a passion for design and pride in products that are 'made better'
Established in 1891 by J Thomas Ellis and operating from its base in West Yorkshire, J.T. Ellis & Co (Ellis) is a highly-respected company comprising a 200-strong team of creative, passionate, and skilled people, providing design-led interior solutions for kitchens, bedrooms, bathrooms and loose furniture projects. Today the business remains in family ownership and is currently in its four th generation, with Richard Ellis and Tom Ellis taking the helm of the business as joint Directors.
Following more than a hundred years of successfully growing the business the decision was made to officially rebrand the company in early 2017, with an aim to highlight the modern
designs, service package and comprehensive product por tfolio offered by Ellis. The company's branding was shortened from 'Ellis Furniture' to 'Ellis', to reflect the fact that the business today provides a full turnkey service that embodies everything from design and manufacture to installation and aftersales support.
"This reflects the fact the business is constantly evolving to meet the changing needs of the market" elaborates Product Marketing Manager, Anna Hirst. "We wanted to refresh the identity of the business to help demonstrate who we are and to focus attention to our key goals. The company's new strapline is 'Made Better by Ellis', which represents we truly believe everything we do at Ellis is to the highest standard. We want to engage with the market and really shout about what Ellis has to offer.
"Tom and Richard Ellis' time in the business has brought a fresh perspective and over the years they developed and began to significantly grow the company", Anna says, reflecting on the decision to rebrand the business.
Ellis works in accordance to its philosophy to design and manufacture furniture that is hardwearing and which remains in top condition, even when the rest of the client's interior might be ready for an update. This ensures that its customers receive the best value for money and freedom from time consuming repairs and replacements. The company achieves this by using skilled manufacturing techniques, high quality materials, highly skilled people, and modern machinery. The result is an attractive yet hardwearing portfolio of modern furniture that is built for a long life and requires zero maintenance. Furthermore, Ellis has teams in place to manage every part of its customers' project from design consultation through to installation and after-care, including everything in-between. This comprehensive level of service has enabled the company to service clients across the UK.
"Originally Ellis was focused on traditional cabinetry for bedrooms and living spaces and over time it began making ranges for kitchen and bathrooms, which has grown into an extremely successful part of the business," explains Anna.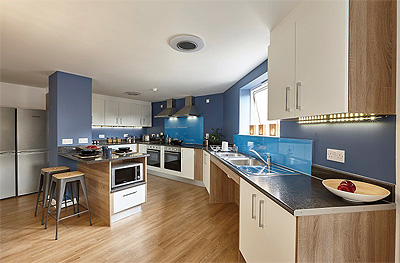 "Predominantly the contract side of the business works on accommodation projectsfor the student, hotel, and care home sectors,designing and manufacturing full bedroom furniture and heavy duty kitchens. The contract side generally works with accommodation for single and shared living, ultimately an environment where the person using it doesn't own it. Hence why the products Ellis design and manufacture are so durable. Our retail bathroom business focuses on high quality design and has been extremely successful for many years, we even have a bathroom styler app where customers can view all our furniture colour options, and save or print their favourite to ensure they've made the right choice. Whilst the kitchens provided to the housebuilder sector align perfectly with the hard-wearing aspect of the contract kitchens, it takes on a much more contemporary and stylish design."
Ellis today combines a unique blend of exper t craftsmanship built on more than 125 years of experience, with the ongoing development of fresh perspectives and innovative ideas throughout the business. This is reflected by the fact that a high propor tion of its employees have been with the company for a number of years, having star ted as apprentices, while a number of students regularly join the business from local universities on work experience. Ellis also conducts its own dedicated research operations to make sure that the company is fully engaged with the latest trends and designs. With a proven track record and an ambition to remain at the forefront of furniture design, Ellis is well placed to continue to grow as a leading manufacturer and service provider well into the future. "We are a company of size and stature because of the length of time that we have been in operation and the inclusive base of know-how that we have developed. Through our latest rebranding, we intend for our competence to be better even further recognised in our industry," Anna concludes. "We are also very proud to be a British manufacturing company with a fantastic 125-year heritage as a family owned company. Over the coming years, we are keen to continue to lead in our industry and design products that are made better."
Ellis
Services: Design, manufacture and installation of high quality bedroom, bathroom and kitchen furniture