Ellison Technologies Automation
As go the fates of small- and medium-sized U.S. manufacturers, so go the fortunes of Ellison Technologies Automation (ET-A). Director of Operations Blake Consdorf and his staff incorporate this fact into every part of the division's operations in Council Bluffs, Iowa.
"We're really driven toward keeping manufacturing in the United States," Consdorf says. "We like to target small- and medium-sized companies because if we can make them more efficient and keep them making money, that will drive our business, as well."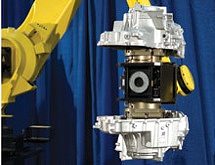 ET-A was founded as Automated Concepts in 1983. Ellison Technologies purchased the company in 2004 and officially changed the name to Ellison Technologies Automation four years later.
Today, ET-A provides robotic systems integration capabilities to a network of machine tool distributors throughout the United States. This division has developed custom industrial robotic systems for companies of all sizes – including numerous Fortune 500 firms – that handle metal and parts manufacturing for a variety of sectors.
ET-A benefits from its parent's 22 sales offices located throughout the United States. ET-A is the corporate headquarters for all robotic automation equipment. An Ellison office in Wisconsin also provides robotic automation solutions.
So, along with its own sales drivers, ET-A has built-in revenues stemming from the rest of the group. On the flip side, ET-A can serve its clients as a one-stop shop for any of their equipment needs by offering turnkey delivery of machinery through Ellison Technologies' subsidiaries, as well.
"We can provide the turnkey solution through one source," Consdorf says. "It can be very cumbersome for the end customer."
Economic Efficiency
When the U.S. economy crashed in late 2008, the manufacturing industry was among the sectors hit hardest. Many American manufacturers had to lay off staff members while maintaining a level of productivity to remain profitable in this new reality.
ET-A was adept at ensuring its manufacturing clients maintained those efficiencies as the economy slowly returned to normal. "A lot of our customers have downsized and got rid of extra staff," Consdorf says. "That's where our advantage comes in. We can take on what they typically used to do and offer a turnkey system where they don't have to manage multiple aspects of the overall project."
Since September 2010, Consdorf says the market has regained its strength, and ET-A's sales numbers have returned to standards reached before 2008. In fact, the division's sales have exceeded its shipping capacity in the past six months. In response, ET-A has hired back a number of the employees it had laid off or placed on furloughs for new contract positions as well as some permanent roles.
"Buying confidence is back and the lending percentages are now at a point where companies want to buy new equipment," he says. "We're growing faster than we ever had because the market needs our products now and they need them fast."
The demand for ET-A's products has been particularly strong in Canada. With an established footprint in the western half of the country, Ellison Technologies and Mori Seiki opened a new facility in Mississauga, Ontario, in August 2010.
Serving the Needs
Every application that ET-A is asked to address is in some way different, so the division draws upon its past experiences and then customizes it specific to need. What determines the solution is a customer's ROI, capital investment limitations and cycle times, as well as other factors.
"While systems like this are sought to cut costs, they are not necessarily used to get rid of labor, but to use it more efficiently," Consdorf says.
​