The sustainable solution
International packaging supplier Elopak considers it its business to break new ground at every level – a belief that has seen it grow into a global corporation that is equally as passionate about sustainability
Wholly owned by one of Norway's largest privately owned industrial groups, the Ferd Group, Elopak is an international supplier of paper based packaging solutions for liquid food. With 11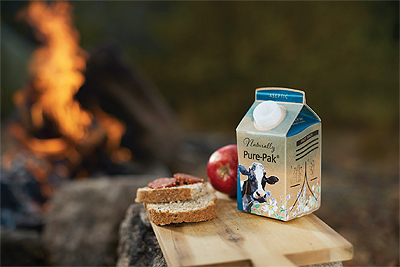 manufacturing units located throughout the world and with its products sold into more than 80 markets, Elopak's mission is to preserve the world's resources in a healthy, safe and sustainable manner, and to work with its customers to ensure that its packaging helps to elevate their respective brands.
The success of the business has been intrinsically linked to the success of the iconic paperboard gable top carton, which was first granted its patent by the US Patent Office in 1915 and has since become known as the gable top Pure-Pak® carton. "Over 100 years since it was patented the gable top carton remains one of the most popular packages for milk products around the world, and Elopak has very much taken leadership of this format, delivering innovative solutions that have given the concept its staying power," begins Elopak CEO Thomas Körmendi.
Elopak's Pure-Pak® carton is without doubt the product line that the company has become best known for. Its lightweight, user-friendly and protective properties have helped to maintain its popularity, and its use of renewable resources and fully recyclable materials means that its scores highly when it comes to environmental sustainability. In addition to its Pure-Pak® classic design, Elopak has also brought to market the Pure-Pak® Sense carton, an original contemporary pack with improved appearance and functionality, and the uniquely shaped Pure-Pak® Diamond carton, which is designed to provide space for a larger cap. Further products and services offered by the company include filling machines, secondary packaging, printing, paper board solutions and material for roll fed aseptic carton filling machines.
Such has been the dominance of the company in its field of expertise that in 2018 it became the first manufacturer to deliver over one billion, 100 per cent renewable cartons. "As a business, Elopak has always had a strong drive to push forward the agenda of what is possible when it comes to environmental packaging by embracing a combination of flexible, customer focused service and technology know-how," Thomas explains. "A little less than a decade ago, we introduced an environmental strategy plan called Future Proof Packaging, which essentially outlined our sustainability ambitions. We openly shared this with our suppliers, and thanks to close co-operation with our key supply chain partners we were able to arrive at our goal."
Also contributing to the above achievement was the launch of Elopak's Naturally Pure-Pak® carton in September 2017. The first gable top carton made from natural brown unbleached paperboard, it retains the natural colour of the wood fibres used and has a visible fibre structure. This creates a sustainable, authentic packaging solution that meets the growing demand for ethical, ecological and organic products. "We are extremely proud of the success to date of our Naturally Pure-Pak® carton," Thomas adds. "We see it as a great example of the journey that the company has been on when it comes to identifying ways of making continued improvements to our environmental credentials, which generate improvements on a much larger scale."
The company certainly has an ambitious sustainability vision, with it aiming for zero net impact on the environment when it comes to its products and its production processes. "Since 2008, we have succeeded in reducing our emissions output by almost 70 per cent," Thomas goes on to reveal. "Today we utilise 100 per cent renewable electricity across our various sites, use only FSC certified material in all of the board we use, and have introduced more renewable PE, and the reason behind this is not only the fact that it aligns with the environmentally friendly products we offer but because we really believe it is the right thing to do."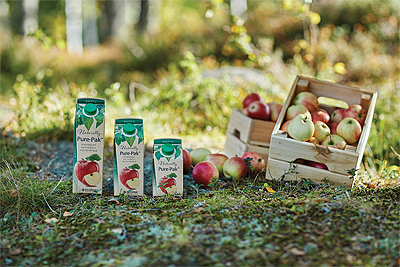 Elopak's various products originate from its ten paper board manufacturing sites, and its sole machine manufacturing site, located across the world from Canada, Mexico and the Dominican Republic, to Western and Eastern Europe and Saudi Arabia. "Throughout each of our facilities we have embraced the best, most relevant aspects of both TQM and LEAN practices," Thomas continues. "We have also made it our mission to drive efficiencies through our facilities by embracing increased levels of automation and putting it to use in areas where manual work adds less value. This in turn allows us to better allocate our employees' skills to improve productivity. Automation also provides us with a unique array of data that allows us to compare performance between our respective facilities, which ultimately means we can bring about increased performance on a more factual basis and improve the traceability of our products."
As a group, one of the things that Elopak is currently working on is a strategy for driving growth geographically. "There are regions and parts of the world where we are currently either not present or boast only a small footprint, such as South America and Asia, which we are keen to explore in the future," Thomas says. "At the same time, however, we also know that there are huge opportunities still in those markets where we do have a strong presence. 57For example, Elopak continues to perform extremely well in North America where we have a plant in Montreal, Canada, which is arguably the most advanced manufacturing site of its kind for gable top packaging anywhere in the world."
Over the next 12-to-18 months the company will also be focusing on delivering operational improvements across the board, introducing new products to market, and of course putting ever-greater emphasis on its sustainability efforts. "We most definitely remain on an exciting journey of growth, and we look forward expanding into new regions and markets where we see there is room to expand, while continuing to get the most out of our existing infrastructure," Thomas concludes.
Elopak
Products: Paper based packaging solutions