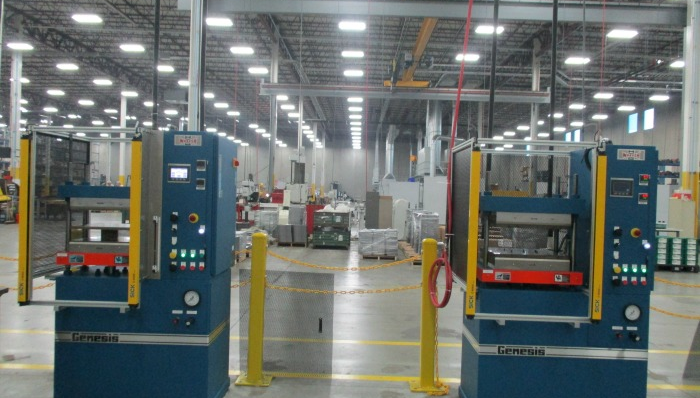 ElringKlinger Automotive Manufacturing Inc./US stays flexible when it serves clients such as Ford Motor Co., General Motors and Chrysler, General Manager Stephan Maier says. "We can send off to our customers a product tailored to their needs in every aspect," he states.
Based in Southfield, Mich., ElringKlinger Automotive manufactures separator blades for automatic transmissions. The firm's history goes back to 2015, when its German parent company, ElringKlinger AG, acquired M&W Co., a transmission component specialist.
Today, as ElringKlinger Automotive, the company employs a staff of 220 and owes its success to its manufacturing processes, Maier says. "Stamping is one core technology that M&W had," he states.
The former company also used a unique assembly process, Maier adds. "Between what they had and what we found we could add, we found we had some very unique synergies," he says.
Better than Before
ElringKlinger Automotive is a leader in its niche in both North America and Europe, Maier says. But this has not stopped the company from continually improving its operations.
It recently purchased a new, 160,000-square-foot facility in Southfield. "We are using it to consolidate the manufacturing in the Detroit metro area," Maier says, noting that the company has completed the first half of the move.
ElringKlinger Automotive plans to finish consolidating all of its manufacturing by May 2017. "It also will improve our logistics processes," he says. "We'll be a lot more efficient and a lot more streamlined."
The company plans to implement new technologies as it relocates European projects to the United States. One will involve screen-printing technology, which is "one of the core processes for ElringKlinger," Maier says, noting that another will help with fuel efficiency. "It's a modified product of what we make already."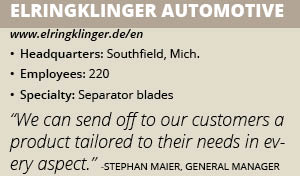 ElringKlinger Automotive is investing in R&D and its tool shop. "We want to be able to solve our problems here directly, instead of relying on suppliers bringing knowledge and capabilities," he says. "That is one of the big things that we're trying to do."
Reducing Waste
ElringKlinger Automotive has implemented lean manufacturing techniques. "We've been using it for about a year now," Maier says, noting that it has paid off for the company. "We've been able to reduce wasted resources in regards to staffing manpower, but also on the machinery side."
Inventory is another important focus for the company. "We do manage inventory based on an SAP system," Maier says, noting that it has implemented these controls "from the end to the beginning" of its operations. "We try to have a certain safety stock and keep the inventory turns as low as possible," he says. "We try to not have capital sitting on our books, so to speak."
Strong Support
Maier is proud of ElringKlinger Automotive's staff. "We have put a very good team together," he says. "We have a lot of very good and very knowledgeable people who are not afraid of changing."
The company also helps them enhance their skills. "We send a lot of those folks to the colleges and to some of our sister facilities where we give them the necessary training," he explains. "We get those folks from our subsidiaries to do the training and support them directly in the building."
Maier sees a strong future for ElringKlinger Automotive, particularly with its new facility. "We have good people, a good team and technology," he says. "We also have the right products.
"The next year is going to be a tough one with the move we have in front of us," he admits, but notes that the company should continue enjoying success. "I think the outlook is very positive."
Shaping the Future
Based in Dettingen an der Erms, Germany, ElringKlinger AG is a development partner and equipment supplier of cylinder-head and specialty gaskets, plastic housing modules, shielding components and exhaust gas purification technology. In addition, the company provides battery and fuel cell components to nearly all the vehicle and engine manufacturers in the world.
"Our entire product portfolio is focused on one key issue: CO2 reduction," it says. "Whether high-temperature gaskets for downsized engines, lightweight plastic components and modules that save weight and fuel by replacing metals with polymers, or shielding systems designed for targeted thermal management — we have set our sights firmly on shaping the future of automotive engineering."