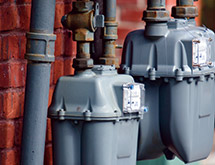 Elster American Meter Co.
Millions of homeowners across the United States are familiar with Elster American Meter's products, whether they know it or not. "We estimate that every six of 10 homes has one of our residential gas meters on it," the Nebraska City, Neb.-headquartered gas measurement and regulation product manufacturer says. "Chances are, if you were to look, you probably have one of our meters on your home, hopefully."
The company, a business unit of German manufacturer Elster Group GmbH, manufactures diaphragm-style gas meters under several brand names including American Meter, Canadian Meter, Perfection, Gas Depot and Instromet. The company also produces regulators and mechanical fittings for its gas meter lines. Elster American's top-selling gas meter is the American Meter AC250, which has sold more than 41 million units worldwide.
Elster American prides itself on being able to deliver a solution that extends "from the gas main during the street and right up to the home," the company says. "We can deliver a full solution beyond just the meter – we offer a full method of getting gas to the home safely."
In addition to its residential product lines, the company also serves commercial and industrial customers with meters such as its RABO line, which is designed to monitor high-density gas flows.
The company's newest product for the U.S. market is the BK250 gas meter, which is designed to meet global gas regulation standards. Before its launch, Elster American engaged a focus group of customers to ensure that the meter's features meet customer needs. "This was a big advantage to us, because this allows us to know that we were putting out the products that our customers truly need," the company adds.
High Priorities
Elster American operates six facilities in North America and South America. The majority of the company's meters are produced in Nebraska City. That facility's manufacturing operations include machining, metal forming, manual assembly and subassembly.
All of Elster American's products are manufactured to the highest quality possible. "When customers buy our product, they know they are getting good value for their dollar,"the company says. "Most of our customers will tell you this is one of the better products they've seen."
Elster American's six manufacturing facilities are ISO 9001, ISO 18001 and 14001 certified and operate extensive quality systems. The plants also operate extensive lean manufacturing programs.
The company offers continuous training programs to its manufacturing employees. These training programs stress health and safety in particular.
"When you're dealing with natural gas, safety has to be your No. 1 priority," the company says. "We want our people to be able to identify any condition that could be unsafe."
Elster American also offers skills-building and career path programs. "One of the greatest competitive advantages we have is our employees and the pride they take in their work," it  adds. "I'm proud that our staff has the opportunity to grow and try new things in their career."
Part of the Community
Elster American's ISO certifications for quality, health and safety, and the environment recently earned it two awards from the North American Manufacturing Leadership Council. The awards recognized the company's supply chain innovation as well as its sustainability programs. "Health, safety and the environment are important to us because those are things that involve doing the right thing for the community," the company says.
Elster American has been in Nebraska City since 1954, and traces its history back to 1836. The company's community activities include involvement in local business development committees as well as charities in each of the towns it is located in.