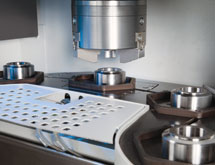 EMAG's ongoing objective is to supply "the best manufacturing solutions for precision metal components," and it is confident in its ability to continuously deliver on this goal to the satisfaction of its customers. This confidence stems not only from the fact that EMAG is flexible and fast in its response to customers, and it constantly works to improve clients' output and quality of their production with reliable, space-saving machinery, but also because the vast EMAG enterprise and extensive capabilities are backed by the knowledge gained from its 145 years in business.
"This is EMAG's 145th anniversary, and we are still very excited about what we're doing," EMAG USA President and CEO Peter Loetzner explains. "We're always coming out with extreme innovations, new processes and designs, and we are more efficient and have a better way of operating than ever before. It's really all about quality – quality is the most important thing you need to supply long-term contracts, both local and global."
EMAG considers itself "the world's most important manufacturer of CNC vertical turning machines," due in large part to the consistent quality in its diverse line of products. The company supplies its customers with a range of machines for turning , grinding,  gear-hobbing and deep-hole drilling, as well as tube and coupling sleeve machining centers, laser-welding machines and electrochemical machining/pulse electrochemical machining machines. The entire EMAG group holds more than 200 patents, and it adds more every year. At IMTS, EMAG plans to demonstrate how its complete manufacturing systems will make clients' businesses more competitive.
The company's worldwide strength also is due to its continuous expansion through acquisition – with three production sites, nine technology centers and 28 offices around the globe, EMAG says there is hardly any metal cutting application that it can not provide with a suitable machine. EMAG's expertise spans from standard machines to custom-made manufacturing systems, meeting the needs of numerous market segments. Additionally, EMAG can act as a single source for many of its clients by combining its machining and automation technologies with its extensive knowledge in process design.
"Our reputation is built on our supply of high-quality, high-precision machines," Loetzner says. "Our customers include Chrysler, Ford, General Motors and John Deere, and they stay with us because they trust in the machines we provide."
'True Cost-Killer'
The Germany-based EMAG group launched U.S. operations in 1980. EMAG USA is based in Farmington Hills, Mich., and approximately 50 percent of its business is in serving the automotive industry, while the other half serves other markets such as energy, agriculture, construction and mining. EMAG USA has been expanding its non-automotive business for a few years, since the beginning of the recent recession, and the quality and capabilities – gained from a worldwide network of sister operations – have led to much growth for the U.S. business, according to Loetzner.
"Diversification is key for our company," he says. "We've really been reaching out to non-traditional markets in the last few years, and we've become a strong player in many areas. Now we are focused on increasing our market share. Additionally, the initial push for offshoring has slowed down, which helps our business as well."
EMAG's main focus, however, is to continually help its customers with their businesses, and it does this with its extensive knowledge base, an emphasis on service and perpetual investments in R&D. The company understands that operations in a range of industries require optimal component quality and flexibility in handling varied batch sizes, as well as maintaining just-in-time delivery, regardless of batch size. Additionally, when market conditions change, manufacturers must be able to quickly adjust their operations.
To help manufacturers react to market dynamics and competitive pressure, EMAG created "a true cost killer" – the EMAG VL 2 P vertical turning center. "There are a great many factors that influence the cost of machining a component – from general output rates and tool life to the actual quality of the end product," explains Dr. Guido Hegener, managing director of EMAG Salach Maschinenfabrik. "We have kept a close eye on these factors during the development of our machine. As a consequence, the VL 2 P shows a variety of strengths. It also represents a comprehensive solution for the turning sector, is technologically sophisticated and of a design with which we have had many years of experience."
EMAG says the VL 2 P completely machines work pieces of up to 100 millimeter in diameter in two setups because it is equipped with two work spindles; while one spindle machines the first side of the component, the second spindle uses the pick-up principle to load itself, ensure the next raw part is ready to be machined as soon as the first piece is completed. This results in the shortest-possible chip-to-chip times, according to Hegener.
The VL 2 P's base is cast in Mineralit, a polymer concrete that has an eight-times better vibration-dampening effect than grey cast iron, EMAG says. "A vibration-resistant machine leads to a better surface finish," Hegener says. "It also increases tool life."
EMAG notes its vertical turning centers have a level of automation that is "an integral part of a highly compact machine design." The automation in the VL 2 P eliminates the problems of loading and unloading numerous different work pieces. Additionally, understanding that idle time significantly increase the cost of a machine over the long-term, EMAG designed the traverse between the two work spindles to be minimal. As a result, changing components on this machine is "unbeatably fast," because the time needed to load and unload the components runs parallel to the cycle time and therefore has no influence on chip-to-chip times. With all of these features, the company says the VL 2 P already has been successful on many shop floors.
"Firstly, we are already looking back on 2,500 delivered VL machines, and we always adapt new designs to the conditions our clients face," Hegener says. "This allows us to focus on the strengths of our machines. The VL 2 P is ideal for the machining of work pieces with short runtimes and impresses with its short cycle times and exceptional component quality. These are features that will continue to draw attention."
Secured Reputation
While its engineers and R&D departments remain focused on improving and adding to EMAG's extensive product offering, the company also understands the importance of supporting the development of its employee base, helping customers understand and get the most from complex equipment, and engaging more people to enter the U.S. manufacturing industry.
The company works to accomplish these goals with the EMAG USA Technology School at its Michigan headquarters. Courses focus on areas such as maintenance, electrical training, machine operations, programming, system setup and advanced technology. Training always has been available to its own employees, but EMAG opened the technology school to provide an additional level of support to its customers, ensuring their employees gain the necessary expertise and practical skills to ensure the best and long-term operation of their EMAG equipment.
EMAG's focus on internal training, in fact, has been a key factor in its success, even in a slow economy. Most manufacturers have been forced to reduce their workforces in the past decade, but EMAG continues to enlarge its employee base. Approximately 10 percent of its employees are apprentices and trainees, Loetzner says, and EMAG offers all of them full-time employment once they have completed their training successfully. EMAG believes extensive advanced training programs and a constant exchange of knowledge ensure that "every EMAG employee is capable of the kind of lateral thinking that allows them to offer the customer innovative, well-engineered solutions to their manufacturing problems."
Performing its own recruitment and training, Loetzner says, has been the best way to ensure EMAG's quality reputation remains in tact going forward.
"We want to attract the best people to our company and industry," he says. "We work with local colleges to train students in electrical engineering and mechanics. It's up to us to ensure the EMAG quality reputation is secure, so we took it into our own hands to find the most qualified people out there. That keeps our company strong and puts us in a great position for growth."