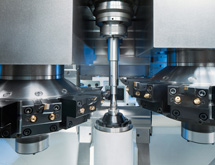 Every noteworthy and innovative company looks for ways to make itself stand apart from the competition. What makes EMAG USA unique is its ability to provide complete machining processes and systems to customers in an array of industries.
"We provide services that allow our customers to deal with just one supplier to cover the entire process chain for a particular part," President and CEO Peter Loetzner says.
EMAG USA is one of the marketing companies that are part of Germany's Global EMAG Group. As an organization, EMAG Group has a number of technology and production companies based in Germany and market companies that focus on the domestic customers based in a number of countries around the world. EMAG USA receives basic machinery from its technology and production sister companies and builds the final machines in the United States before they are qualified and dispatched to the end-customer. That allows the company to include local content.
"Every country is different, and every application requires local support," Loetzner says. "We use a lot of local content so we can provide better service."
Within the United States, EMAG is active in a number of industries. The automotive industry is the company's largest pillar, but it also serves oil field companies and non-automotive industries such as agriculture, earth moving and aerospace.
"The automotive market is still a strong and important market for us, but we see many opportunities in other industries, too," Loetzner says. "Specifically in the aerospace market, there are new generations of jet engines being developed. We offer a unique manufacturing process for machining some of those components."
Vast Options
Throughout its global footprint, EMAG is focused on providing manufacturing solutions for precision metal components. The company strives to provide clients with flexibility and long-term attention that can help improve output and production quality through reliable, space-saving machinery.
EMAG is extremely well known for its CNC vertical pick-up turning machines, but its products cover the complete array of machining processes in the metalworking industry. It also offers turning machines, grinding machines, machining centers, gear hobbing machines, OCTG tube and coupling machines, laser welding machines, ECM/PECM machines and heat-shrink assembly machines.
EMAG follows a strategy of continuous technical and commercial expansion. EMAG can provide machines that can work in almost any metal-cutting application, as it holds over 200 patents and growing. EMAG has devised solutions that range from standard machines to custom-made manufacturing systems. This includes responding to customer demands for modular and single-source solutions. EMAG's machining and automation technologies, along with its process design knowledge, allowed the company to begin offering an array of different machining technologies in one machine.
A key milestone in EMAG's technical and commercial expansion is the launch of EMAG's Modular Standard and Modular Customized VL machine platform. It has been a two-year process, and the New VL Platform Machines are now available in United States. EMAG can use similar building blocks to create turning, hopping, hardening or laser welding machines.
"This means the customer can carry fewer spare parts because the components are the same for all the machines," Loetzner explains. "They don't need to stock every little piece of machinery because everything is standardized across the product line."
Internal Intelligence
EMAG's investments extend from the realm of technology to the realm of its workforce. It constantly seeks to grow the size and skills of its staff. At EMAG USA, roughly 10 percent of employees are apprentices and trainees who are offered full-time employment upon successful completion of training. EMAG USA provides extensive advanced training programs through its in-house Technology School, and is always engaging in knowledge exchanges within other market leading companies.
The EMAG USA Technology School at its Michigan headquarters offers courses on everything from maintenance, electrical training and machine operations to programming, system setup and advanced technology. Training is offered through the schools trainers, and provides an additional level of support to customers. EMAG's work to attract the best people while collaborating with local colleges to train students in electrical engineering and mechanics are part of an effort to secure its own future.
After the economic downturn, Loetzner says the machine tool industry has seen a strong return. But he knows the market will have ups and downs. Because EMAG is diversified and strives for technological and employee superiority, it is well positioned even if some markets cool. "Diversification is key for us, as is the New VL Platform machines," Loetzner says.