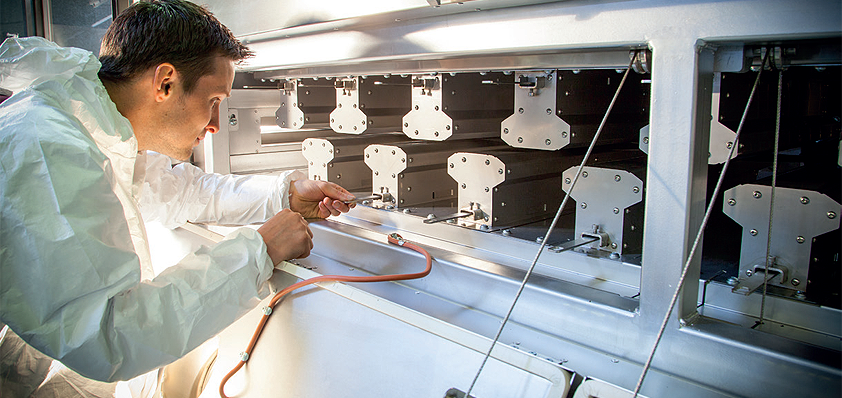 The writing is on the wall
Long-standing name Emerson & Renwick continues to succeed at engraving the highest quality performance levels into its manufacturing services
Over a century ago, Mr Emerson and Mr Renwick created a family-owned company that specialized in manufacturing textile finishing machinery, which soon grew to become a staple of Accrington, Lancashire. Thereafter, the business continued to expand to include equipment for the leather cloth industry in the 30s, products for fluid management in the 60s, in-register hot embossing in the 70s and a diversification into the automotive industry in the 90s. In 2014, the company successfully branched into vacuum coating platforms for solar and flexible electronics, and in 2017, Emerson & Renwick secured its largest order of £50 million. "I think after that, one of our key milestones was probably our centenary in 2018. If we look at the other developmental milestones, particularly over the last ten years, we have taken a lot of learnt knowledge across the product stream and started applying it to new applications, which is really the story that we hope to tell; how we are taking all that experience and history and moving forward to the next generation of products and applications," says Ben Clements, the business's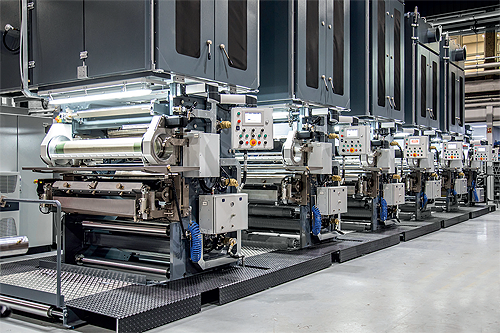 Managing Director, who shares with us the successes that continue to keep the company a leading expert in designing and manufacturing machinery for the printing of wallpapers, print electronic devices and vacuum coating sectors.
"Our reach is quite broad, which is key for us and our range of applications that we provide is hugely diverse. Innovation and diversification have been absolutely pivotal to what has kept us going all this time," remarks Ben. Tying in with this, the company is proud of exporting approximately 85 per cent of its business to high-profile sectors such as Silicon Valley. "We have a number of machines installed in Silicon Valley and we are selling to some of the other big tech players, anything from start-ups, all the way to the big blue-chip companies on the stock exchange," he highlights.
Part of how Emerson & Renwick has been able to send its business across international waters is owing to the collection of smaller complementary units under the company's umbrella. Where most of the business's competition is set on specializing in one area, Emerson & Renwick is dedicated to providing its services in several different sectors to assist with more complex projects and offer whole solutions. "You may have seen on our website that we offer vacuum coating machines and atmospheric coating machines. To our knowledge, we are the only company in the world to offer both and what we find with a lot of these processes is that it is far more beneficial to sell machines that can fulfill a process from top to bottom with atmospheric steps, vacuum steps and then back to atmospheric. So, we happily flex our diversity with applications for different customer needs," Ben elaborates for us.
The business' determination to explore niche opportunities and produce first-class solutions is of course one of the reasons that it continues to dominate in the industry. "We've got a lot of creative thinking here and it's based on and supported by a great underpinning of experience and knowledge, but our key driver really is confidence and fearlessness to take on new risks," highlights Ben.
As he briefly mentioned, being involved in this level of innovative engineering requires an exceptionally qualified team, owing to the fact that a skills-intensive environment requires a pipeline of skilled employees. Ben stipulates that the company's keenness to grow finds it drawing from a pool of engineers in training who are eager to be part of Emerson & Renwick's industry-changing solutions. "By us spending time in the local area, we hope to garner attention that might also bring in some investment and focus into the courses and education that the younger generations are being exposed to, which then ultimately gets more people interested in engineering, and gives us more longevity and quality engineers," Ben adds.
This thorough process of sourcing employees is how the Emerson & Renwick team is able to research and explore other facets of the industry. A new area in which the company's innovation is extending into is sustainability to support the green revolution that is infiltrating the business market. This can be seen through recent projects where it is determined to support companies who are developing technology with greener solutions. "One of the key growth areas for all businesses such as ours is energy storage and batteries. There is an influx of work going into batteries for any number of applications and obviously, a lot of interest in automotive sectors. Although everyone automatically thinks of electric vehicles, we are looking at the whole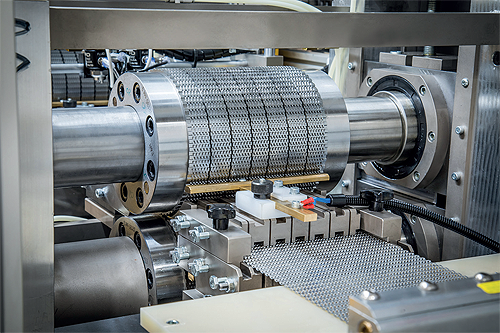 field of battery storage and energy storage as a whole suite of possibilities," describes the company's P&ED Director, Nick Butcher.
Nick goes on to add that because much of the company's machinery process is naturally demanding in energy, the team is investigating more energy efficient measures. For example, the business works with a hefty number of products that are wet at application, which then need to be dried, and it requires intensive energy to complete these actions. "We're applying a lot of thought to new techniques that might remove those drying steps, or create improvements through efficiency. We are looking at heat and energy recovery systems to feed back into the process to support our goals for saving energy consumption within the production of consumer products," he says.
In order to ensure reliable results for these sorts of ventures, the group prides itself in partnering with other areas such as academia and in working with select industrial partners to see what is out and about across the industry, and over the last five years, this practice has seen the company invest in building its own technology center and launching new products. "We like to show people that we understand the problems, and that level of thorough work ethic has even led us to launch our pilot coater. We have vacuum coaters, a laboratory site and lots of test stations, which we then provide to our customers. We get to walk the risk together and that has been an essential addition that has secured us an awful lot of business recently, because our customers can work from one place and be involved in the process. This allows us to mitigate these new areas owing to the fact that much of the work we do involves technology that isn't off-the-shelf, and we like to attach bespoke applications to our services," Nick highlights for us.
Another area in which the company's innovation is expanding in includes solar cells. With experience in completing sophisticated work for flexible solar cells, this sector buttresses the energy efficiency message Emerson & Renwick is passionate about. "If we go back a couple of years, we took a step to bring vacuum coating equipment to our portfolio around 2014. That move has really propelled us in this new application area, because we can now provide atmospheric coatings, which was always part of our portfolio but it has also pushed us into new markets," he shares with us.
By pushing boundaries, the company is continually being presented with fresh opportunities to maintain its growth, and although expansion is definitely on the cards, the business is also taking on a rebrand later this year to guarantee efficiency and reliability for its customers. "The cornerstone of the branding is to clean up what has become a confused identity. We are a wallpaper company and we're known as a wallpaper company, but when we started doing all this far reaching stuff, we realized that our brand was confused. We have now grouped the business units more carefully, with a focus on our four main areas: print, coating, vacuum and forming, which will help keep the business far more efficient as we expand across those sectors," adds the company's Sales Director, Andy Jack.
With fearless ambitions and unparalleled capabilities, Emerson & Renwick appears set to sustain its impressive expansion trajectory. Coupled with its innovation and creative thinking, development is clearly integral to the success of the business and its exciting new developments in solutions for energy saving, as well continuing to support engineers at the start of their careers is setting it in good stead to be a name to keep an eye on in the future. "That bravery that I keep talking about will take us a long way, and we are trying to remove some of the excuses for customers to see us as something we once were, and instead see us as what we are, and that's trustworthy engineers," Ben concludes.
Emerson & Renwick
Services: Manufacturers of machinery for wallpaper printing and other printing devices
www.eandr.com