A man on emission
From making a loss, to winning a Queen's Award for Enterprise, it's been an incredible four years of transition for Eminox, one of the world's leading manufacturers of exhaust emissions control systems
When Eminox's Managing Director, Mark Runciman, joined the company in 2015 tasked with turning the business around, he knew he had a tough job on his hands. Coming off the back of the first annual loss in the company's history, Mark discovered that Eminox was not only suffering financially, but was also in the midst of an identity crisis.
"When I arrived, just over four years ago, the business was in a state of flux," Mark states. "It was a retrofit business that did a little bit of original Eminoxequipment manufacturing (OEM). The processes really leant themselves to retrofitting, which was more ad hoc, more workshop-based, and we were just receiving our very last Government funding to retrofit buses across the UK, as bus operators are generally supported by the government to upgrade their fleets.
"It all meant we were in a situation where the business was looking to develop. We needed change because there wasn't enough retrofit work to support the business going forward. A £2 million loss on a £29 million turnover in the previous year had been devastating for Eminox. Something had to give."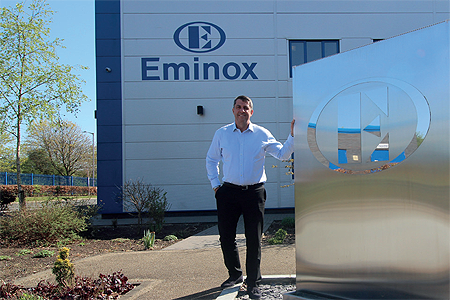 With a background in aerospace and experience working on technologies for major corporations, such as Rolls Royce and United Technologies, Mark's vision for Eminox was to build a company focused on high-quality, deeply systematic, lean processes.
"Coming into the business, I wanted to develop a four to five-year strategy that would give us something to aim for," he says. "I wanted everyone in our workforce to be able to see where we were heading and understand the milestones and payback along the way. It was a strategy built on lean culture, transformation, and process capability. What we ended up doing was flipping the business model and going from a retrofit business that did some OEM, to an OEM business than did some retrofit work."
Working smarter
As part of the new strategy, Mark earmarked three areas of the business that would play a key role in ensuring a smooth and effective transition: processes, people, and capital expenditure (capex).
"From a processes perspective, we needed to take the skills the company had developed in the retrofit business and adapt them in a repeatable way to support our OEM work," explains Mark. "From a people perspective, it was about looking at the workforce and investing in their skillsets, manoeuvring their capabilities to fit where we wanted to go. The best way to turn our fortunes around was always going to be with skilled people with good, credible backgrounds in automotive work, from product development to manufacturing, from operational leadership to the management of supply channels. We wanted to take our existing employees with us and integrate their wide array of skillsets into the business.
"Finally, as far as capital expenditure is concerned, it was all about updating our capabilities and making sure we had equipment that was fit for purpose. We invested £4 million a year for three years on the bounce. With support from the Hexadex Group, we pulled all three of these ideas together and took the business from a loss-making £29 million turnover operation to a company turning over £70 million with a £6 million profit."
A family business at its core, Eminox was founded in 1978 by David Milles and Norman Emerson. With an original workforce of just three employees, the company designed and manufactured its first exhaust system in its inaugural year of business and soon received its first large order of 30 units. Word quickly spread about the high-quality production on offer from Eminox and after relocating and investing in state-of-the-art laser cutting technology, the company began to expand into new markets and supply OEM's.
In the 1990s, as pressure grew to clean up the environmentally damaging properties of diesel exhausts, Eminox began a long-term partnership with Johnson Matthey, which resulted in the creation of the Continuously Regenerating Trap (CRT®), a system that would go on to be fitted in more applications around the world than any other system of its kind. It was followed in 2001 by the SCRT® system, a product installed worldwide with OEM's, as well as retrofitted to a variety of on-road and off-road applications.
"Today, we can retrofit a range of heavy-duty commercial vehicles and equipment to Euro 6 equivalent emissions standards," Mark asserts. "In recent years, we have been working on a project for Transport for London (TfL), and have successfully designed, manufactured and fitted over 65 per cent of London bus upgrades. On the OEM side of the business, we are currently supplying the likes of Liebherr to meet the latest Stage 5 emissions legislation and Iveco to provide the exhaust aftertreatment system for the market leading Stralis gas truck.
"It's been quite a turnaround," he adds. "Just four years ago we were under half the size and a loss-making business. Now, before Covid-19 hit at least, we have over 400 employees and a £70 million turnover. For me, it's all been about developing a can-do culture that, over the years, had been eroded when profits dropped. That's all gone now. We work smarter, rather than harder."
In April 2020, the efforts of Mark and his team were formally recognised when Eminox was presented with a Queen's Award for Enterprise. Eminox's achievement came in the International Trade category after the firm saw its overseas sales grow by 146 per cent over the three-year application period.
"Winning the award was a fantastic achievement," Mark declares. "It gives a real level of kudos to everyone on the team and a sense of recognition for the journey we've gone through together. We're a very flat organisation and, since I've been here, we've adopted an 'if one fails, we all fail' mentality. The award proves that we've been doing the right things over the last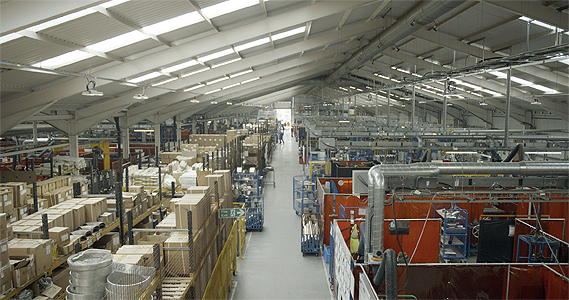 four years, from the shop floor all the way through to leadership."
No stranger to awards ceremonies – Eminox recently reached the national final of the Make UK Awards – the company is always pleased when its hard work is recognised by external bodies. In the case of the Queen's Award however, Mark claims timing made the victory feel bittersweet.
"Around the same time as we received the notification explaining we had won the award, we were also starting to understand the true scale of the Covid-19 pandemic and the ramifications it could have for our business," he reveals. "Since the outbreak, most of our staff have been furloughed or are working from home, but I have been here every day and a small team has continued to supply TfL and other transport companies to ensure that essential workers can get where they need to go.
"We were quick to react to Coronavirus and the safety of our employees has been paramount from the start. Something we have done well is managing the message across our workforce. A regular newsletter goes out to those that have been furloughed because the beating heart of this business is its people and we want to keep them engaged and informed."
Vibrant atmosphere
Unafraid to diversify and adapt, Eminox recently partnered with Johnson Matthey, BP, and Fulcrum BioEnergy to develop new technology that will convert landfill waste into aerospace kerosene. Following notable success working with Porterbrook, the business has also won two new contracts in the rail sector.
"Alongside the marine and genset industries, rail is another area that we are looking to develop," acknowledges Mark. "We are already seeing noticeable success in the rail market, and we feel comfortable taking the skillsets we have developed in the commercial vehicle segment and developing our emissions reduction technology to support the rail network.
"The project we completed for Porterbrook involved looking at their rolling stock and creating a retrofit solution. That work, combined with what we have done in the past for a number of OEM's, is evidence that Eminox has the capabilities to meet the stringent safetystandards needed for rail. We are the only UK exhaust company to hold the BS EN 15085-2:2007 CL1 world rail welding standard accreditation."
In the years ahead, Mark expects to see the company pursue further projects outside the internal combustion engine, as well as increasing activity in the APAC and ASEAN regions. The role Mark has played in reversing the company's fortunes over the last four years has created a solid base for Eminox to expand and diversify. The firm is now keen to grow its portfolio of products and tackle new challenges.
Though someone as busy as Mark rarely has time to reflect, Eminox's Managing Director does, at times, look back with a degree of pride at how far the company has come in less than half a decade.
"When you inherit a workforce that is stuck in a cycle of doom, that can see the business is going in the wrong direction, you start to lose people. Good people lose faith," he remarks. "To be able to turn that around and kickstart it into a really buzzing, vibrant business where people are contacting you because they want a job, that is the greatest success for me.
"Nowadays, we're always launching new initiatives, like our mental health policy, and from a wellness perspective, we're almost operating in a way that a multinational would. It seems like a long time ago that our employees felt downbeat and downtrodden and wanted to leave the business, because now we are really retaining people and those that have left are actively looking to return. It's nice to have awards, but the real recognition is that people come in to the business and they see what we are doing, or they see it in the posts on social media, and they want to be a part of it."
Eminox
Products: Exhaust and emission control systems