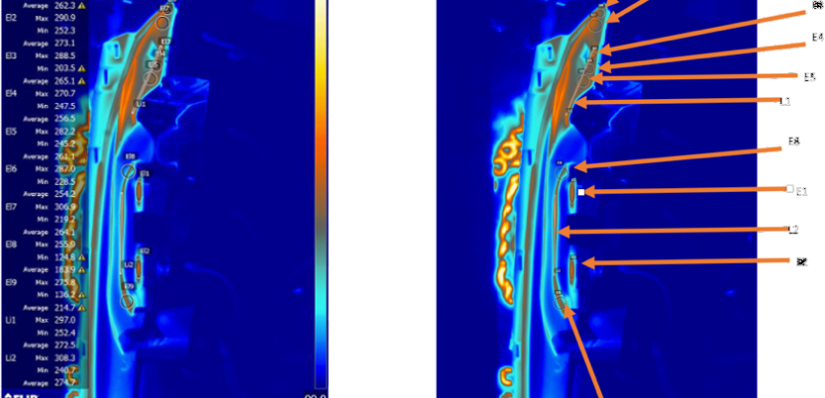 Infrared heating technology has become the most trusted precision heating technique available, delivering infinite controllability and precise heat application to meet demanding industrial heating requirements. From producing standard and custom infrared quartz emitters to thermal imaging cameras, Emitted Energy has become the trusted infrared thermal technologies partner for manufacturers.
"We are moving into integrated thermal machine vision systems," says Richard Peach, business and customer development. "We partner with our clients to provide solutions. As a FLIR Gold Tier Automation Technology Partner and Master Gold Tier Distributor, we use FLIR automation thermal cameras in our turnkey systems. FLIR Automation Cameras are the highest quality thermal imaging sensors available which allows us to integrate premium solutions that automate in-line inspections and validate processes for manufacturing, including plastic joining, injection molding, adhesive application, thermoforming, and early fire detection, to name a few."
Based in Sterling Heights, Mich., Emitted Energy offers four main categories of infrared emitters: short-wave, fast-response medium-wave, carbon-based fast response medium-wave, and medium-wave. Some benefits of infrared heating by Emitted Energy include decreased cycle time and increased throughput, non-contact heating, precise adjustment of applied heat based on material properties, infinite controllability for precision heating with a near instantaneous response time.
The company's partnership with FLIR allows it to provide customers with the best in infrared thermal imaging technology and machine vision systems. Emitted Energy matches the right technology to fit its customers' application requirements. It not only provides customers with the world's best infrared thermal imaging cameras, but it can also provide complete turnkey systems solutions, from integrated process control to adjustable, portable solutions.
Emitted Energy's thermal process monitoring systems (TPMS) offers real-time infrared thermal data collection and designed software intelligence to depict out of control processes with analytical trending and thresholds limits for analysis and smart decision-making. The company offers a Travel TPMS, Versatile TPMS and Integrated TPMS.
"Our customers are looking for an integration partner to supply quality assurance and control solutions that validate their processes are running optimally and within the specs that they are requesting," Peach explains. "We meet with customers and prospects at their facilities and find ourselves retrofitting machines that are out of tolerance based on the process specs it was initially set up for. These issues arise due to regular wear and tear, operator misuse, even environmental or supply chain variations. We are able to account for all those things with our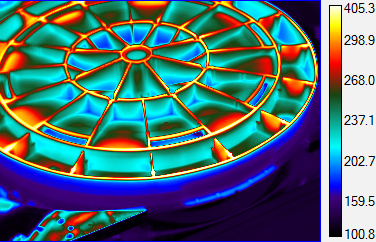 equipment and validate that the part itself is a quality part coming out of the line. This allows our customers to drastically extend the usefulness of their tools and machinery."
Guaranteed Satisfaction
Emitted Energy demonstrates its technology on-site, offering an initial proof of concept testing before engineering full-scale solutions. "We offer a customer satisfaction guarantee on the system to support our partners with the kind of quality assurance we work so hard to achieve," Peach notes.
From the time the company receives the purchase order to the customer signing off on integration is about four to eight weeks, depending on how involved the engineering process is for the solution. More exotic applications of course result in a greater turnaround time. "We don't hesitate when asked to tackle a challenge however we want make sure everyone involved understands the process and the scope of work before we really dig in," Peach says. "2019 has been an amazing year to watch our company grow. Companies are often challenged by growth and don't uphold the same standards of quality and service while their focus broadens. We maintain our quality by focusing on our commitments and prioritizing our customers."
By ensuring its engineers communicate the exact capabilities of the solution the customer ordered, Emitted Energy eliminates the risk of its team not providing good customer service. "Sometimes we see customers buy a piece of equipment and then throughout the manufacturing and integration process, they want to expand the scope of the solution," Peach explains. "Technically, the system is capable of providing those fixes, but the work entailed to engineer the system to that point is much more involved than what was originally communicated. Our engineers are there for the customer when they install these systems, so by communicating the functionality prior to the installation we allows improve customer satisfaction."
Emitted Energy's ultimate goal is to provide top-notch customer service and establish long-term partnerships. We want our customers to feel like the expectations were clearly set and nothing was lost in translation. "When they sign off on the system, we want them to feel good about working with our team," Peach says. "In addition, we offer ongoing customer support after signoff if any issues arise. Customer service and satisfaction is our key focus here, that's why we offer our customer satisfaction guarantee."
Quality Assurance
Emitted Energy stands by its products and services with the highest quality and warranty program in the industry. All of its systems go through a quality assurance process at its headquarters to make sure any quality defects are addressed in-house before they are deployed.
Before shipping, every emitter is five-point quality inspected, marked and signed by the quality manager. The product is then packaged with care to ensure it arrives unharmed and on time. The short-wave emitters have a guaranteed on-time of 5,000 hours under normal operating conditions, while the medium-wave are guaranteed for up to 10,000 hours under normal operating conditions.
If quality issues arise in the field, Emitted Energy works with its customers to guarantee their satisfaction. "If a short-wave infrared emitter has a failure that leads to manufacturing issues, for example, we will replace that emitter free of charge because we want take care of our customers," Peach says. "If it's a repeating issue, we may make a site visit to address the root cause and do whatever is deemed appropriate."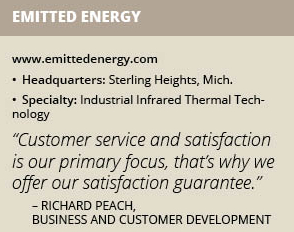 Excellence in Thermal Imaging
Located in the heart of the automotive industry, a large portion of Emitted Energy's customers are automotive companies. Ford, FCA, and GM, collectively known as the Big 3, all use thermal imaging within their quality assurance programs. Even Tier 1, and even Tier 2 Automotive companies also ensure the quality of various manufacturing process by using infrared technology. One example of this a manufacturing process for The Ford Motor Company which is done by IR Welding.
IR welding is a relatively new technique that is used to assemble plastic components. Yanfeng Automotive Interiors, the world's leading supplier of instrument panels and cockpit systems, door panels, floor consoles and overhead consoles, has recently adopted this technique in its facility in Louisville, KY, USA. Thermal Machine Vision systems from Emitted Energy ensure the whole process and make sure that quality of the IR welds is impeccable and repeatable.
One of the products for which Yanfeng is using IR welding is the defroster grille for the Ford Escape vehicle. Kevin Germain, Manufacturing Engineer at the Yanfeng plant in Louisville comments on the recent set-up of the IR welding machine on the production floor: "Product quality is of utmost importance at Yanfeng, so we try to assess this to the best of our possibilities." However, shortly after installing the new IR welding machine, there was no real way of telling how well the weld had succeeded, except by doing a visual check after the heat cycle of the welding machine.
The Yanfeng team discovered the power of thermal imaging through Emitted Energy, a certified FLIR automation camera distributor and system integrator. Thermal imaging cameras can be used for nondestructive testing and evaluation of IR welds by looking at subsurface features (i.e. subsurface defects, anomalies, etc.) observed on the investigated surface. "We already experimented with the use of a small, handheld thermal imaging camera from FLIR, so we knew what thermal imaging could do," says Kevin Germain. "But for this check with the thermal imager, we had to stop the machine to look at the plastic part after the heat cycle in the welding process. This was also not reliable enough." Fortunately, Emitted Energy came with a solution that allows for continuous quality monitoring and 100% reliability.
Arthur Knuysen, head of the quality control department at Ford Genk, chose the FLIR A320 thermal imaging camera to perform a range of quality tests that include vibration test, a ramp test, a test to see whether the emblems are properly located, and even test for the widescreen wipers. "Before these automatic systems were installed at Ford Genk, the cars were checked by hand, but that means that the quality control is susceptible to human error," he explains. "Automatic testing systems are much quicker and more reliable. FLIR thermal imaging cameras are the perfect tool for such tests, for they are accurate, reliable and maintenance free."
In the food industry, carefully controlling the temperature of perishable goods throughout production, transportation, storage and sales is vital. Using FLIR thermal imaging cameras, food companies can make automated non-contact temperature measurements in many food processing applications. Thermal imaging cameras are easy to use, small, and can be positioned almost anywhere as needed.
Thermal imaging safety systems are also used in airports, such as in the Istanbul Sabiha Gökçen Airport. The thermal imaging system shuts down the conveyor blets the moment anyone enters the baggage handling area. Four FLIR a310 thermal imaging cameras cover two conveyor belts that lead from the check in area to the baggage handling system.
When an alarm goes off, the thermal image is instantly displayed in the control room and it is also automatically emailed to airport officials. This enables them to quickly determine whether it is a person or a piece of baggage triggering the alarm. "If it is a child we can swiftly intervene and bring the child to safety," says Kaan Türkmen, who is responsible for the airport's baggage handling system. "If there is a false alarm, caused by an exceptionally warm piece of baggage, we can get the conveyor belts running again in no time. So even if there might be an unwanted alarm the delay will be quite minimal."
Before the FLIR A310 thermal imaging cameras were installed, several other technologies were tested, but Türkmen says none were satisfactory. The thermal imaging safety system has lowered the probability of an accident happening in the baggage handling system involving a child to near zero. "That makes the safety system definitely worth the investment," Türkmen says. "I therefor think that other airports will start installing such thermal imaging based on safety systems as well. It is probably just a matter of time."
Expanded Capabilities
Emitted Energy delivers customized solutions and focuses on advancing industrial automation systems. New markets are also being discovered as it learns more applications for its infrared technology. On Sept. 19, the company will debut its plastic injection molding solution that it developed in response to customer demand. "It's something we have bene asked to look at, and in a short timeframe we were able to troubleshoot current issues and are also able to get in and do automated analysis ensuring the quality of every part, cycle after cycle."
With the launch of its plastic injection molding solution, Emitted Energy is also expanding its infrared solutions center in Sterling Heights. "Right now, we are open for demonstrations, but we are expanding our space to include more hands-on demonstrations in order to educate the customers," Peach says. "We are also expanding our sales rep network as we grow, providing customer support nationwide and getting representation closer to our customers sites in our ongoing effort to provide our customers with the best service available."