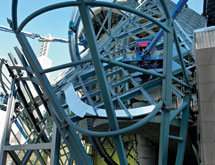 Taking on large and complex projects is a staple of Canada's Empire Iron Works Ltd. The company has been putting its skilled labor force to work on challenging projects for more than five decades.
Incorporated in 1958 in Winnipeg, Empire Iron Works has spent the past 50-plus years building for industrial, institutional and commercial applications. Today, the company is headquartered in Winnipeg, has all office functions in Edmonton and a shop in Wabamun, Alberta.
"Most of our work is done in Alberta although we have had several projects in British Columbia and a few smaller in the Northwest Territories," General Manager Andy Boelee says.
Strong Team
Since 2006, Empire Iron Works has been a subsidiary of Empire Industries Ltd., a publicly traded company focused on the precision design, engineering and manufacture of complex engineered products and on adding value to steel. Empire Iron Works' sister companies include Dynamic Structures, Petrofield Industries (Tornado Hydrovac Trucks), Parr Metal Fabricators, ACE Industrial Services and Lemax Machine & Welding.
Empire Iron Works provides detailing, fabricating, erecting and registered consulting services to many industries. Its staff includes laborers, fitters, welders, machine operators, ironworkers, technologists, professional structural engineers, project managers, accountants and professional designers, as well as purchasing, safety, IT and administration staffers.
"We've been very successful at retaining the people in our office staff," Boelee says. "We are unionized in the shop and the field. We have a core group of senior field personnel such as foremen and supervisors, and we recruit from the union hall as we ramp up on a project. At our shop, the labor pool is limited but we've maintained our numbers."
The company's experience includes pulp mills, mines, process plants, pipe racks, conveyor galleries, warehouses, high- and low-rise office buildings, shopping malls, hospitals and schools. Empire Iron Works' plate steel has been processed into bridges, hydraulic gates, stop-logs, precipitators, tanks, hoppers, chutes, breeching and engineered equipment.
Diverse Skills
A major part of the company's strategy for success is its ability to provide detailing, fabrication and erection services. Empire Iron Works' detailing capabilities include three-dimensional modeling using advanced software.  The company's detailing division offers diverse and comprehensive services.
"We are good at working on complicated structures," Production Manager Jeremy Spelsberg says. "We can do 3-D models of a project in the beginning stages and that gives us an advantage in that we are able to identify problems or conflicts earlier and progress from there."
Empire Iron Works uses Tekla Structures to model, draw and track work, and its models can include concrete, wood, glass, mechanical components and equipment. These features can interact with the steel structure, providing an accurate and complete picture of how the final version will function.
In its fabrication division, Empire Iron Works provides fabrication, cleaning and painting services. The company uses best-in-class automated technologies to ensure accurate, efficient and cost-competitive fabrication of steel components. The detailing software provides the data directly to CNC machines to guarantee accuracy.
A critical component of fabrication is welding, and the quality of this operation is a source of pride for the company. Its plant has been certified by the Canadian Welding Bureau to CSA W47.1 – Division 1 level. The welding engineers, inspectors and shop floor welders have the experience to solve any welding problem, and they are tested and ticketed biannually to validate their skillsets.
In their cleaning and painting facility, the company is able to finish fabricated steel using a vast array of coatings, from one-coat systems to multi-coat high-performance coatings. Empire Iron Works shot-blasts steel in an environmentally enclosed system, and coatings are applied with spray equipment.
The company also leverages the strength of its project managers in the fabrication process. They work closely with the drawing office, fabrication plant and field operations to keep projects moving forward, ensure a strict adherence to schedule and provide customers with high quality service.
Field services are another critical component of a project, and Empire Iron Works provides complete structural and miscellaneous installation services. Its construction division can erect steel for industrial, institutional and commercial projects.
Safety is key for all operations in the company, but emphasized for field operations, which can be a more hazardous environment.  The company states its goal for every project throughout all stages is 0 percent injuries and 0 percent accidents.
Throughout all of its projects, Empire Iron Works utilizes state-of-the-art machinery, software and systems for the purchase and tracking of steel from drawing and fabrication to erection. The company has local and global sources to help it offer a variety of materials, sizes and grades. It can trace all materials from the mill to the project. And its quality assurance program is audited to ensure that it meets the Canadian Institute of Steel Construction's quality guidelines.
Ever Forward
In the past, Empire Iron Works had relied on its reputation based on completed projects and established relationships to find new project opportunities. Going forward, Empire Iron Works plans to work more closely with its sister companies on joint projects, and it is ramping up so it can respond to the emerging trend of project modularization so it can do more work in the oil sands. In addition, the company plans to get more involved in proactive business development, seeking more work rather than waiting on work to come to the company.
"We want to be more of a front-line bidder to project owners and their procurement people," Boelee says. "That will make us more competitive."