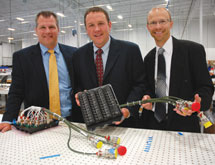 The New Berlin, Wis.-based company specializes in avionics systems integration, interior and exterior lighting, and cabin connectivity and power products for the commercial, military, helicopter and air transport markets. It serves airframe and avionics equipment OEMs, system integrators, modification centers, engineering and leasing firms, and military subcontractors.
To fulfill its mission of being a solutions-based provider, today, EMTEQ offers thousands of products to meet the unique needs of its diverse clientele. Complementary to its broad product scope, the company provides design, engineering certification, consultation and technical support as part of its comprehensive turnkey services package. "We've built our business around flexibility, agility and resourcefulness to be able to offer unique solutions to solve our customers' problems," CEO Jerry Jendusa says. "That's a big part of our culture."
He describes EMTEQ's culture as one of continuous improvement. Instead of having separate departments, the company is set up by business unit teams as part of its business model "with an extreme focus on customer delight," Jendusa says. "We've employed a quality management system that is incorporated into our overall management system and shared by all. Everybody in theory is quality minded and customer focused. Our business is a journey where we'll never fully reach the end, and with that journey is a spirit of growth and continuous improvement.
"We utilize a one-page business plan where the teams set certain targets and certain metrics. These range from productivity to growth to innovation to customer delight to being a great place to work," he continues. "We'll measure those areas and incorporate them into our overall management system. Setting up business processes and models that allow for the company to stay a very strong horizontal structure with a focus on the customer, and utilizing focus factories and lean techniques all play into reasons why we've been successful."
Ensuring that every employee buys into EMTEQ's continuous improvement and customer focus philosophy is crucial to its success. "We believe in hiring people that are qualified and bright, and giving them the tools they need to help grow the business," Jendusa notes. "Getting employees involved in the process has been very important. Through value stream mapping and other process mapping techniques, we attempt to align our people and process with our overall strategy.
"A company can lay down the foundation and some of the fundamental values of an open culture, but getting employees' buy-in to what we're doing is very important as they are the ones who really make up our culture."
New Opportunities
EMTEQ strives to foster a culture of entrepreneurialism and innovation. This is evident by the constant stream of new products the company has launched to help make aircraft parts lighter in weight, smaller in packaged size and appropriately designed for this niche market sector. "We are applying new technology that will allow personal electronic devices to be charged and used on aircraft," Jendusa says. "People need to stay connected when they're traveling. We've been proactive in applying innovation to allow this connectivity to happen."
The company's growth strategy revolves around the development of new products and services to benefit the industry in which it operates, while expanding into emerging geographic territories. "We're an aviation company and will stay in this vertically integrated market of aerospace," Jendusa says. "Our growth strategy is by innovation and providing more products and services as well as expanding into emerging markets such as Brazil, Russia, India and China (BRIC). We are putting plans in place to expand our reach through sales and marketing into those areas."
The BRIC countries are deemed to be at a similar stage of economic advancement and show significant growth potential, especially when compared to the more mature and economically stagnant marketplaces of North America and Europe. "Those countries are not very saturated," Jendusa remarks. "Their economies and infrastructure are going to grow. They will need to transport more bodies whether it is domestically or internationally. We're going to see a natural growth in transportation, and aviation will grow right along with it."
In addition to operating manufacturing facilities in New Berlin, Wisconsin; Winnipeg, Manitoba; and Bachenbülach, Switzerland; and design offices in Miami, Winnipeg and Montreal, EMTEQ recently opened an office in Taubaté, Brazil, to establish a presence in the Brazilian marketplace and also to be close to one of its main customers, Embraer, Jendusa says. He adds that an additional EMTEQ manufacturing plant will be established in Montana by the end of the first quarter of 2012 and that additional EMTEQ offices could open in Russia, India and China depending on market conditions.