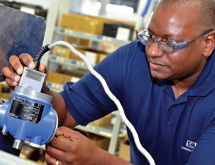 For more than half a century, Endress+Hauser has been recognized as a world leader in the manufacturing of industrial measurement and automation equipment. The company started manufacturing in the United States in 1976, and since that time it has expanded to fill a need in the American market for instrumentation and automation that other manufacturers had taken mostly overseas. Today, the company is riding a wave of substantial growth, and it has reason to believe that it can only improve on its current position in the market.
Peter Blaser, general manager of E+H Flowtec USA, says the Swiss-based family company moved into the United States to better meet the needs of its North American customers. Today, Endress+Hauser is one of the main manufacturers of industrial measurement equipment in the United States. "Our philosophy is to produce as close as we can to our customer," he says.
With the company's global footprint, dedication to quality and recent investments in upgraded facilities, Endress+Hauser stands ready to continue to meet the needs of its customers across practically all sectors of the industrial market. As the global economy continues to improve gradually, Endress+Hauser sees great opportunities in the United States and expects to be a fixture here for the foreseeable future.
Quality Focused
Being close to its customers is far from the only way in which Endress+Hauser distinguishes itself, according to John Schnake, general manager of Endress+Hauser Auto­mation Instrumentation. He says the most important thing the company provides its customers is an unwavering devotion to quality that permeates every level of the company's operations. "One of our values within the culture of the company is quality, and that's not just quality of the products, but the quality in everything we do." Schnake says.
Not only does this apply to the company's production processes, but this attitude also encompasses the company's safety and environmental standards, as well. "We see all of those as quality," Schnake says.
A key aspect of that focus on quality is Endress+Hauser's emphasis on lean manufacturing and continuous improvement. Blaser says that because it have production facilities close to our customers around the world, it doesn't need to rely on manufacturing in low-labor-cost countries. Endress+Hauser has manufacturing facilities in Germany and Switzerland, for example, which have some of the highest manufacturing costs in the world but produce the high quality the company strives for. "If you produce in high-salary countries, you have to make sure your manufacturing is optimized, lean and automated," Blaser says.
Over the last two years, Endress+Hauser has increased its efforts to improve process flow and efficiency in its production facility by creating core teams for each factory. Schnake explains that these teams include a production scheduler, a production group leader, a quality technician and an equipment engineer who meet regularly with management to discuss areas of improvement. Schnake says this is a prime example of the cooperation between management and the work force that defines Endress+Hauser worldwide.
Consistent Improvement
In the United States, Endress+Hauser has expressed its commitment to improvement through a plan to revamp and upgrade its facilities in Greenwood, Ind. The $40 million project was completed in May, and Blaser says it has given the company the capacity to serve customers better than ever before. The project added a 80,000-square-foot mass flowmeter plant and a new 105,000-square-foot level and pressure manufacturing plant. This project comes on the heels of the company's magnetic flowmeter building, which was opened in 2007, and a new manufacturing plant for temperature sensors. General Manager of Endress+Hauser Wetzer USA Patrick McGlothlen says the company already has plans to expand its temperature sensor facility by another 50,000 square feet, and this could be completed by 2015.
The growth Endress+Hauser is enjoying in the United States has not come without its challenges, however. Schnake says finding and hiring the right people to work in these new facilities has been a top priority for the company in the last few years. "As you grow, you still have to plan for the future," he says, adding that the right people are not easy to come by. "Our manufacturing requires skilled personnel."
To help keep its work force strong, Endress+Hauser has focused on developing a Training Within Industry program aimed at bringing new employees up to speed on the company's processes rather than looking for people who already have the necessary skills. McGlothlen says this has allowed Endress+Hauser to focus on finding people with strong work ethics and the ability to work as a team.
New Opportunities
Thanks to its quality and efficiency, Endress+Hauser pushed through the recession with little slowdown and has experienced significant growth over the last two years, according to Blaser. Additionally, there are new areas of opportunity in which the company expects to make a substantial impact over the next few years. For example, McGlothlen says the increased activity in North American oil and gas production presents a strong opportunity for the company's instrumentation equipment. Blaser says industrial customers also are investing less in labor and more in automation.
"That's a trend of course where we can take advantage with our instrumentation," he says.