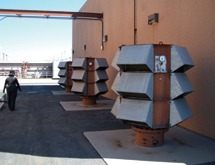 Endustra Filter Manufacturers Inc.
Endustra Filter Manufacturers Inc.'s ability to design and manufacture innovative products that solve its customers' problems gives it a clear edge in the often stagnant industrial air filter manufacturing market. Rather than rest on its more than 40-year legacy of success, the Schererville, Ind.-based company believes in constantly improving the quality and capabilities of its air intake filter, filter silencer, replacement filter element and dust collector cartridge products.
"Most of the industry is still doing the same thing they've done since the 1970s and 1980s, and we've innovated at least three times since the introduction of our company (in 1971)," National Sales Manager Terry Yow says. "We've strived to improve our products through the years in order to help our customers save on their energy and maintenance costs."
Since 2009, the company has secured four new patents, scaled its Tri-Vent® line of products from 60 to 60,000 cubic feet per minute of air flow and reached out to new technology segments. Endustra's newest product line is the Tri-Vent Series TK of manifold intake filter silencers, which offers high air flow capacity in a space-saving, energy-efficient multi-cartridge array.
The Tri-Vent® line, introduced in 2004, is Endustra's flagship product offering.  In addition to the manifold Series TK, the line includes five single-cartridge configurations: the Series P04 Intake Filter, the Series P09 Intake Filter Silencer, the Series TM09 Top-Mount Intake Filter, the Series P08 L-configuration Inline Filter, and the Series K08 Side-Access Inline Intake Filter.
All products use hand knobs or wing nuts for element changes as opposed to bolts, screws, or other fasteners that require the use of tools. "People in the field don't need tools to change one of our filters," Yow says. "Our filters can be changed in 10 to 15 minutes versus 30 to 40."
In addition to their No-Tools design, the patented Tri-Vent® contours air through the filter, reducing restriction and piping losses. The design, which Endustra combines with a conical element and conical lid, reduces energy consumption so significantly that customers can recover the filter's cost in less than a year, Yow says.
"Most companies in today's energy-conscious workplace are concerned about energy costs," he adds. "In an industrial plant or utility plant, energy is a crucial part of their overhead, so anywhere they can save money is important to them."
Important Partners
Industrial and utility plants make up key segments of the customer base for the Tri-Vent® Series and other Endustra products. The company is structured to best serve manufacturers of blowers and compressors used in manufacturing, pneumatic conveying, wastewater treatment or any process that requires a large volume of clean, compressed air. "Our customer base is very diverse," Yow notes. "We have good customers that have been with us for many years, and we've been able to keep them because we do things right."
Prominent Endustra business partners include engineering firms that specify its filters for their projects, as well as OEM manufacturers that use them in their own products. Global engineering, consulting, construction and operations firm Black & Veatch specifies Endustra filters in the water and wastewater treatment plant projects designed by its water division. The firm specifies Endustra products to filter the inlet air to aeration blowers in the treatment plants, Black & Veatch Lead Mechanical Process Engineer Julie Gass says.
"Our use of Endustra filters is very widespread, because we haven't found anyone who makes intake filters equal to what they can do," she adds.
Black & Veatch specifies Endustra cartridge-type filter elements with proprietary hydrophobic Enduralast® media that resists extreme weather conditions. The conical cartridge design, employing a single-point hand fastener, provides thousands of pounds of sealing force, preventing unfiltered air from bypassing the cartridge. Each cartridge contains a large amount of filter media, meaning they don't need to be changed as often as panel-type filters, Gass says.
Other advantages of the Endustra filters for Black & Veatch include the energy savings offered by the Tri-Vent® design. "Endustra are very innovative and have continued to improve their product over the last 20 years, while it seems like others are using the same filtration products they used 20 years ago," she adds.
Endustra also offers Black & Veatch and other customers products designed specifically for their applications. "We appreciate their quality and willingness to partner with us and the continuous improvement of their products," Gass says.
Carollo Engineers Inc. also specifies Endustra for its municipal water and wastewater plant projects. The company uses K08 and P09 filters within the aeration units, Associate Vice President and Project Manager Garrett Sheehan says.
For Carollo, the advantages of Endustra's projects include the variety of their configurations and their ease of use. "One of our clients liked the canister arrangement of Endustra's products because you can drop out the bottom to change it, and they're lightweight and manageable," he adds.
In addition to the products themselves, Endustra also offers Carollo and other customers aftersale support. "Having that support and working with people who really know the product is very important to me," Sheehan says.
Support and customer service are also a reason The New York Blower Company has worked with Endustra for more than 18 years. The industrial fan manufacturer uses Endustra cartridge-type filters within the pressure blower and high-pressure blowers it produces.
"They serve our needs very well and answer our questions quickly and accurately and stand behind their product," Director of Marketing Dave Maletich says. "Endustra treats us like we're their only customer."
Endustra's products are also standard in the centrifugal blowers manufactured by Hoffman & Lamson.
"We have enjoyed a long relationship with Endustra and use many of their air filtration products, as they are of consistently high quality," says Keith Collins, market manager for the Pennsylvania-based company. "Endustra's bottom outlet, single canister Tri-Vent PO9 filter housing, with its low-pressure-drop design, helps us to achieve the highest efficiency from our blowers.
"We have found Endustra to be attentive to our needs for other filter designs as well. Over the years, Endustra has developed the TM09 top outlet housing, the K08 and P08 inline type filter housings and, for larger air flow requirements, the TK series," he adds. "The TK series uses two or more filter elements and a housing design that minimizes pressure drop, and enables us to be more competitive by offering little pressure drop within a small package while maintaining high filtration levels with no bypass.
"Endustra has helped us increase our replacement filter aftermarket business by providing us with a custom solution that helps Hoffman & Lamson turn more opportunities into sales."
Quality Built In
The quality of Endustra's products is another reason for their acceptance among customers.
"They make an excellent product that works well in all of our applications and testing," Maletich says. "The quality of their products matches the quality of ours, so we don't have issues with them when we get into the field. Endustra's products work the way they're stated in the catalog; they're very reliable."
All of Endustra's products are manufactured to last. The company's quality control process begins with order entry and continues as each product continues down the assembly line. Each individual who handles the product is responsible for quality, and is empowered to stop the process if necessary.
"We encourage our employees and associates to think not only about their stage of production, but about what is required from the previous step and what is expected next.  We try to get people thinking two or three steps ahead," says Iylene Wagner, who has supervised production at Endustra since the mid-1990s.
"Our products represent the people who manufacture them," Yow says. "I'm proud that we've met every challenge placed in front of us and achieved so many goals, and I'm also proud of our ability to create a product every industry can use."