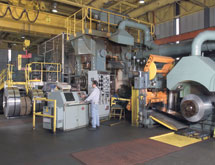 Engineered Materials Solutions LLC
It isn't difficult to visualize or find an example of the work performed by Engineered Materials Solutions LLC – just look at the change in your pocket. Instead of the silver traditionally used to mint quarters, nickels and other currency, modern coins consist of a combination of cupronickel and copper developed by the Attleboro, Mass.-based clad metal manufacturer.
Coinage is just one example of how the company works to meet the needs of its customers through providing clad metal solutions. The company is capable of layering together ductile and malleable metals as well as specialty alloys to create clad metals for use in the appliance, automotive, heavy truck, electrical distribution, HVAC, industrial control and telecommunications industries, among others.
A top priority for metal producers today is to reduce the impact of high metal commodity costs. EMS provides lower cost clad products to replace solid copper or nickel whose prices have been driven up over the last ten years due to speculation and increased global demand.  These clads not only offer lower cost but also meet stringent engineering requirements.
"The clad materials we produce offer solutions to problems our customers may be having such as material cost or function issues," says Jim Glennon, vice president of specialty clads. EMS is capable of producing and shipping both coiled materials as well as final components such as stamped circuit breaker blades or sheets of corrosion-resistant stainless clad aluminum for truck bumpers. One of the company's most recent products is a copper roofing replacement that consists of a copper skin on each side of a stainless steel core. Other growth areas include metal catalysts, cookware and copper/aluminum to replace solid copper.
"We can supply a variety of forms, which gives our customers flexibility," Glennon adds. "If they are unable to tool components themselves, we can offer that for them." EMS also produces thermostatic bimetal components used inside of circuit breakers, appliances and other devices.
A Breadth of Knowledge
EMS is a global leader in clad metals and thermostatic bimetal components. "What sets us apart is the breadth of clad products we make," Glennon says. "Many of our competitors pick a certain kind of clad metal to produce, but we have a broad portfolio of products and years of experience working with the materials that go into our products."
The company, which has origins dating back to 1916, was acquired by German manufacturer Wickeder Westfalenstahl GmbH, Wickede an der Ruhr in 2007. In addition to its corporate headquarters and manufacturing facility in Attleboro, EMS maintains a sister operation in Hamburg, Pa., that performs cladding. Recent manufacturing equipment investments include the addition of a foil slitting line. In addition, EMS is looking to adapt new bonding technologies.
EMS also operates a manufacturing facility in China, which when combined with the international experience of its parent company gives it the ability to support customers on three continents.
Customers in the United States and abroad can each expect a similar approach when it comes to EMS' product development. "One of the things we do best is innovate," Glennon says. "Clad metal is a difficult product in that new applications just don't fall off the shelf, but because of our broad experience with different metals we have the ability to solve different kinds of problems that our customers have."
The company is entering emerging markets including lithium and electronic battery products and also is active with solutions for light weighting initiatives in the automotive industry. "Market leaders are also coming to EMS for solutions to issues in the fast moving consumer electronics field."   "We have a reputation as innovators and being technically capable and having a broader manufacturing capability than our competition."
Open Communications
Customers have also come to know the company for the quality of its products. The company has implemented a number of quality methodologies including lean manufacturing and team-based quality improvement efforts and is ISO 9001 certified.
"One of the most important things about our company is open communications," Glennon says.
Glennon notes that metrics such as product quality and delivery are reviewed on a daily basis. EMS also understands the importance of supply chain relationships and works closely with suppliers to manage the flexibility its customers require while controlling cost.
"Communication is important on a daily basis up and down our organization," he adds.