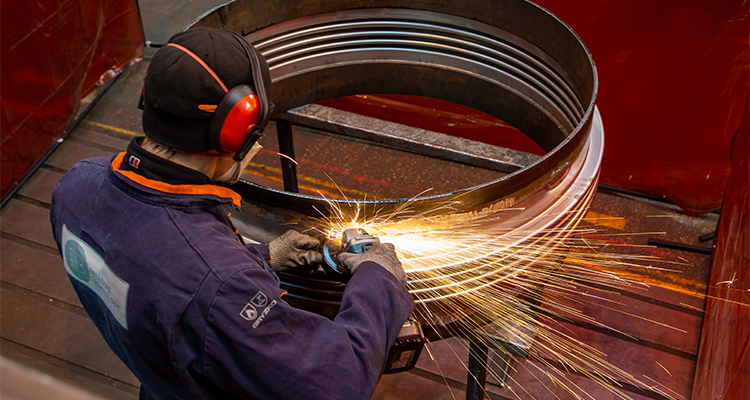 A privately-owned manufacturing business, Teconnex Ltd (Teconnex) is headquartered in Keighley, West Yorkshire. As part of the Hexadex family of businesses, Teconnex is the largest and most geographically diverse of the group's companies. Formed by the merger of two historical clamp companies, Smith & Johnson, and Connectors Ltd in 1997, Teconnex has subsequently grown at a significant rate in scale and global reach.
"We are principally an engineering company that provides complex jointing solutions to many automotive, industrial, and aerospace customers," begins Chris Marsden, Managing Director. "Our core business is stainless steel clamps and engineered joints, while diversification is focused on stainless steel bellows and thermal compensators."
A more recent development for Teconnex has been its expansion into renewable energy storage. "With a product development roadmap that begins with lithium-ion leisure batteries, which are first to market, we are moving quickly onto a range of solar energy storage systems," he says, adding that by working under the Teconnex Power division, the business aims to launch multiple products under this new and exciting brand.
Zooming in on the business' geographical footprint, Chris outlines that following government legislation surrounding exhaust gases from automobiles, clamping technology has had to develop accordingly to maintain ever tightening global emissions norms. "Today, the company manufactures in all its main markets, with sites in the UK, Romania, Mexico, India, and China.
"Furthermore, our main customers reside in automotive in all global markets. Teconnex generally connects Tier 1 and OEM systems together with a highly responsible product. However, we have a strategic focus on aerospace, with a vision to become Europe's number one aerospace supplier in the next five years, before becoming the global leader by 2030."
When it comes to ventures to continue its growth plan, Teconnex is currently investing significant time, energy, and capital in three strategic areas: aerospace, bellows, and development of lithium and sodium ion. "Regarding aerospace, we are investing in skills capabilities, systems, and accreditation to meet the sector's exacting standards and become a preferred supplier to Airbus and Boeing. When it comes to bellows, we're are focusing on market research and capital equipment to ensure we can manufacture efficiently and competitively, thereby matching our capabilities in design and engineering. Finally, our development of lithium and sodium ion battery technology will pave the way for a more sustainable future energy transition."
Our questions then move away from the technical operation of Teconnex, and into the company's culture. Chris stipulates that unity and inclusion continue to be the cornerstones of his team's prosperity. "As a global company, inclusivity is critical for current and future success and employee wellbeing. We are developing a 'One Teconnex' culture, which sets expectations for behaviors and competencies aligned with group values. This is on a global level in many diverse regions. We're achieving this while maintaining and embracing the cultural differences between all our sites.
"We recognize people and regional clusters of expertise, and empower employees and teams from respective plants to develop best-in-class solutions," he shares, adding that this is also a fantastic approach for integration and travel opportunities.
"Furthermore, our HR and health and wellbeing roadmaps ensure people are at the core of our decisions and development as a business. This has served us particularly well in the preceding years, with Covid-19 challenges threatening wellbeing on a global scale. It's maybe no surprise we have grown at the fastest rate in our history in this period where employees are at the forefront of our vision."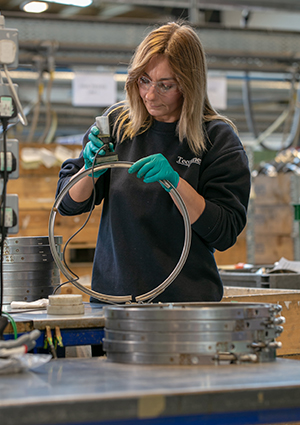 Another aspect of the company's culture is its drive to be more sustainable. At the very top level our products clean the environment and air that we all breathe. Sealing harmful gases in engine, turbo and exhaust systems ensures the public is protected and the environment maintained in line with ever tightening regulations. Vehicle exhaust systems are very sophisticated, and clamps are an integral component enabling our customers to meet their obligations," he shares. The company's mission defines this goal particularly succinctly: connecting customers to a greener world.
On a more operational level, Teconnex has launched its ESG roadmap, which will see the business consolidate existing environmental initiatives under a wider environmental scope. "We have recently invested in solar for our factories, this will be enhanced further by adding our own commercial range battery storage systems as well as offering this solution to local businesses as part of their energy transition.
"We currently have a particular focus on waste initiatives within all our businesses ensuring we eliminate wasteful use of material, energy, and other valuable resources. This will also help us to remain ahead of the curve in the very competitive landscape in which we operate, and deliver on our sustainable development goals."
For Chris, the change in technology to drive sustainability has been rapid especially in commercial vehicle and off highway sectors. "We are an integral component to these engineered solutions, and as Engineering Director prior to becoming Managing Director in 2020, it's been hugely satisfying and a pleasure to map technology leaps with amazing global brands, and then develop ever more sophisticated clamping solutions to meet requirements."
And there is still more to come. For Teconnex, the path ahead involves an impressive growth strategy, in which Chris is excited to play a part. "Our current five-year plan is in its third year, and this will see us maximize global reach, reputation and market share in core automotive sectors, while building a company and culture for future growth and one of which all employees can be proud. We will reach our ambition of £150 million in sales by 2026, adding £100 million to the top line since the challenges of the pandemic."
In bringing our conversation to a close, Chris highlights that he would like to see Teconnex track the remaining years of the strategic plan as accurately as it did in year one. "This gives me enormous personal satisfaction. Overlaying the current five-year plan for core business will be our diversification five-year plan, which will set the future legacy for the business in battery and energy storage as well as aerospace."