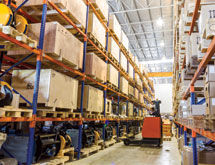 England Furniture's key to success is two-fold: It delivers high-quality, durable products and it delivers this furniture quicker than others.
Based in New Tazewell, Tenn., England Furniture delivers its orders to customers east of the Mississippi River in less than 21 days and west of the river in fewer than 28 days. It does this 99 percent of the time, regardless of the weather.
This quick turnaround is a major advantage for its 1,300 retail customers, says Chip Keaton, vice president of manufacturing. "Our customers are major retailers across the country," he explains. "If they can get it quick enough from us, they don't have to stock it for customers and carry a lot of inventory."
How can it deliver so quickly? England Furniture maintains a trucking fleet in-house. It's also able to deliver on-time consistently because "we control our entire process," Keaton explains. "Everyone in our organization has input. We are not sales-driven, so if we can't build it [on time] we won't do it." England Furniture carefully manages its supply chain and ships out without pickups. It is all built to order, as well.
The company also benefits from strong customer service. "We are very friendly," Keaton says. "If there is a problem, we take care of it within 24 to 48 hours."
England Furniture was founded 50 years ago in 1964 by Dwight England and his father and brother. It was the first company to offer a two-week delivery time for a truckload of furniture while its peers offered six- to 12-week deliveries.
The company operates as an independent division of La-Z-Boy, which acquired it in 1995. It carefully selects vendors who adhere to strict guidelines exceeding industry standards, such as fabric companies Richloom Fabrics, David Rothschild Co., Culp Fabrics and Chambers Fabrics; materials vendors Stein Fibers for polyester fiber, Leggett & Platt Inc. for metal components and Hickory Springs for specialty foam, as well as Hayter Die Cutting and Sealed Air Corp. for packaging.
Import Competition
When large segments of the furniture manufacturing industry fled America for reduced labor costs in Asia, a lack of quality soon became evident. England Furniture has since benefitted from an American furniture manufacturing repatriation, demonstrating high-quality furniture can be produced in Tennessee at a fair price.
"People are looking for something different," Keaton says. "The migration of furniture manufacturing to China happened because people were looking for cheap. Now, after the economic collapse of 2008, they are looking to buy something that is going to last."
Furniture production is a labor-intensive business, and the allure of production in low-cost nations was tempting. But now people are have come to realize that product quality suffered, Keaton says. "It is the products from China that have brought down the price points," he says. "Consumers have a difficult time telling at first, but down the road they are disappointed to spend $1,000 on a sofa only to have it fall apart. The fabric tears and they are not getting their money's worth."
England Furniture products are fully tested and don't utilize shortcuts practiced by Chinese counterparts such as removing key internal "guts" of the furniture, Keaton says. "It's what's on the inside that counts," the company states. "Thats our motto here at England. This is why we build all of our furniture here in the U.S.A. out of quality materials."
Cellular Manufacturing
England Furniture takes a cellular approach to manufacturing, with teams of employees working together for success. England Furniture continuously improves its processes with employee suggestions evaluated by committee. It also invests in technology for improvements such as CAD and CNC-operated equipment.
Although these technologies allow for improvements, the manufacturing of upholstered furniture can't be largely automated with robotics. Instead, it relies on the craftsmanship of its skilled team members.
"Each piece of furniture is like a snowflake," Keaton observes. "They may look the same but they each have their own nuances."