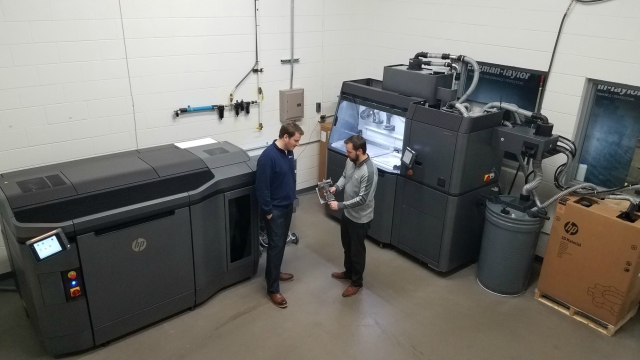 Engman-Taylor President Rick Star knows the industrial distribution company he leads faces intense competition from much larger entities. Instead of fearing its national and multinational "big box" competitors, however, the company works hard to ensure its customers look to it first to fulfill their supply needs.
"The way we successfully compete against these companies is to do things they cannot," he says. "The big boxes do not focus on the technical support element, they are more focused on transactions. Although we are also experts in transactional sales, we can offer technical support that our competitors cannot."
Founded as Carborundum Abrasives manufacturer's representative Engman Brothers and incorporated as Engman-Taylor in 1956, the Menomonee Falls, Wis.-based company has five locations in Wisconsin, Illinois and North Carolina. It supplies a range of products including cutting tools, assembly tools, safety products, abrasives, and janitorial supplies.
Engman-Taylor's technical support services include product specific staff, 3-D printing, failed tool analysis, integrated supply, inventory control, and demonstration and testing.
'Tooling Experts'
The company recently added to its slate of support services. The e-Taylored Tool Optimization Program, introduced in late 2017, offers shrink fitting, balancing and presetting and kitting services for tools sold by Engman-Taylor or its competitors.
Shrink fitting involves heating tools before assembly and returning them to ambient temperature after assembly. The process allows the best possible connection for tools, because the shank is in full contract with the toolholder, the company says.
Balancing involves removing imbalance caused by unevenly distributed weight within a tool. Balanced tools run truer than unbalanced tools, leading to better dimensional repeatability, better finishes, and longer tool lives.
Beyond shrinking and balancing, tools that are optimized to cut properly dimensioned parts immediately are "preset." Presetting ensures not just the repeatability providing by balancing, but also conformance to nominal dimensions.
"We will prepare the tool to run a customer's specific application. No one else in our business is doing that right now," Star says. "Doing this positions us as tooling experts."
In addition to optimizing tools used by its customers, Engman-Taylor also offers tool failure analysis services. This involves examining failed tools under a microscope in its in-house laboratory to determine the reason they failed. The company then recommends a new tool based on this analysis.
"Often, when a tool fails, people take guesses as to why it failed; by putting it under a microscope, we can learn the exact reason for its failure," Star says. "If the tool failed because it wasn't wear-resistant enough, we would recommend a more wear-resistant carbide; if it fractured, then we would go with a tougher grade of carbide."
Engman-Taylor has also just added spindle analysis to the e-Taylored services list. Lion Precision's Spindle Check Inspector is used for accurate data collection on machine tools, grinders and many other pieces of equipment with spindles.
With capacitive sensors measuring displacement of the target pin to the nanometer, high-resolution data is captured to monitor and detect changes in a process, machine tool and spindle. This data can then be used to troubleshoot vibration problems, identify and qualify the capability of the machine in all axis, address thermal errors, identify changes in the event of a crash, optimize cutting parameters and know when to rebuild a spindle. Within a couple hours this data can be captured to quickly help determine solutions to these problems and many more. Spindle analysis saves time and money in the event of a crash, reduces or eliminates spindle rebuild costs, and tells customers with certainty the condition of their spindle, Star says.
Breaking New Ground
Engman-Taylor in January enhanced its 3-D printing operation when it installed a new Hewlett Packard HP 4200 Jet Fusion 3-D printer. The printer uses a proprietary nylon glass-filled thermoplastic material to create a wide range of pieces. The material is ideal for applications requiring high stiffness, such as enclosures, housings, fixtures and tooling.
"[The HP 4200] will allow us to use a new material no one else yet has and greatly increase our production speed and volume," Star says. "We will be able to go from printing prototypes and small runs to doing hundreds, if not thousands, of production parts."
The printer also gives Engman-Taylor the ability to expand its market to the commercial sector. The company is using it to produce parts such as gun accessories, as well as custom-made picture frames. "We are not necessarily restricted to the industrial marketplace," Star says. "We can use this technology for B2B or B2C business."
Engman-Taylor has also been appointed as a Schmidt Marking Systems distributor. "Parts marking has become increasingly important as medical, military, and other users of critical parts increasingly require identification and traceability of those parts," says Star.
Market Diversification
Engman-Taylor's new capability to produce commercial parts is just one of the ways in which it is diversifying into new markets. The company is marketing its products and services to the commercial, educational, institutional, and contractor sectors. "We are finding customers that use the same types of supplies that we already bring in," Star says, noting Enerpac hydraulic lifting equipment as an example.
"We currently provide Enerpac to our manufacturing base, but we are now pursuing facilities maintenance users and building contractors as well," he says. "Master Fluid Solutions is another example. We provide coolant to many cutting tool users, but are now also focused on providing their cleaning products to other markets as well."
To support this effort, the company recently launched a digital marketing program that includes web advertising, SEO and e-mail. "We're hoping to drive demand inward and bring customers to us," Star says.
Engman-Taylor's website was redesigned in November to better enable e-commerce. The company also plans to launch a new mobile app that will include a support chat function. "As big and good as other distributors are, no one else has an app with this capability," he adds. "We're breaking new ground."
Staying Active
Engman-Taylor's ability to support its customers was noted last year when it won the Industrial Supply Association's American Eagle Excellence in Industry Award.
The company won based on its work with Mennie Machine Company, a large machine shop based in Mark, Ill. Engman-Taylor and its supplier Walter Tools reprocessed and reengineered a family of difficult to machine cast steel parts. Cycle times were decreased and quality was increased via tooling and cutting data changes. Ultimately, Mennie is saving over $1.4 million dollars annually.
Star was unable to personally accept the award during the ISA's conference last April, because at the time, he was participating in one of his and the company's other passions: community service. In this case, he was working with a local travel baseball team in Brookfield, Wis., that the company has sponsored for more than seven years.
In addition to sponsoring the baseball team, Engman-Taylor and its staff participate in community activities including scholarship programs. It also supports organizations including the Pancreatic Cancer Action Network. "Philanthropy is very important to us," Star says.
The company's philanthropic efforts reflect its positive, family oriented culture. "I'm proud that we've been able to provide jobs and livelihoods for our people, and that we're a family owned company that's able to compete with the big companies," he adds. "Doing these things, while helping to keep American manufacturing competitive, is why we are here."